Fear the Mean Green! If you're hunting for a Cinderella or seeking out an underdog with betting potential, a pair of #13 seeds play on Friday, including the #13 Liberty Flames versus the #4 Oklahoma State Cowboys, and the #13 North Texas Mean Green squaring off against the #4 Purdue Boilermakers. Both #13 seeds are +7.5 underdogs, but North Texas looks like they have the best chance at advancing by blindsiding Purdue.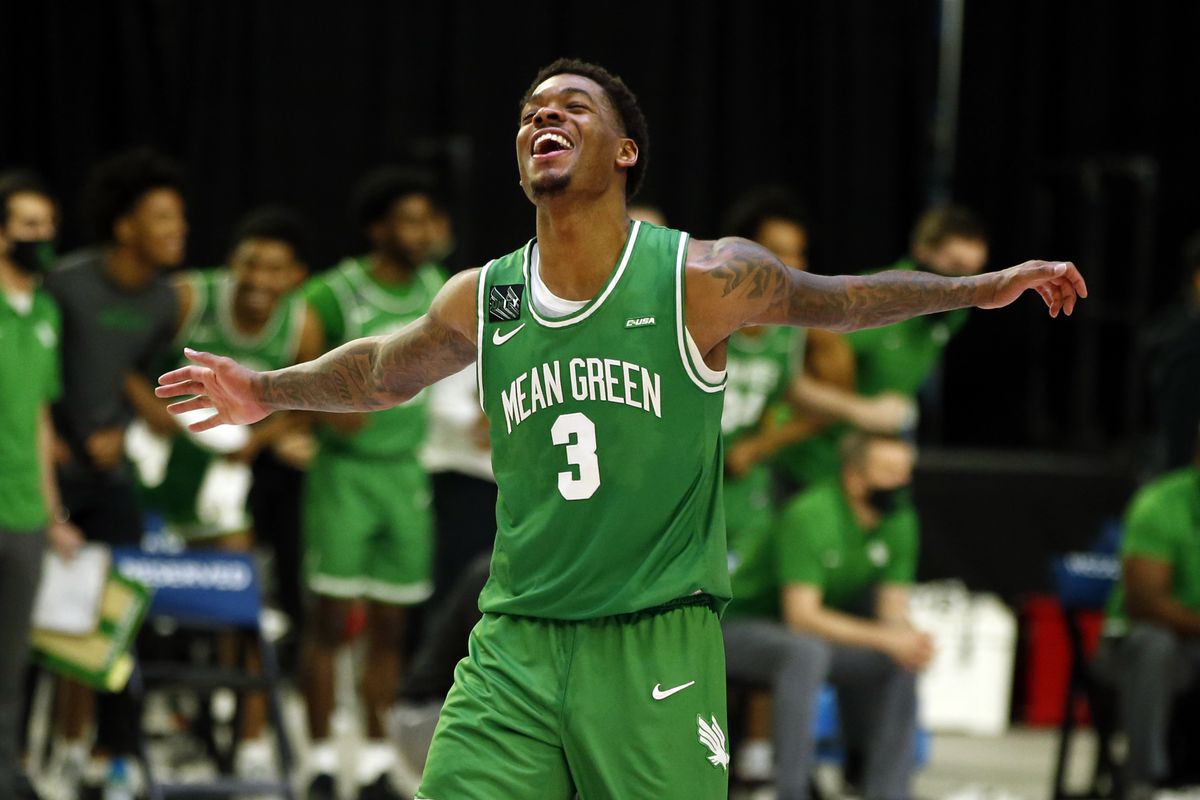 With so much emphasis placed on the #12 seeds upsetting the #5 seeds in March Madness, the unheralded #13 seeds don't get enough love, which is why you should take a second look at Liberty, North Texas, UNC Greensboro, or Ohio.
In a historical context, #13 seeds upset #4 seeds 20% of the time in March Madness. The #13 seed is typically a conference champion from a minor conference battling a power conference team ranked somewhere in the AP Top 15 range.
On Friday, #13 Liberty from the Midwest Region, and #13 North Texas from the South Region are in action. On Saturday, #13 UNC Greensboro from the East Region, and #13 Ohio from the West Region will play their first-round games.
DraftKings posted a "Will a team advance to the Sweet 16" prop bet with Ohio at +800 odds, North Texas at +1150, Liberty at +1200, and UNC Greensboro at +2000.
On the March Madness futures board, all four of the #13 seeds are long shots to win the championship. Ohio, North Texas, and UNC Greensboro are each +20000 odds to win 2021 March Madness. You can back Liberty as a moon shot at +25000 odds to win March Madness.
#13 Liberty vs #4 Oklahoma State
The Liberty Flames (23-5 AU, 16-8 ATS) punched their ticket to March Madness by winning the Atlantic Sun. Three of Liberty's losses occurred early in the season against power conference teams, and two of those teams advanced to March Madness as well They started the season 4-3 with losses to Purdue, TCU, and Missouri. They dropped two ASUN conference games against Lipscomb and Stetson. Since the Lipscomb loss on New Year's Day, Liberty finished the season 15-1.
---
Tip-off: 6:25 pm ET
Point Spread: Oklahoma State -7.5
Total: 139.5 o/u
Money Line: LIB +285 / OK ST -360
---
Darius McGhee, a junior guard, leads the Flames with 15.6 ppg. Liberty, ranked #6 in the NCAA, is one of the better 3-point shooting teams in the nation with a 39.1% success rate from long range. McGhee is one of Liberty's best snipers, connecting on 41.4% of his 3-pointers.
McGhee will have his hands full slowing down Oklahoma State's freshman wunderkind, Cade Cunningham. Most mock drafts have Cunningham going #1 in the 2021 NBA Draft.
Oklahoma State (20-8 SU, 17-10 ATS) upset Baylor, ranked #2 at the time, in the Big 12 tournament semifinals. The Cowboys lost to a well-rested Texas team in the conference finals. Oklahoma State got screwed with a #4 seed when they deserved a #3. They also got stuck in a tough corner of the bracket with Illinois looming in the Sweet 16. If, by chance, they can get to the Elite 8, there's Houston or West Virginia waiting for them.
KenPom ranked Oklahoma State #30, and Liberty #98 overall.
#13 North Texas vs #4 Purdue
The North Texas Mean Green (17-9 SU, 16-9-1 ATS) waited until the Conference USA tournament to get hot after ending their regular season with a three-game skid. The Mean Green won four games in four days to win the C-USA title. North Texas, thanks to Javion Hamlet, defeated top-seeded Western Kentucky in the championship game in overtime to secure an automatic bid to March Madness.
---
Tip-off: 9:00 pm ET
Point Spread: Purdue -7.5
Total: 125.5 o/u
Money Line: NTU +240 / PUR -300
---
Hamlet, a 6-foot-4 junior guard, leads the Mean Green in scoring with 15 ppg. In three previous trips to March Madness, North Texas has never won a game. If Purdue is paying more attention to their Round of 32 matchup instead of to North Texas, then the Mean Green could catch the Boilermakers.
Purdue (18-9 SU, 14-12-1 ATS) heads into March Madness with a #20 ranking, according to the AP Top 25 Poll. Since starting the year 7-5, Purdue closed out the season with an 11-3 clip. They were booted from the Big Ten tournament in an overtime loss to Ohio State that totally got away from them.
Big man Trevion Williams leads Purdue with 15.6 points and 9.1 rebounds per game. He's a coin flip at the charity stripe with a 50.5 free-throw percentage.
Purdue drew a tough #4 seed in the South Region. If they defeat North Texas, they face the winner of #5 Villanova and #12 Winthrop. If Purdue advances to the Sweet 16, the top-seeded Baylor Bears will be waiting for them. If, by chance, Purdue upsets Baylor, there's #2 Ohio State or #3 Arkansas lurking on the other side of the region.
Ken Pom ranked Purdue #13, and North Texas #71.
More March Madness Coverage
Check out our March Madness bracket tips for noobs and busy people.
Have you ever wondered who won the first March Madness in 1939? We compiled another installment of The OG List, which includes a complete list of March Madness champions.