Bettors piled more than $5.1 million into Pimlico Race Course's 20-cent Rainbow 6 on Sunday, seeking a piece of the record jackpot carryover on the Maryland track's mandatory payout day.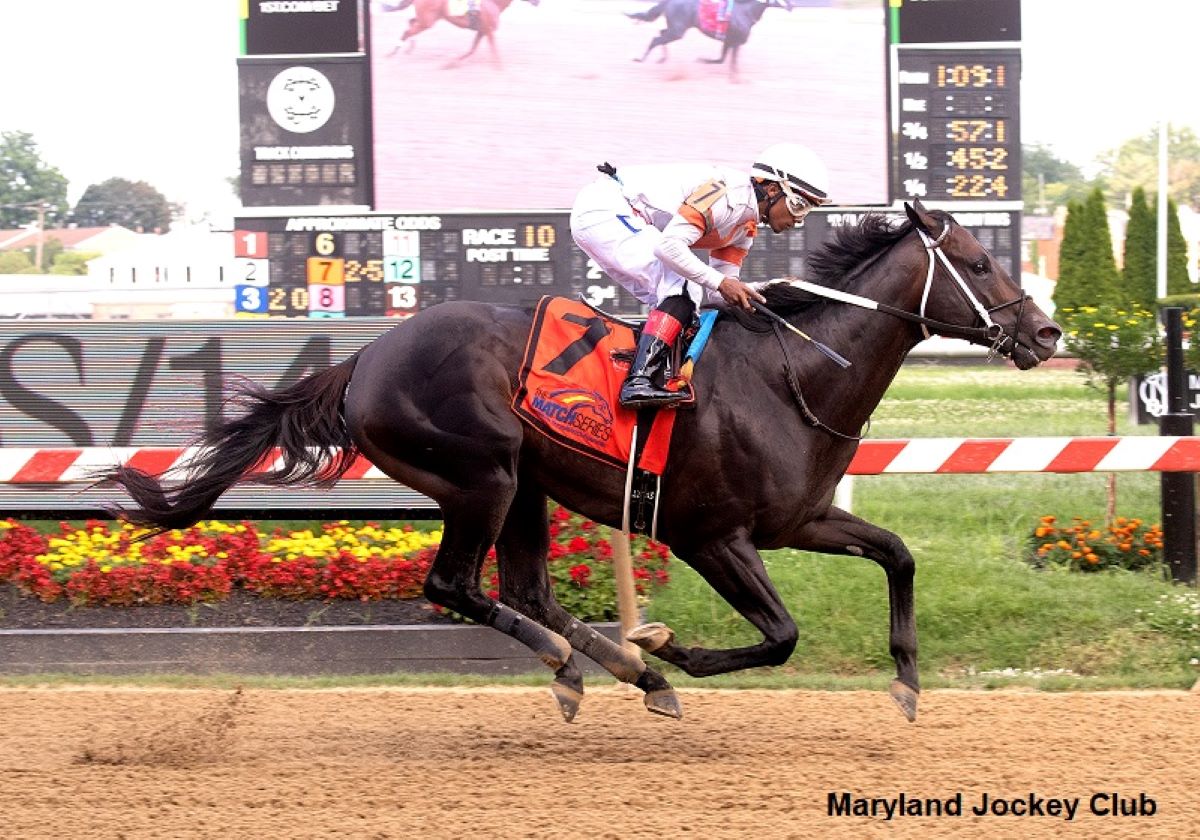 There were no unique tickets holding all six winners. That meant those holding the most winners walked away with $31,028.08 from Sunday's program. This came after nobody hit the Rainbow 6 on Saturday. That sent a $1,435,080 carryover into Sunday, a Maryland-state record. Horseplayers wasted little time adding to that pot, wagering $5,110,191 on Sunday alone.
Those bets went into a card featuring four stakes races. Behind the Couch won the first race of the sequence, Pimlico's sixth. He paid $13. Ellantation ($22) won the seventh, the Jameela Stakes, followed by Alwaysinahurry ($20.20) upsetting favorite Mighty Mischief in the Concern Stakes. Mrs. Orb ($6.20) captured the Caesar's Wish Stakes in the ninth, and 2/5 favorite Yaupon ($2.80) won the 10th, the Lite the Fuse Stakes. They were the only two winning favorites in the sequence. The aptly named Crack the Safe completed the sequence, paying $23.80.
Rainbow 6 mandatory payout days produce avalanche of cash
Carrying a 20% takeout, the Rainbow 6 requires bettors to pick six winners from designated races. It's a jackpot bet, meaning the entire pool is paid out to a single bettor only if that bettor has the lone winning ticket. On regular days, when there is no unique bettor picking six winners, 60% of the day's pool goes to the horseplayers holding the most winners and 40% goes back into the jackpot pool.
On mandatory payout days, like Sunday, the entire pool goes to the bettor or bettors holding the most winners in the designated races. The last time a bettor solved Pimlico's Rainbow 6 came May 7. That produced a $23,346.70 payout.
The $1,435,080 carryover blew past the previous record of $345,898.33 from a 31-day carryover in 2018. One bettor cracked the code on April 15, 2018, cashing a ticket for $399,545.94.