The early season struggles continue to mount for Manchester United, as Derby County eliminated Jose Mourinho's side from the Carabao Cup on penalties Tuesday.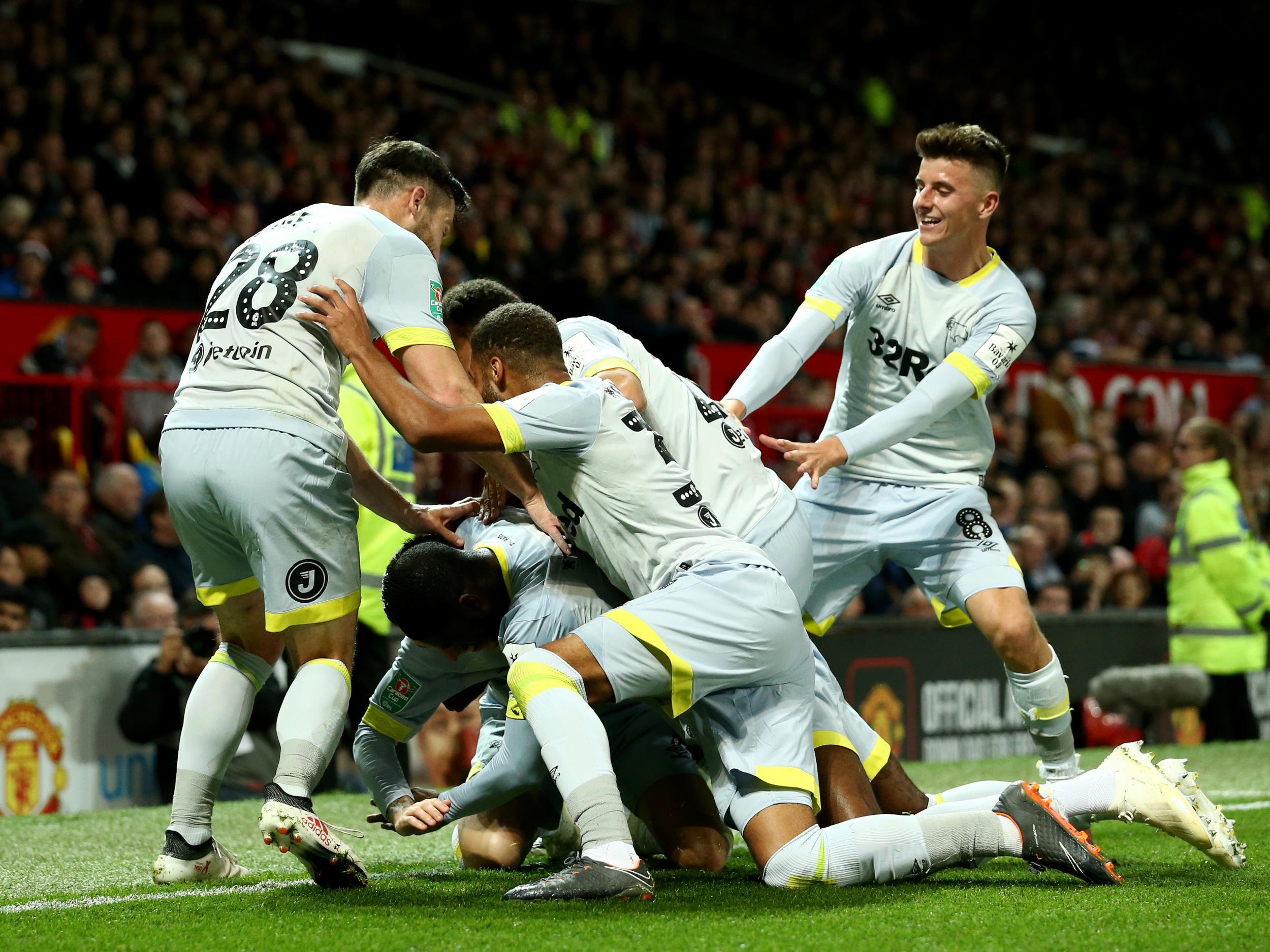 The match between United and Championship side Derby County ended in a 2-2 tie. Under the rules of the cup competition, that meant an immediate penalty shootout, without an extra time period.
Lampard Leads Derby to Win over Former Manager
In what became an extended back-and-forth battle, Derby eventually prevailed 8-7 in the shootout, sending the underdogs through to the fourth round of the tournament.
"I wanted to bring a team who could really compete," said Derby manager Frank Lampard, who once played for Mourinho at Chelsea. "I am trying to build a group to be successful and nights like this are incredible. To go against world-class players and play that way, it's right up there."
Derby nearly won the match outright. After an early goal from Juan Mata gave United a 1-0 lead, Harry Wilson scored an equalizer off a free kick in the 59th minute. The minnows then got the break they needed, as United goalkeeper Sergio Romero was send off in the 67th minute for handling a ball outside the box, giving Derby a man advantage for the remainder of the match.
The Rams took advantage, as Jack Marriott pounced on a loose ball to give Derby a 2-1 lead in the 85th minute. But while it appeared that the visitors had just scored the winner, United found their way back into the match when Marouane Fellaini scored on a header five minutes into stoppage time, setting up the dramatic shootout.
Turmoil Continues for United
The stunning loss is the latest in a string of poor results for Manchester United to start the season. At the moment, the Red Devils sit in seventh place in the English Premier League, already eight points behind Liverpool. The start has led to speculation that Mourinho's time at Old Trafford might be coming to an end sooner rather than later.
Tensions have reached a boiling point over the last 48 hours. On Monday, midfielder Paul Pogba blasted the tactics employed by Mourinho in Saturday's 1-1 draw against Wolverhampton Wanderers, saying that United should have been much more aggressive at home against Wolves.
"I think teams are scared when they see Manchester United attacking and attacking," Pogba told reporters. "Maybe the attitude should be better and we should play better because, again, we are at Old Trafford and we should just attack and press like we did against Tottenham, Liverpool, Chelsea and Arsenal last season."
Mourinho responded on Tuesday by removing Pogba as United's second captain. In an interview after the loss to Derby, the embattled manager said that the move was his decision, and that it wouldn't cause any problems for his team.
"I am the manager, I can make these decisions," he said. "No fallout at all, no problems at all, just one decision that I don't have to explain."
But reports have suggested that many players are unhappy with Mourinho's management, with the Pogba incident being just the latest move that has left the locker room puzzled. ESPN cited sources who said that many United players are "angry and frustrated" with Mourinho, and that only a handful of players are still fully behind their manager.
According to bookmaker Paddy Power, Manchester United is now a 40/1 longshot to win the EPL this season.