Bookmakers are making Manchester City a heavy favorite to repeat as English Premier League champions next season, though a quick start to the transfer window has made bettors consider Liverpool as a serious contender as well.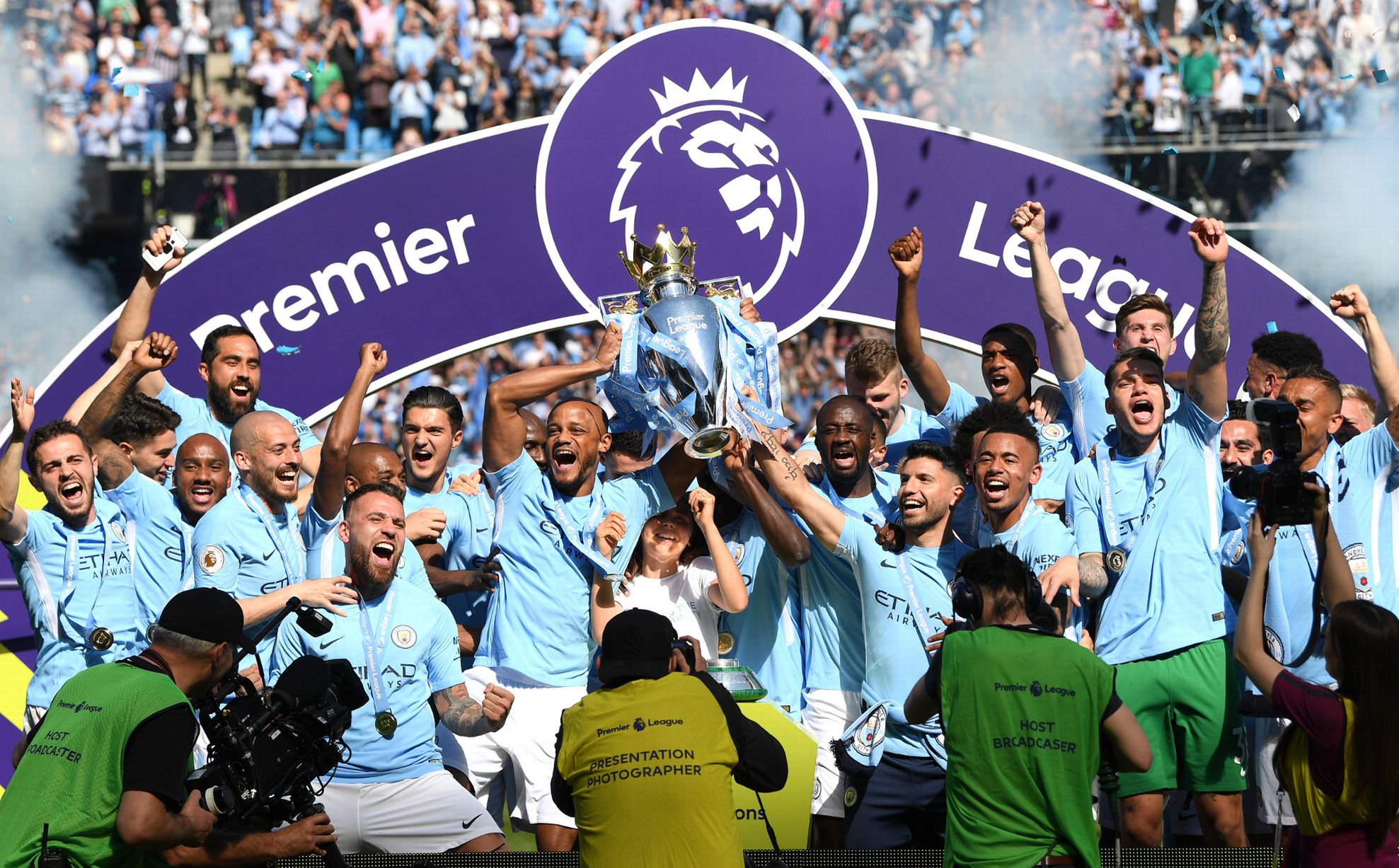 Manchester City is coming off a record-setting campaign in which the side won the league with five weeks to spare. The Sky Blues would ultimately finish with 100 points, giving them a 19-point margin over runner-up Manchester United.
Man City Seeks Repeat
That kind of domination is sure to make an impression on the public, and oddsmakers have reacted by making Man City a favorite over the field heading into next season. William Hill lists City at 4/6, and it's hard to imagine they'll fall from the top spot on the board before the season begins.
Man City won't be resting on their laurels during the transfer window, either. The Mail reported Tuesday that the team was close to a £75 million transfer for Leicester City winger Riyad Mahrez. The 27-year-old Algerian international asked for a transfer in January, but a proposed move to Manchester City failed to materialize at that time.
With even more help likely on the way to bolster their already formidable roster, it's no surprise that City has been installed as the top pick to win the 2018-19 EPL campaign. But there are clubs seeking to make moves that could help them challenge the leaders next season.
Liverpool, United Add Depth
One of the biggest moves early on in the transfer period was Liverpool's signing of Brazilian midfielder Fabinho. The 24-year-old will come to Liverpool from Monaco for a transfer fee that could be worth as much as €50 million.
"I am really excited about this move," Fabinho said in comments to Liverpool's website. "I will try to create my own history at this football club. Hopefully, on a personal level, I'm able to win titles with this club."
The signing of Fabinho adds both depth and flexibility to the Liverpool roster, and it's likely that more moves are to come. That, combined with the team's impressive run to the Champions League final, have positioned Liverpool as one of England's elite teams.
It has also made the public see the Reds as a true contender next season. Liverpool (4/1) is currently the second choice at William Hill, just ahead of last season's runner up, Manchester United (11/2). The Red Devils have also looked for ways to improve their team through the transfer market, with Porto right back Diogo Dalot expected to come to Man United and help bolster their defense.
The rest of England's "Big Six" are next on the board. Chelsea (10/1), Tottenham (11/1), and Arsenal (20/1) are all expected to be outsiders in the title chase, but have the potential to make noise. American fans may have particular interest in Tottenham's activity during the transfer window, as the club has been rumored to be interested in the 19-year-old winger.
While it may seem as though the last EPL season just ended, fans won't have to wait long for the action to start up again. The 2018/19 season is scheduled to begin on August 11 – less than a month after the World Cup Final, on July 15.