Demian Maia handed Ben Askren his second straight loss on Saturday, earning a victory by third-round submission in a battle between two of the best grapplers in MMA.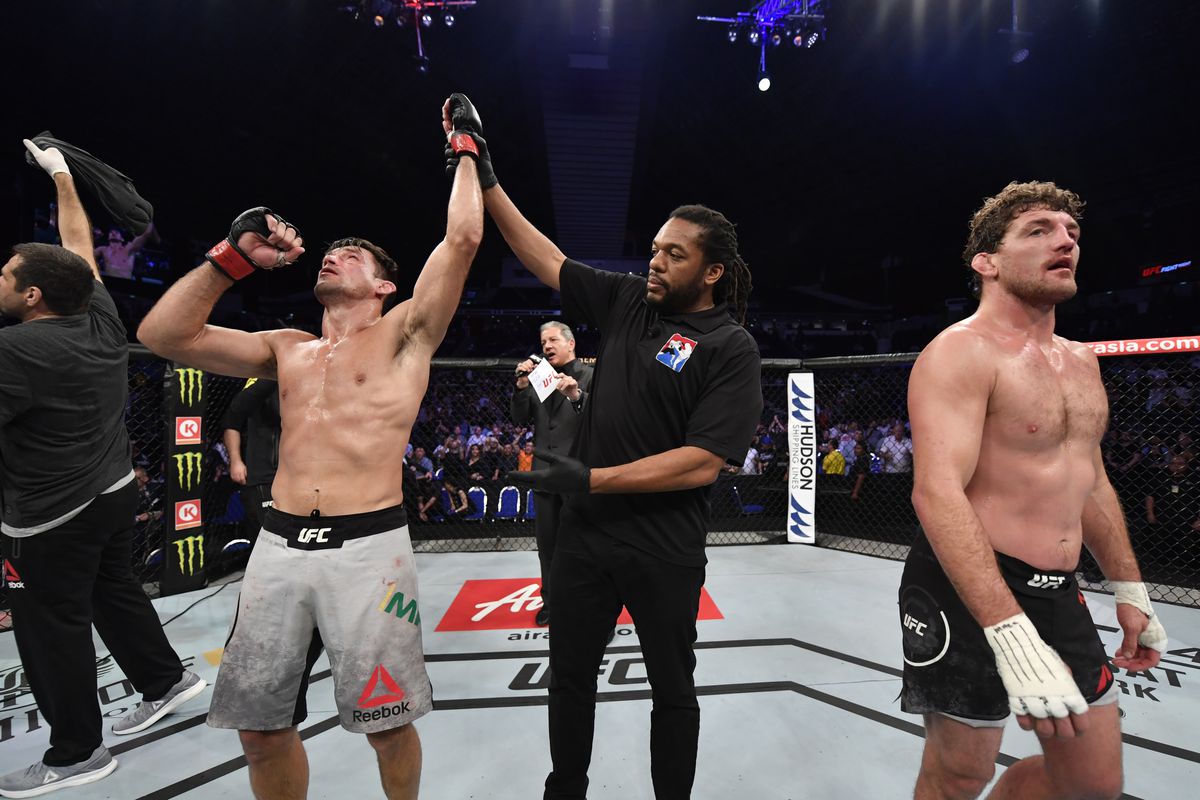 The victory, which took place as the main event of UFC Fight Night 162 in Singapore, came via rear-naked choke at 3:54 in the third round.
Maia Wins Battle of the Grapplers
Maia (28-9) came into the bout as a former Brazilian jiu-jitsu world champion, while Ben Askren is a former Olympic wrestler. Despite that, much of the initial action happened with the two men standing, perhaps feeling each other out and being cautious not to give the other an advantage on the mat.
In the end, though, the 41-year-old Maia won the fight in what felt like the most appropriate way possible.
"Myself and he, we are the best grapplers in the game," Maia said afterwards. "And now, maybe today they can do that belt…they could do the 'Best Grappler' now."
For Askren (19-2), the loss gave him two consecutive defeats after having had been undefeated for his entire career. On Monday, the former Bellator and ONE Championship title holder told said that he might be done in the sport.
"Retirement is definitely something I am considering," Askren said on Ariel Helwani's MMA Show. "I would be lying to you if I said I was not. It's a time/cost analysis. I have a lot of things I want to do in my life. I'm a really busy guy. I have a lot of things I'm passionate about and I love."
Diaz Cleared for UFC 244
Looking forward to Saturday's UFC 244 in New York, the main event between welterweights Nate Diaz and Jorge Masvidal appears to be back on after an atypical drug test result seemingly had forced Diaz out of the contest.
On Monday, Diaz told reporters on a conference call that he was going to fight Masvidal after the US Anti-Doping Agency and the UFC had cleared him of any wrongdoing. That followed tweets from Diaz last Thursday in which he said he would be out of the bout after drug tests found "elevated levels" of a prohibited substance.
On Friday, the USADA and UFC announced that the substance in question was LGD-4033, but that Diaz had tested for a very small amount that didn't reach the threshold for a positive test result. Supplements that Diaz had been taking were tested, with one coming back as having been contaminated by LGD-4033.
"Mr. Diaz has not committed an anti-doping policy violation, has not been provisionally suspended, and is not subject to any sanctions," the UFC said in a statement.
The New York State Athletic Commission confirmed that Diaz had not been disqualified from participation at UFC 244.
McGregor May Fight Cerrone in January
Conor McGregor announced last week that he would be returning to the UFC on Jan. 18 in Las Vegas, but didn't specify who his opponent would be. Now, it appears increasingly likely that Donald Cerrone will likely be the man to take on McGregor, as "Cowboy" told TMZ that a potential fight with the Irish Star seemed likely.
"I think it's gonna happen this time, I really do," Cerrone told TMZ. "Sign the damn deal, man. Let's get this done."
McGregor had announced his retirement from MMA – not for the first time – in March.