The divisional round of the NFL playoffs hasn't even been played yet, but sportsbooks are already taking bets on the Super Bowl 55 MVP.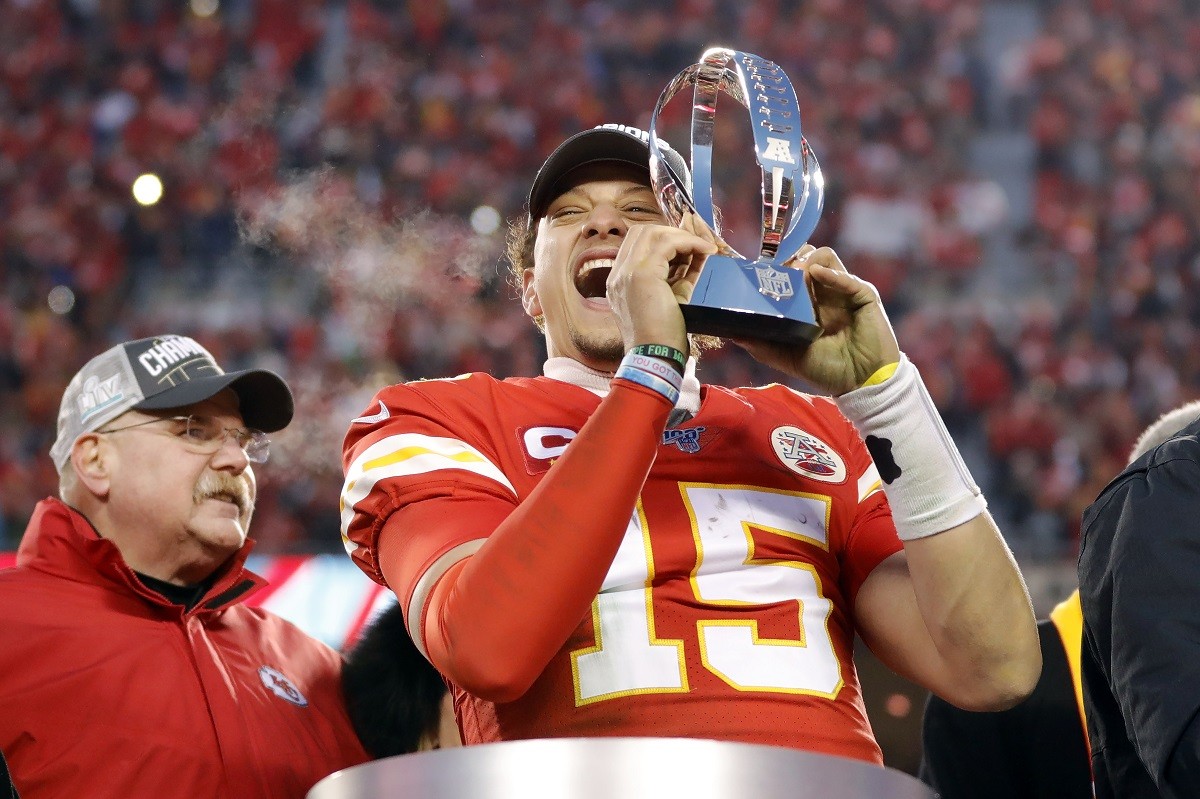 Unsurprisingly, the QBs from the top two seeds are the betting favorites. At BetMGM, Patrick Mahomes leads at +350, followed by Aaron Rodgers at +525. Both are also favorites for NFL MVP.  
"The Chiefs and Packers are the two most likely Super Bowl champions and the quarterback of the winning team often earns the MVP honor," Darren Darby, head of European sports for BetMGM, said in a press release. "Patrick Mahomes and Aaron Rodgers are clear favorites to win amongst bettors, as we've taken most early action on them."
Rodgers has the highest ticket percentage at 18%, followed by Mahomes at 10%.
Three more quarterbacks round out the top five in odds at BetMGM: New Orleans' Drew Brees at +750, Buffalo's Josh Allen at +900, and Baltimore's Lamar Jackson at +1,000.
FanDuel pegs Mahomes as the favorite at +320, followed by Rodgers at +550. The rest of the top five is similar: Allen at +850, Brees at +1000, and Jackson at +1100.
Mahomes was named MVP of Super Bowl 54 last year after the Chiefs defeated the 49ers, 31-20. Brees has also won the award before, being named MVP in Super Bowl 44 after the Saints beat the Colts 31-17.
Super Bowl MVP Not Just for QBs
While it may seem like quarterbacks win the award practically every year, that isn't true. Throughout Super Bowl history, QBs account for 60% of MVPs over the past two decades (12 of the previous 20 award winners). In the past 20 years, receivers have been named MVP four times, as have defensive players. Patriots receiver Julian Edelman was the last non-quarterback to win the award, in 2019.
The non-QB with the best odds at FanDueI is Packers receiver Davante Adams at +2,400. BetMGM pegs both Chief receiver Tyreek Hill and Chiefs tight end Travis Kelce at +2000.
The Chiefs are the betting favorite to repeat their Super Bowl win, as most oddsmakers have them around +200. The Packers are the next most likely at +400.