Magnus Carlsen tricked Alireza Firouzja in a theoretically drawn endgame to win their Round 9 encounter and clinch first place at Norway Chess with a round to spare.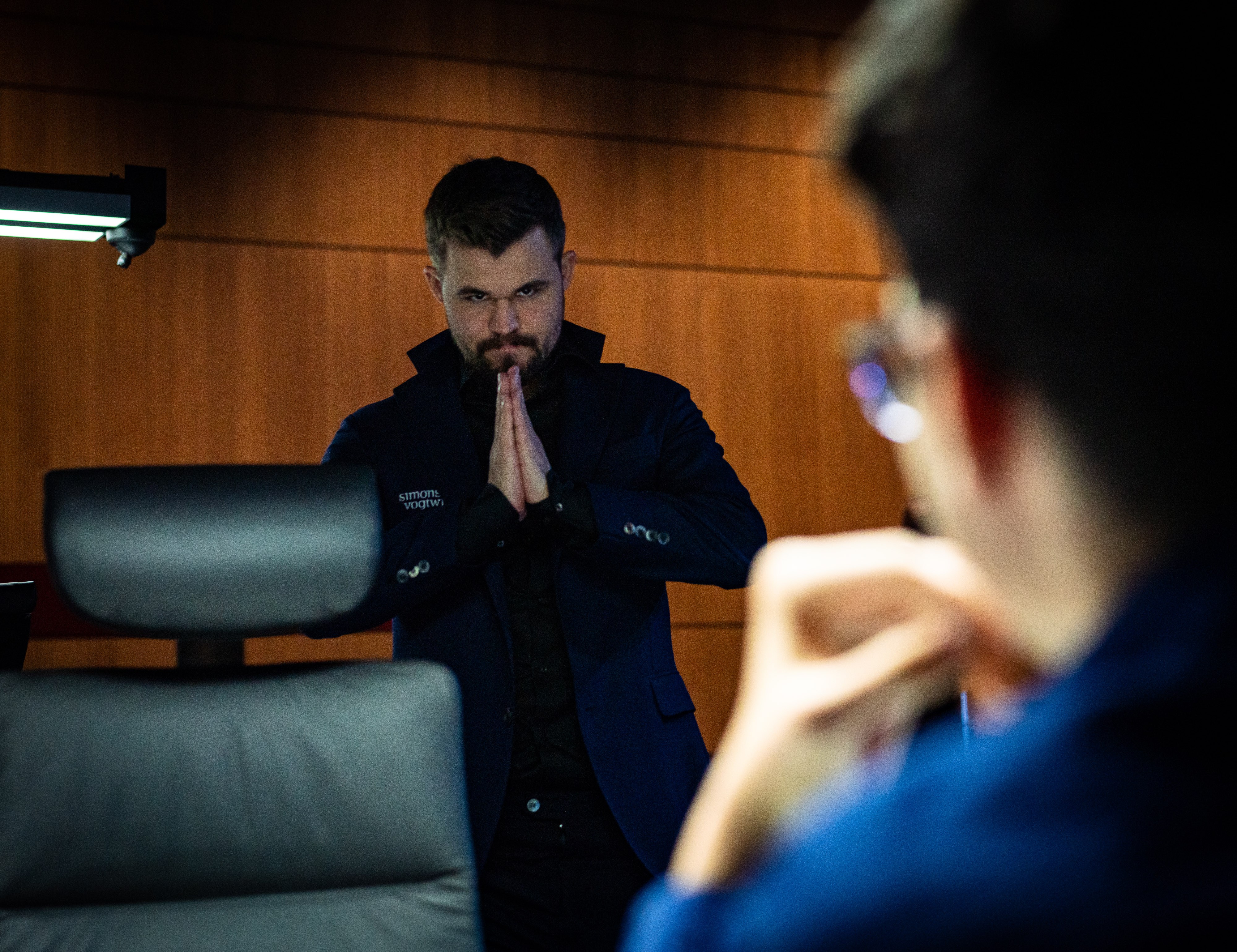 Carlsen would go on to lose his final game to Levon Aronian – his second classical loss of the tournament, after his record-breaking undefeated streak – but it had no impact on the race for first place.
Last Time on Chess Bets: Carlsen Wins, I Lose
The Bets: Alireza Firouzja (+650) to beat Magnus Carlsen; Fabiano Caruana (+500), Levon Aronian (+800), Alireza Firouzja (+600) to win Norway Chess
The Results: Carlsen beats Firouzja (-$100), Carlsen wins Norway Chess (-$300)
Overall: +$291
While our overall results at Norway Chess were positive, I paid for questioning the world champion in Round 9. Not only did we lose on the individual game, but Carlsen clinching the title meant that all of our futures bets also lost. Still, it's hard to complain about winning close to three units on the tournament overall.
Carlsen took advantage of Firouzja's nerves to finish off the tournament. The 17-year-old prodigy did more than enough to secure a draw against the Norwegian, but found himself in severe time trouble. He then traded down into a simplified pawn endgame that remained a theoretical draw, but where only Carlsen could win. Firouzja slipped up, and that was effectively the end of the tournament.
"Basically you just need to keep the distant opposition, that's kind of child's play, but he was shaking his head, he was so nervous that I felt at some point where he was going to put his king was probably going to be a bit random," Carlsen said afterward. "So in that sense, I had some hopes, but obviously, that was lucky."
The Round 10 results ultimately showed that Firouzja wasn't far from winning the tournament. He defeated Jan-Krzysztof Duda in the final round, and while Carlsen may have approached his final game against Aronian differently if the tournament was still in the balance – there's no guarantee he would have lost under those circumstances – even a draw may not have been enough to hold on to first if Firouzja had only drawn their Game 9 encounter.
Carlsen won $74,000 for first place, while Firouzja took home $39,000 as the clear runner up.
Candidates Tournament Delayed Until Spring
Norway Chess gave fans and bettors some live, over-the-board action to enjoy for the first time since March. But it's unclear when we'll get to see the world's top players compete in person again.
The FIDE Candidates Tournament began in March, but the players only completed half of the scheduled double round-robin before FIDE suspended the tournament due to impending travel restrictions. FIDE hoped to resume the event in November, but announced this week it will push the rest of the competition back to spring 2021.
Both the London Chess Classic (scheduled for December) and the Gibraltar Chess Congress (January/February) also canceled their upcoming events. Fide has also postponed the World Rapid & Blitz Championship.
"Holding the World Rapid and Blitz Championship during Christmas, as it was initially planned, is not feasible," FIDE said in a statement. "The pandemic situation poses health and logistic challenges that can not be easily solved for an event of these characteristics."
However, more online chess is on the horizon. The Magnus Carlsen Chess Tour plans to return in November, though organizers have yet to publish specifics.