World Chess Champion Magnus Carlsen methodically outplayed Swedish grandmaster Nils Grandelius on Tuesday to earn a much-needed win in Round 9 of the Tata Steel Masters.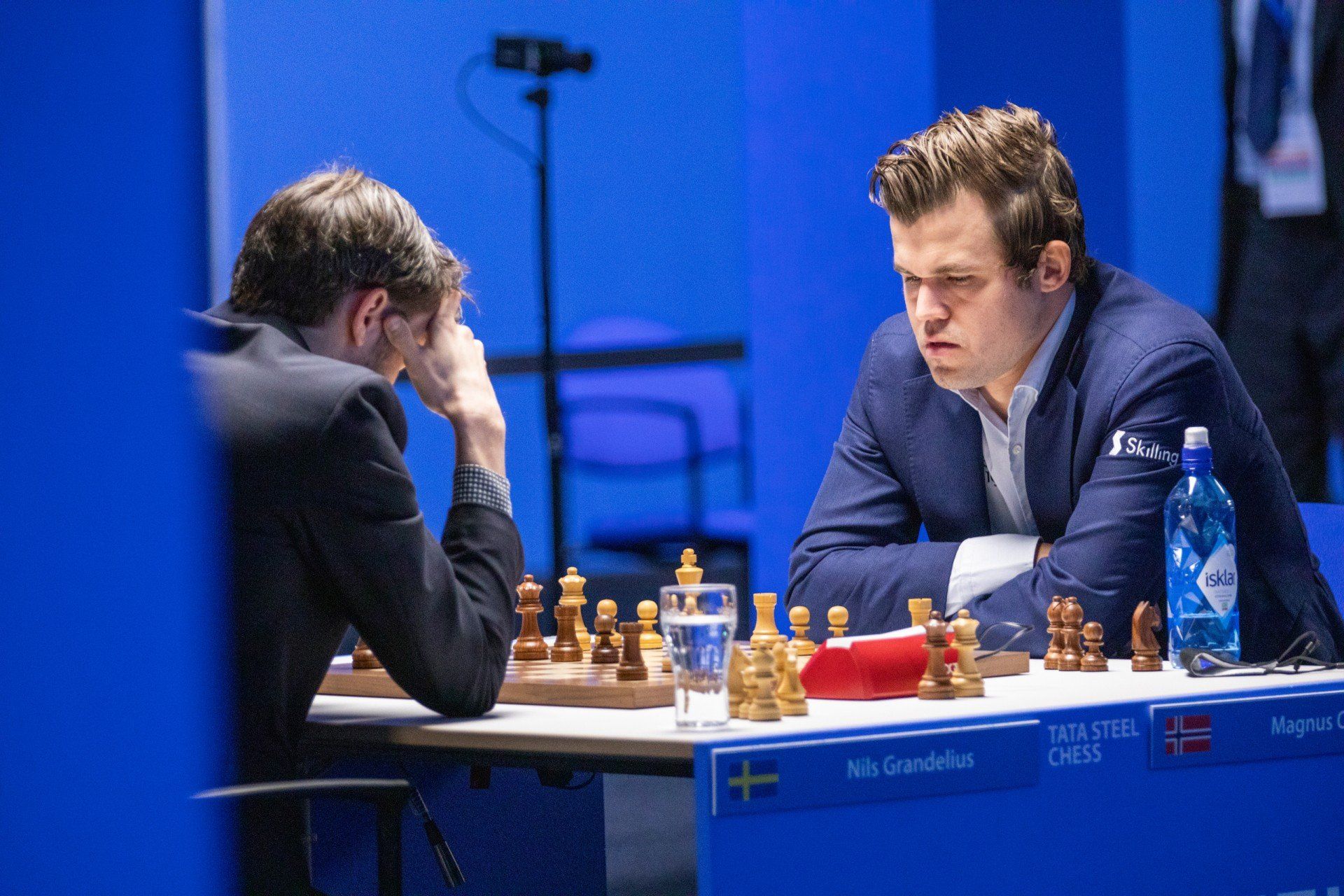 Carlsen struggled to find points in Wijk aan Zee, Netherlands, having failed to win since a first-round victory over Alireza Firouzja.
Three Tied for Lead at Tata Steel Masters
The Norwegian was coming off a stunning loss to 18-year-old Andrey Esipenko in Round 8, one that nearly eliminated him from title contention. But, the win over Grandelius could keep faint hopes alive for Carlsen, who sits in sixth place, one full point behind the leaders with four rounds left to play.
Magnus Carlsen bounces back to beat Grandelius and is 1 point off the leaders with 4 #TataSteelChess rounds to go! Tomorrow he plays Fabiano: https://t.co/iS8EoPGdTX #c24live pic.twitter.com/9osjWvtmnq

— chess24.com (@chess24com) January 26, 2021
Carlsen achieved a strong position as White out of a Sicilian defense, then neatly put the match away in the endgame, locking down Grandelius' counterplay before choosing a winning technique. Gradelius resigned after 65 moves.
Carlsen's win overshadowed two more consequential victories at the Tata Steel Masters on Tuesday. Both Fabiano Caruana and Anish Giri won their games, which was enough to vault them into a three-way tie for first with Firouzja, who settled for a draw against Esipenko. The three leaders all have six points after nine rounds.
Caruana quickly dismantled Radoslaw Wojtaszek with the black pieces. With Caruana already outplaying Wojtaszek, a tactical error on the 34th move doomed the Polish grandmaster, who saw his position quickly fall apart. He resigned after 39 moves, just before the time control was reached.
A beautiful win by @FabianoCaruana!

Caruana exchanges the dark-square bishop with 13…Bxc3!?, creates a beautiful pair of knights, and then sacrifices both of them to break through and promote his powerful f-pawn!#TataSteelChess

Replay this game ➡ https://t.co/nK4ThMd2ZP pic.twitter.com/rG8vsilItH

— Chess.com (@chesscom) January 26, 2021
Giri, meanwhile, took 70 moves to finish off Maxime Vachier-Lagrave. The well-played game looked equal until around move 40, when Vachier-Lagrave made a few mistakes that gave Giri a clear edge. The Dutch grandmaster held that advantage throughout the game, converting what could have been a tricky endgame without erring.
The result continues a disappointing Tata Steel Masters for Vachier-Lagrave, as the French grandmaster sits tied for last on just three points.
Giri & Caruana are now co-leaders with Firouzja with 4 rounds of #TataSteelChess to go! pic.twitter.com/kGPqyM1jxq

— chess24.com (@chess24com) January 26, 2021
Caruana vs. Carlsen Highlights Round 10 Matchups
With only four rounds remaining, Caruana has emerged as a +150 favorite to win the tournament, according to Bwin. Carlsen (+300) still rates as a contender, despite having little time left to make up ground. The co-leaders, Giri (+300) and Firouzja (+400), are both obviously still in the mix. Bwin sees both Jorden van Foreest (+2000) and Esipenko (+2500) as long shots, despite the fact that they sit only a half-point off the lead – and a half-point ahead of Carlsen.
---
Tata Steel Masters Odds – Round 8 (via Bwin)
Andrey Esipenko: +300
Draw: -225
David Anton-Guijarro: +600
Anish Giri: +200
Draw: -225
Radoslaw Wojtaszek: +1600
Fabiano Caruana: +500
Draw: -250
Magnus Carlsen: +400
Jan-Krzysztof Duda: +300
Draw: -250
Jorden van Foreest: +750
Maxime Vachier-Lagrave: +175
Draw: -165
Alexander Donchenko: +1000
Nils Grandelius: +700
Draw: -185
Alireza Firouzja: +220
Pentala Harikrishna: +175
Draw: -165
Aryan Tari: +1000
---
Wednesday's key game pits Caruana against Carlsen in what could be the World Champion's best chance to fight for his eighth Tata Steel Masters title. Caruana comes in as a +500 pick to win with White, while Carlsen is slightly favored at just +400 with Black – though a draw (-250) is the most likely result between the world's top two players.