Vincente Luque knocked out Belal Muhammad in the first round of their fight at UFC 205, at a time when both were still up-and-coming prospects in the promotion. Now, the two welterweights will clash again as serious contenders in the main event of UFC on ESPN 34 in Las Vegas on Saturday night.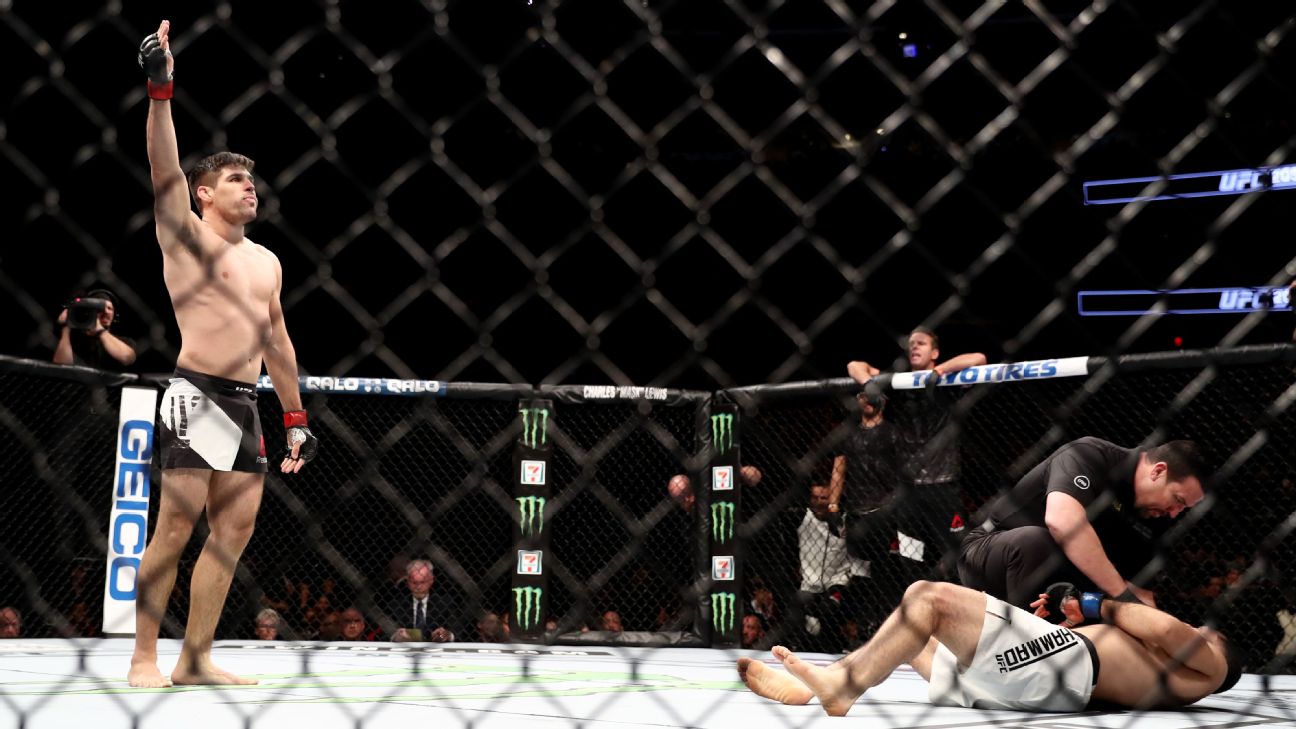 Luque enters as a -195 favorite over Muhammad (+165), according to FanDuel Sportsbook.
Luque, Muhammad looking past first fight
The odds are relatively tight despite the dominant performance that Luque (21-7-1) put on in their first matchup. It took Luque just 79 seconds to win that fight, though both fighters have come a long way since then.
Luque comes in having won 10 of his past 11 fights, including a first-round submission victory over Michael Chiesa at UFC 265 last August. Muhammad (20-3) has also won 10 of 11 – with one no contest – since his loss to Luque, and is coming off a unanimous decision victory over Thompson.
In other words, both men have grown in the UFC over the past six years, and both know this fight won't be anything like the first.
"I prefer to forget the first fight because it was short notice, I fought two minutes, and that was it," Luque told reporters. "If I look at that fight and think about it, I'm going to underestimate Belal and that's something I cannot do because he has evolved and he has great wins. So yeah, I prefer to forget that first fight."
Muhammad also wants to look past that first encounter, albeit for different reasons.
"I don't like to overthink it," Muhammad told Yahoo Sports' Kevin Iole. "I just think that I'm a whole different fighter, and I think that I had to go through that to get to where I am today…It was a short notice fight for both of us. I just think I just got caught."
Winner sees path to title shot
The stakes are also much higher in this second encounter. Luque comes in as the No. 5 ranked welterweight in the UFC, with Muhammad holding the No. 6 ranking. That makes this a big fight, and either man could leap into title contention with a win.
Still, Luque says he's taking things one step at a time.
"I think the big thing is for me to get a big performance on Saturday," Luque said. "I got to get a big one and from there we can see. Maybe I can jump straight to the title depending on what goes on in the division. But I'm a fighter, I love to fight."
Muhammad may be the underdog, but he does have some advantages in the bout. Luque can hit hard and tends to control the pace in his fights, but Muhammad has impressive cardio and might have the edge on the ground. And if he can win, Muhammad might just find himself in the title picture as well.
"I think it all just comes down to first beating Vincente with a great performance," Muhammad told Iole. "I've been calling for a main event. I've been wanting a main event."