LSU vs. Alabama presents a possibility that hasn't happened since September 2015. That was the last time Alabama lost a home game at Bryant-Denny Stadium. Since that 43-37 loss to Mississippi, the Crimson Tide has been unstoppable at home, winning 31 straight contests.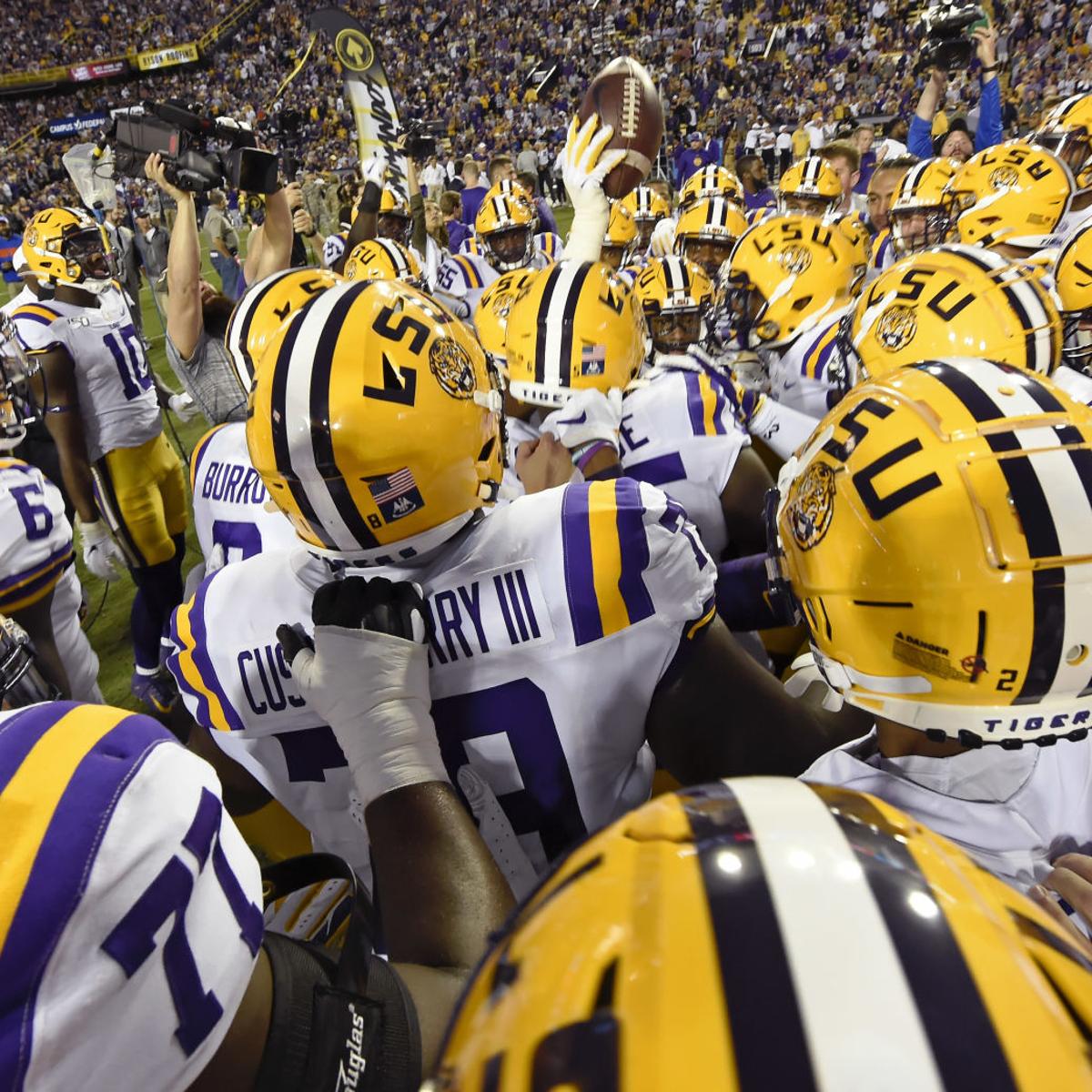 If LSU is going to break that four-year streak, they're going to have to forget about past games in Tuscaloosa. They should also try and forget that Alabama has won the last eight meetings between the two teams.
This seems like the year the Tigers can finally turn things around. LSU is ranked No. 1 in the AP College Football Top-25 Poll, supplanting the Crimson Tide in the top spot. Tigers' coach Ed Orgeron said his players know they still have work to do.
"You can tell by the rankings, we made up some ground," he said. "We still have to beat them."
Plenty to Lose for LSU, Alabama
LSU was last ranked No. 1 in 2007. Since Orgeron took over the program in 2016, he said his goal is to bring the Tigers to national prominence. He has had to work hard to succeed, and to impress boosters, fans, and athletic department administrators.
Before the season began, Orgeron was a 10/1 pick to be the first college coach fired, despite finishing 10-3 in 2018, and winning the Fiesta Bowl. That isn't enough for football crazy Baton Rouge residents. They want a spot in the College Football Playoffs.
That is exactly where Orgeron has his 8-0 team. They are second in the College Football Playoff Rankings, which is why Saturday's game is so crucial to them. Lose this game, and they could fall out of the top four in the CFP Rankings. If that happens, they would have to hope a team above them loses, and they can sneak back in.
Alabama, however, is in much greater danger of missing out on the College Football Playoffs if they lose at home. They are a 6.5-point favorite. Being defeated by LSU might just highlight the team's weaker schedule, and drop them further down the rankings, putting them in a spot from which cannot climb back up.
Crimson Tide coach Nick Saban has been defensive about his team's non-conference schedule, but there is no getting past it. Alabama has faced, and destroyed, Duke, New Mexico State, and Southern Mississippi.
Early in the season, Saban angrily denied scheduling cream puffs.
"We try to schedule the best teams we can schedule, but we can only play the people who are willing to play us," Saban said. "I have said my opinion about playing 12, Power-5 schools, that's what I would rather do."
War of Words
There is no doubt that LSU is tired of losing to Alabama, and they aren't afraid to voice that opinion. Tigers wide receiver, Justin Jefferson, provided plenty of bulletin board material when he talked to reporters earlier in the week.
"They haven't seen an offense like ours yet," Jefferson said. "We're going to come for their heads. … We're going to dominate. There's nothing much to it. We owe them."
Saban didn't take the bait, and has offered a much more complimentary assessment of LSU.
"I think that the system that they're running is a much more pro-style system, very similar to the New Orleans Saints," Saban said. "They spread you out. They have very good skill players, which maybe at times in the past they didn't utilize systematically. Now, they really do."