Sports books had an immediate reaction after Philadelphia Eagles quarterback Carson Wentz suffered a season-ending knee injury in Sunday's 43-35 victory over the Los Angeles Rams. They raised the odds of the NFL team's chances of winning the Super Bowl from 11-2 to 9-1. Some odds makers have the team dropping from 6-1 to 10-1.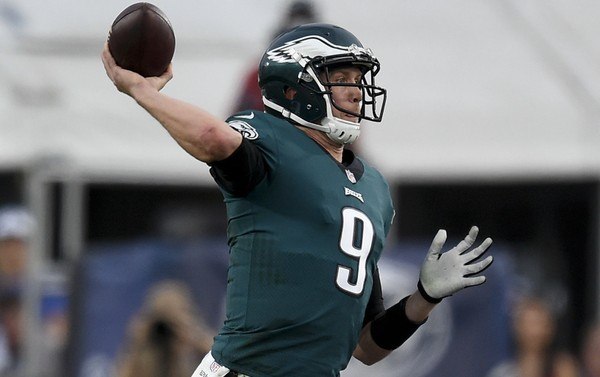 They are now the second team from the NFC to be picked to win the Vince Lombardi Trophy. Minnesota has leapfrogged the Eagles and is now 8-1. The Vikings have been in four Super Bowls and lost every one. Philadelphia is 0-2 in the big game.
Wentz's injury has also caused the odds for the 11-2 Eagles to win the conference championship. Philadelphia has dropped from 3-1 to 9-2, while Minnesota is now the top pick at 7-2.
Hope Trumps Pessimism
But all is not lost in the City of Brotherly Love. Many experts believe Philadelphia still has a chance to not only reach the Super Bowl, but to win it. Head Coach Doug Pederson certainly believes his team can rise above the injury.
"We overcame a Pro Bowl left tackle injury, we've overcome a middle linebacker, we've overcome a running back, our kicker, this is no different," he said at his Monday press conference. "Yes, he is the quarterback of our team, but you know what, each one of these guys though are tough to replace."
The team will now have to rely on back up Nick Foles, which Pederson said they have confidence he can compete.
"The reason we went out and got Nick Fowles was for situations like this," he said. "I am excited for Nick obviously. I hate it for Carson but at the same time it's been the next man up mentality and it's no different for this."
It has been a rough year for quarterbacks in the NFL. Starters Sam Bradford, Carson Palmer, and DeShaun Watson all suffered season-ending injuries. Several other signal callers have been out for significant amounts of time with injuries.
Three Winnable Games
Foles has the advantage of facing two of three teams with losing records. His first game is Sunday against the hapless New York Giants. They are 2-11 and have recently fired their head coach and general manager.
It is the easiest possible debut that Foles could have asked for and if he performs like he did after replacing Wentz late in the third quarter, he should have no problem. In the Rams game he was 6-of-10 for 42 yards.
The team is favored by 7 ½-points against New York despite being on the road. They then have two home games to close out the regular season. On Christmas Day they host the current 6-7 Oakland Raiders. They will get a test on the final game of the season when Dallas comes to town to play. The Cowboys are still in the playoff hunt and will have running back Ezekiel Elliott back from his six-game suspension.