Loops eSports from Brazil won the PUBG Mobile Pro League Americas after dominating the 20-team field. They earned a first-place prize worth $50,000 and bragging rights after a spectacular performance. Eight teams from the Americas advanced to the PUBG World League, including Loops, XQ Gaming, B4 eSports, Cloud9, Wildcard Gaming, Team Queso, Tempo Storm, and the Pittsburgh Knights.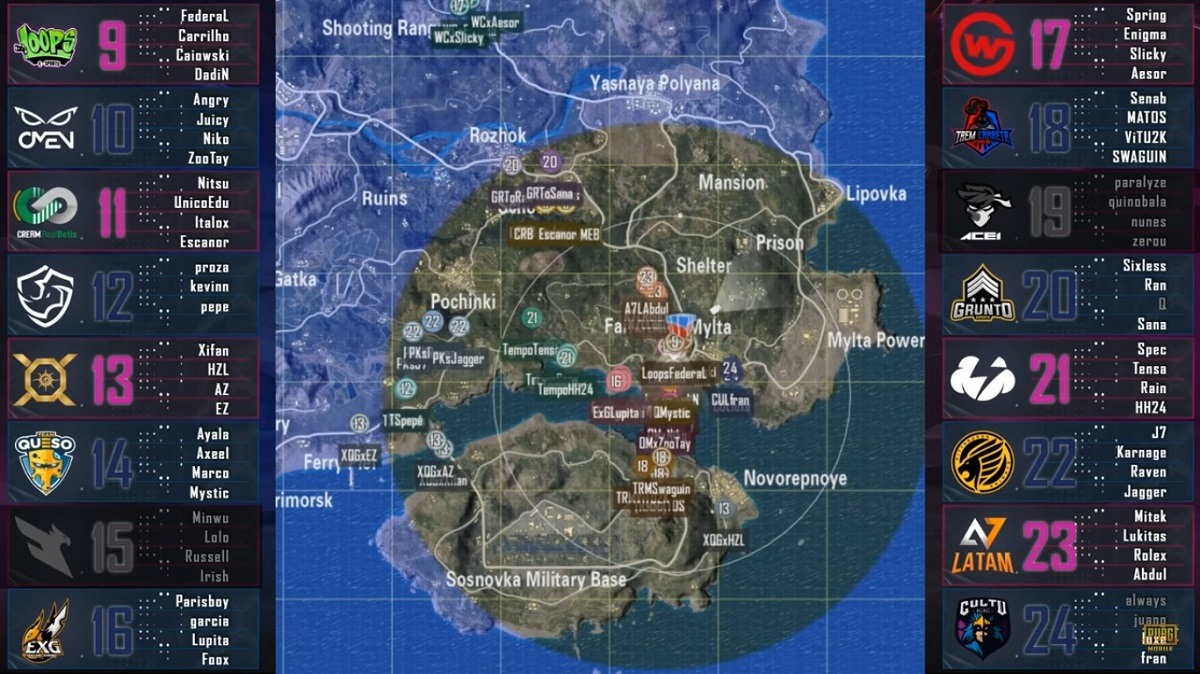 In the PMPL Americas, 20 teams from North and South America fought to become the last team standing in 80 PUBG Mobile matches on four different maps, spread out over 16 days of action. Each team completed 64 total matches. Official points were calculated by team placement in each game, plus kill points.
The roster for Loops in Brazil includes Sadin, Carriljo, Becker, Caidwski, and Federal. PUBG recognized Carrilho as the MVP of the PMPL Americas tournament.
All members on Loops split $50,000 for winning PMPL Americas. Loops won six games or "six chicken dinners" in the parlance of PUBG's legion of players. They also racked up the most kill points by eliminating 358 opponents over a 64-game stretch.
PMPL AMERICAS TOP 8 QUALIFIERS
Loops (Brazil)
XQ Gaming (USA)
B4 eSports (Brazil)
Cloud9 (USA)
Wildcard Gaming (USA)
Team Queso (Argentina)
Tempo Storm (USA)
Pittsburgh Knights (USA)
The field for Season Zero of the PUBG Mobile World League (PMWL) is now set. A total of 40 teams will be split up in two divisions — PMWL East and PMWL West. Eight qualifying teams from the PMPL Americas will round out the PMWL West.
PMWL Season Zero commences on July 10 and runs through August 9. First place in the PUBG World League will pay out $200,000. Due to the coronavirus pandemic, the PUBG World League will take place exclusively online.
What an INCREDIBLE final #PMPL match with @loops_esports taking home the last chicken dinner🍾
Congratulations to all of our teams for amazing performances and if you missed any of the action head over to our official YouTube to catch up on the action.

🔗https://t.co/YT3MB7axIR pic.twitter.com/mUsPmZzQAL

— PUBG MOBILE Esports (@EsportsPUBGM) June 29, 2020
Day 16 Bubble: Pittsburgh Knights Hold Ground
Heading into Day 16 and the final day of action, the Pittsburgh Knights saw their #8 rank under assault from four bubble teams.
Tribe Gaming (#9) trailed the Knights by 24 points. Cream Real Betis (#10) trailed the Knights by 37 points. Team Carreta Furacao (#11) were 53 points back, while Omen Elite (#12) were 55 points back.
By the end of Day 16 and the completion of match #64, the Knights successfully held off all challengers to lock up the eighth and final qualifying spot.
Tribe Gaming put up a good fight on the final day, but still fell short of the mark. They bubbled in ninth place and were edged out by 20 points. The Knights also held off Omen Elite, who finished #10 overall and trailed by 22 points.
Top 3: Loops, XQ Gaming, and B4
Loops and B4 both jumped out to hot starts in the first week of action in the PMPL Americas. The two teams from Brazil were jockeying for the top spot.
Overall, five teams based in the USA placed in the top eight and advanced to the PUB World League. Three teams from South America were represented with two from Brazil (Loops and b4), and Team Queso from Argentina.
2020 PMPL AMERICAS RESULTS
1. Loops – 812 Points (6 Wins) $50,000
2. XQ Gaming – 721 (7 Wins) $25,000
3. B4 – 718 (7 Wins) $15,000
4. Cloud9 – 708 (7 Wins) $10,000
5. Wildcard Gaming – 674 (5 Wins) $8,000
6. Team Queso – 666 (5 Wins) $7,000
7. Tempo Storm – 651 (5 Wins) $6,000
8. Pittsburgh Knights – 601 (3 Wins) $5,000
9. Tribe Gaming – 581 (5 Wins) $4,000
10. Omen Elite – 579 (4 Wins) $4,000
11. Cream Real Betis – 563 (4 Wins) $3,000
12. Team Carreta Furacao – 537 (3 Wins) $3,000
13. CULTUBG – 523 (4 Wins) $2,500
14. Alpha7GG – 508 (4 Wins) $2,500
15. Ace1 – 499 (0 Wins) $2,500
16. Lazarus – 448 (2 Wins) $2,500
17. Enxame Gaming – 439 (3 Wins) $2,000
18. Grunto – 424 (2 Wins) $2,000
19. Mezexis – 347 (1 Win) $2,000
20. Team Solid – 317 (2 Wins) $2,000
XQ Gaming, B4, and Cloud 9 tied for the most wins (aka chicken dinners) with seven victories apiece. Loops posted six wins, which kept them out in front along with their high kill rate.
In the final game of the PMPL Americas, Loops swooped in with a victory on the Erangel map in Match #80. Loops secured six chicken dinners during this tournament.
Ace1 is the only team to post a doughnut and not win a single match. Despite the shutout, Ace1 still finished #15 overall.