Liverpool will look to move within one win of clinching its first Premier League title on Sunday, when the Reds take on Everton in the latest edition of the Merseyside derby.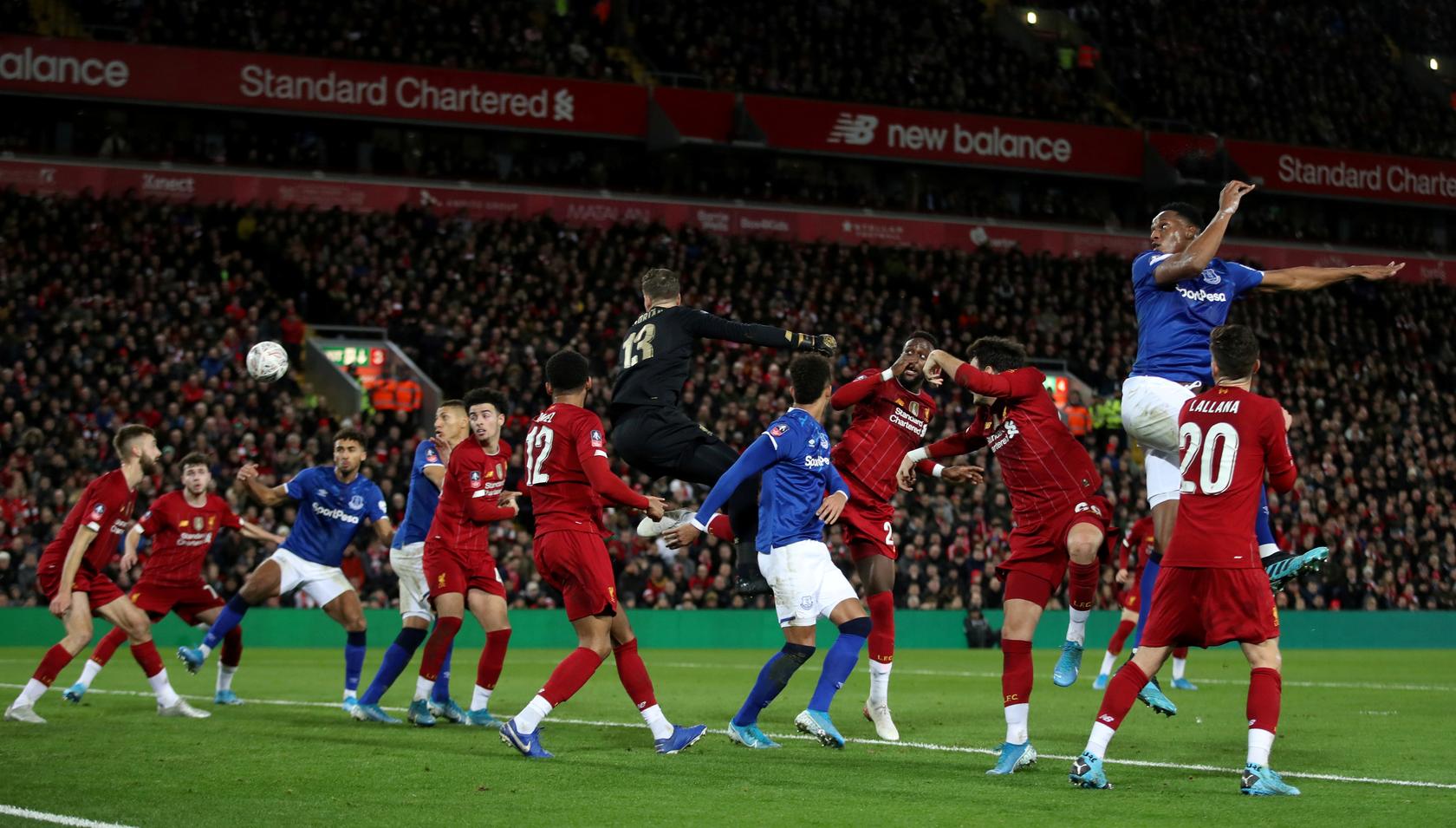 Everton hosts Sunday's matchup, but comes in as a +490 underdog to Liverpool (-180), according to FanDuel Sportsbook.
Liverpool Closes in on First Premier League Title
Liverpool sits 22 points ahead of Manchester City at the top of the EPL table with nine matches left to play. That means that the Reds can clinch the title with any combination of two Liverpool wins or City losses.
Assuming they avoid disaster, Liverpool will pick up its 19th English league championship. However, it would be the club's first Premier League title, as it last one the crown in 1989-90, when the top league was still known as the First Division.
Liverpool prepared for its return to play with a 6-0 friendly win over Blackburn Rovers last week. There's no substitution for playing in actual matches, but Liverpool manager Jurgen Klopp believes both his team and Everton will be ready to go on Sunday despite the long layoff during the COVID-19 shutdown.
"I expect us to be in a good shape but we will see how good it is," Klopp told the Liverpool FC website. "I expect, like I always do, Everton to be in a very good shape and so it will be difficult for us – and rightly so, it's the Premier League. We didn't play for a while, so we should try to sort the problems in this game, we should give them some as well and then we will see."
Like all Premier League teams, Everton will host its match on Sunday without fans in the stands. According to manager Carlo Ancelotti, that will limit Everton's home field advantage and make the club's task even harder.
"We have to play a perfect game showing character, showing sacrifice, showing personality," Ancelotti told reporters. "I am pleased that the game is at Goodison Park, I'm not pleased that we have to play without supporters."
Long Layoff Leads to Fitness Concerns
Coming off of the long layoff due to the coronavirus pandemic, both teams face some fitness questions. While Klopp hasn't confirmed any injuries, The Athletic reported that both Mo Salah and Andy Robertson – both of whom sat out the Blackburn friendly – could miss Sunday's game. Both Yerry Mina and Fabian Delph are out of action for Everton.
---
Premier League Odds
Saturday
Watford (+270) vs. Leicester (+105)
Brighton (+200) vs. Arsenal (+135)
West Ham (+270) vs. Wolves (+105)
Bournemouth (+150) vs. Crystal Palace (+195)
Sunday
Newcastle (+230) vs. Sheffield United (+135)
Aston Villa (+500) vs. Chelsea (-200)
Everton (+490) vs. Liverpool (-180)
Odds via FanDuel Sportsbook
---
With players only now regaining match fitness, Klopp plans to take full advantage of the extra substitutions allowed under rules adopted during the pandemic.
"Five subs is a necessity, to be honest," Klopp said. "We will have now two games in three days, then we have an eight-day break which is not so cool but not to change, and then we will play four games in nine days. If you cannot make changes then in the games and try to figure out who can play how long in which moment – and I hope we have the players for that – then it would be really, really difficult."
Everton currently sits 12th in the EPL table on 37 points, 11 points out of a Champions League position and eight points behind Manchester United for a Europa League spot.