Manchester United crushed RB Leipzig 5-0 at home in the first meeting between the Champions League Group H rivals. Now, the German side will have to take revenge if it wants to go through to the knockout rounds of the European competition.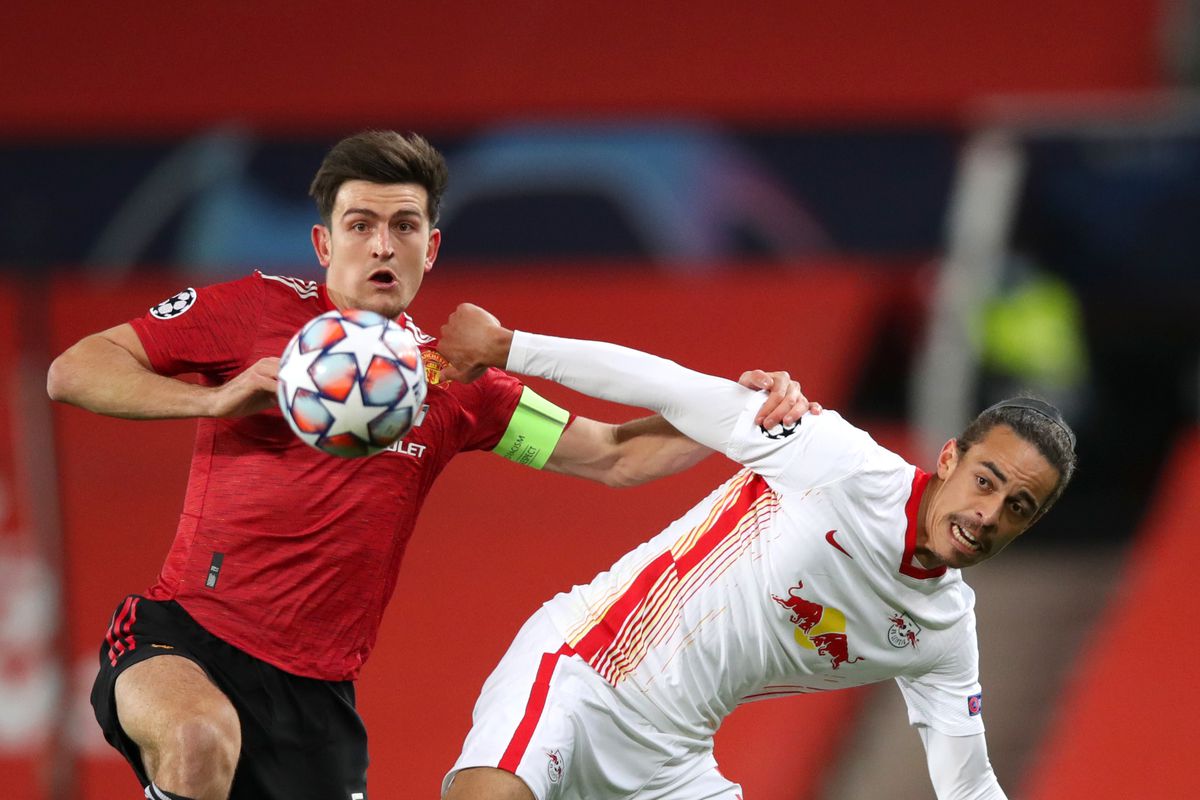 United, Leipzig, and Paris Saint-Germain are all tied at nine points atop Group H heading into the final matchday of Champions League group stage play on Tuesday.
Solskjaer: United Will Play for Win
That makes the matchup between Leipzig and United critical for determining who goes through. Leipzig comes in as a slight +130 favorite over Man United (+180), according to FanDuel Sportsbook.
Because United holds the tiebreaker over Leipzig, the English side can advance with a draw. But the hosts have no such assurances. With PSG (-1000) heavily favored at home over Istanbul Basaksehir (+2700), Leipzig can assume it will need the full three points to finish first or second in the group.
According to Leipzig manager Julian Nagelsmann, his squad can learn from its 5-0 drubbing at Old Trafford, but it can't be intimidated by that result.
"We have tried to learn our lessons from the 5-0 defeat in Manchester," Nagelsmann told reporters. "Overall, we had too few chances in their box and weren't aggressive enough in the final third. We were almost too scared to attack. We need to play differently on Tuesday night – we have to find more ways of attacking and to to get behind their defense."
United needs only a draw to clinch advancement to the Champions League knockout stages, but that doesn't mean the visitors will park the bus and play for one point.
"You can't sit back and hope for a 0-0 draw," United manager Ole Gunnar Solskjaer told reporters. "That's not in our genes, it's not in the team's genes, it's not in the club's genes, we want to go out there and win a game."
Lazio, Brugge Battle for Second Place in Group F
Both clubs would be sorely disappointed by failing to qualify, which should add even more tension to an already pivotal match.
"I'm not sure for whom the situation in the group is psychologically worse," Nagelsmann said. "Manchester were first in the group for a long time, now they can be eliminated with one game. We have fought our way back, and can still make it through on our own terms."
---
Champions League Odds (via FanDuel Sportsbook)
Lazio: -140
Draw: +290
Club Brugge: +370
Zenit St. Petersburg: +380
Draw: +290
Dortmund: -145
Paris Saint-Germain: -1000
Draw: +950
Basaksehir: +2700
Chelsea: -380
Draw: +500
FK Krasnodar: +1000
Dynamo Kiev: -130
Draw: +270
Ferencvaros: +360
Barcelona: +105
Draw: +270
Juventus: +240
RB Leipzig: +130
Draw: +270
Manchester United: +180
Rennes: +220
Draw: +230
Sevilla: +125
---
The loser won't be eliminated from European play entirely, as the third-place team in each Champions League group falls to the Europa League. Solskjaer, for his part, has no interest in taking his team to the second-tier competition again.
"You want to play against the best to constantly improve," Solskjaer said. "Last season, we used the Europa League to give players game time when they weren't playing. We don't have that anymore."
While Group E (Chelsea and Sevilla) and Group G (Barcelona and Juventus) have already determined who will advance to the Champions League knockout rounds, there's still some drama in Group F. Lazio needs only a draw to advance when it hosts Club Brugge, but the Belgian side can leapfrog it with a win. Lazio enters the game as a -140 favorite over Club Brugge (+370).