Magnus Carlsen and the two previous World Chess Champions will join seven other top players in the Legends of Chess, the final event in the main portion of the online Magnus Carlsen Chess Tour.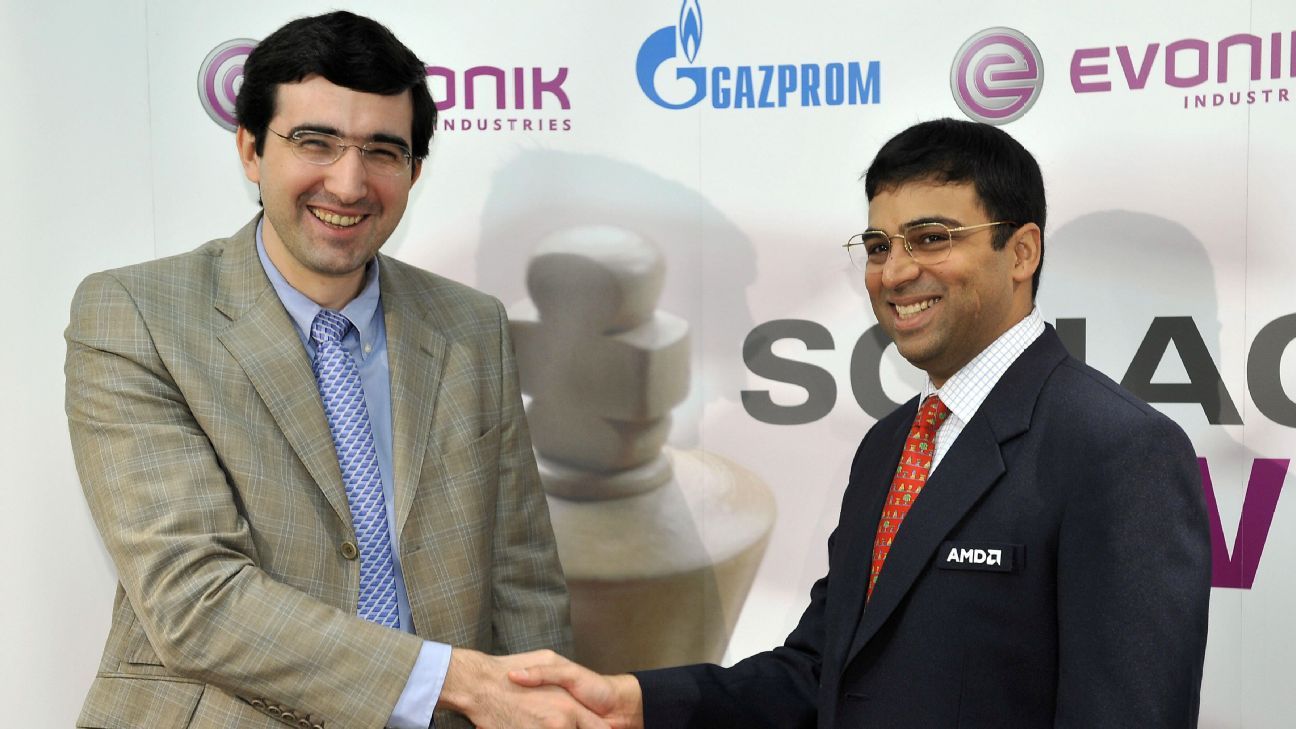 Former champions Vladimir Kramnik and Viswanathan Anand will both making their first appearance on the tour, as are fellow legends Peter Svidler, Peter Leko, Boris Gelfand, and Vassily Ivanchuk.
Last Grand Final Position Up for Grabs
The Legends of Chess event features a 10-player field in total. The competitors will play a full round-robin of four-game mini-matches. Each match win is worth three points; if the match goes to tiebreakers, the winner will get two points and the loser one point. The top four will advance to the knockout semifinals.
Like the last two events on tour, the Legends of Chess features a $150,000 prize pool. The winner will also earn a spot in the Grand Final next month, where four players will compete for $300,000 in prize money.
Carlsen has already earned his position in the Grand Final by winning both the Magnus Carlsen Invitational and the Chessable Masters. Daniil Dubov won the Lindores Abbey Rapid Challenge to book his spot.
---
Legends of Chess Odds (Winner)
Magnus Carlsen (-200)
Ding Liren (+600)
Ian Nepomniachtchi (+900)
Viswanathan Anand (+1400)
Anish Giri (+1400)
Vladimir Kramnik (+1400)
Peter Svidler (+1400)
Peter Leko (+4000)
Boris Gelfand (+5000)
Vassily Ivanchuk (+5000)
Odds via Unibet
---
That leaves two positions available. The winner of the Legends of Chess – assuming it isn't Carlsen – will get that position. The last spot will go to the tour player with the most points based on their finishes throughout the series.
Right now, that's American Hikaru Nakamura. However, Nakamura didn't qualify for this event, and Ding Liren will pass him if he reaches the semifinals. If Ding wins the tournament, Nakamura will get the fourth and final spot. If Carlsen wins yet again, both Ding and Nakamura will get in on points.
Carlsen enters the tournament as the prohibitive favorite. Online bookmaker Unibet lists the current World Champion as a -200 pick to win yet again, with Ding (+600) his closest competitor.
Carlsen vs. Giri Highlights Round 1 Pairings
The Legends of Chess begins Tuesday with a mouthwatering matchup for fans. Carlsen faces off against Anish Giri in a rematch between the frienemies who battled in the Chessable Masters final. Giri referenced the unlikely pairing on Twitter, where he said he'll be training hard for his match against Carlsen.
Got the first round pairings from the arbiter who "swears it was random".🤣 @chessable recording of my French course has to be postponed.

Off to prepare. ✌️⚔️♟🔥 pic.twitter.com/VBSORkuV35

— Anish Giri (@anishgiri) July 17, 2020
Unibet sees Carlsen as -835 to win the match (including a potential Armageddon tiebreak) over Giri (+470).
In other first-round matches, Anand (-122) comes in as a slight favorite over popular tour commentator Svidler (-109), while Ian Nepomniachtchi (-155) is favored over former World Champion Kramnik (+115). Meanwhile, Unibet lists Ding (-1000) as a strong favorite over Israeli grandmaster Gelfand (+525), While Leko (-134) and Ivanchuk (+100) should be a competitive battle between two legends.