Magnus Carlsen defeated former World Chess Champion Vladimir Kramnik 3-1 on Wednesday to cap off a perfect 9-0 record in the round-robin portion of the Legends of Chess online tournament.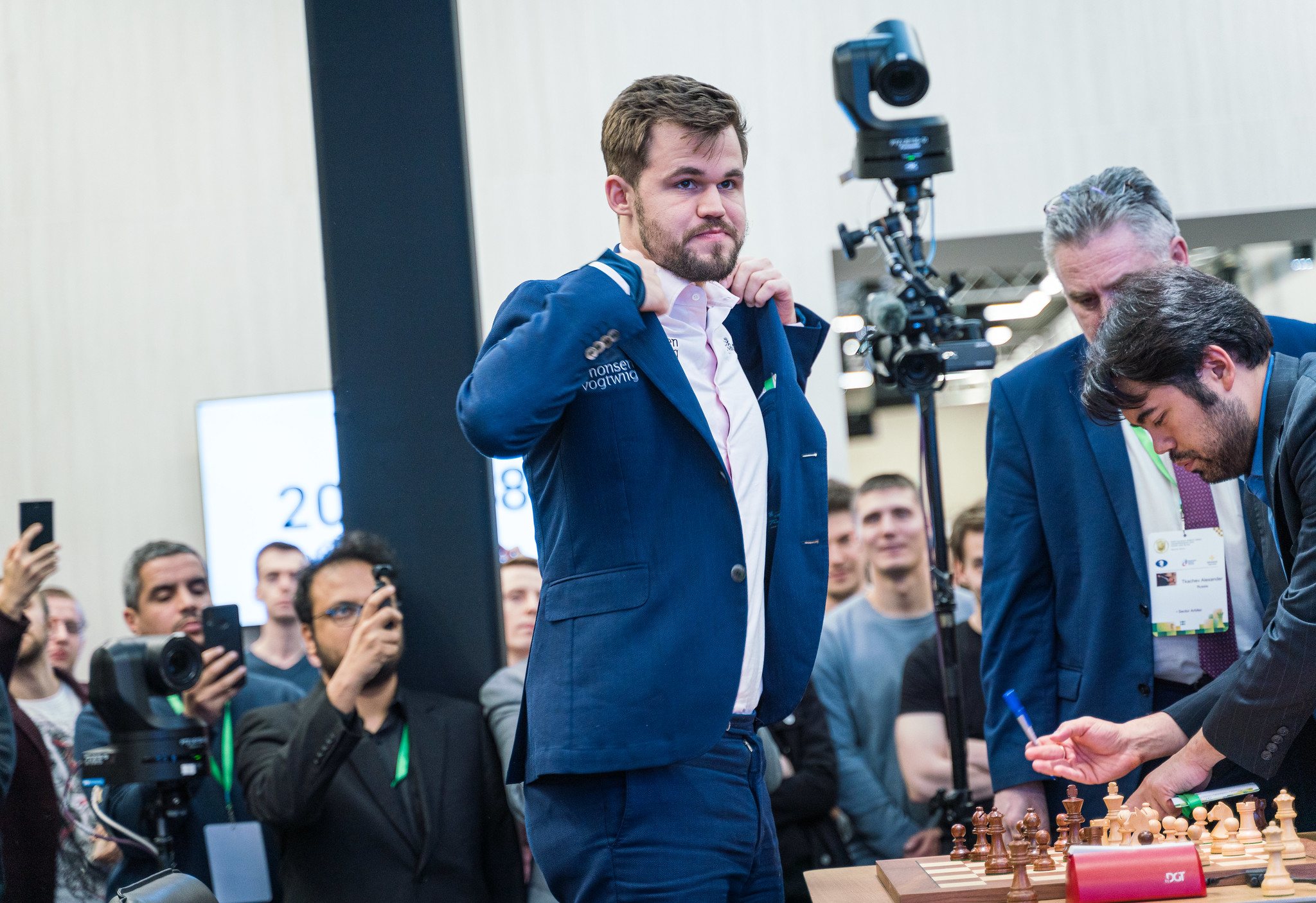 Carlsen heads into the semifinals as the top seed after collecting 25 points, with only two wins that came in Armageddon tiebreakers preventing him from posting a perfect 27.
Svidler Joins Young Guns in Semifinals
The reigning World Champion, who has already won two events on his Magnus Carlsen Chess Tour, still found reasons to criticize his own play after the round-robin stage.
"It seems that in the last few matches, to use a football analogy, I am getting Lewandowski-level chances, but I am converting them at a Firmino level," Carlsen said after his final match. "For those who don't watch football, that's pretty bad. But at least the last two games were kind of okay."
Russian star Ian Nepomniachtchi lost to Boris Gelfand in an Armageddon tiebreak, but still finished second with 20 points. He'll face Dutch grandmaster Anish Giri in the semifinals. Giri defeated Peter Svidler 2.5-1.5 to secure third place with 18 points.
The final standings of the chess24 Legends of Chess preliminary stage – the Final 4 starts on Friday! #ChessLegends #c24live pic.twitter.com/za0HMs4Tgo

— chess24.com (@chess24com) July 29, 2020
Despite that loss, Svidler took fourth place with 14 points. Kramnik needed a win over Carlsen to surpass Svidler and steal the final semifinal berth. Instead, it's Svidler who becomes the only "legend" to reach the playoffs alongside three members of the current generation.
---
Legends of Chess Odds (Winner)
Magnus Carlsen: -670
Ian Nepomniachtchi: +600
Anish Giri: +1800
Peter Svidler: +2000
Odds via Unibet
---
His reward for making the Legends of Chess semifinals is a date with Carlsen. Unibet gives the eight-time Russian champion little chance of advancing to the final, as the online bookmaker has made Carlsen an overwhelming -5000 favorite over Svidler (+1000).
The other semifinal appears more competitive. Nepomniachtchi (-200) comes in as the favorite, but Giri (+150) poses a serious threat, and is coming off a finals appearance in the last tour event, the Chessable Masters.
Anish Giri wins the match against Peter Svidler: https://t.co/B4VjgUTwxZ
That means the semi-finals on Friday will be Carlsen vs. Svidler & Nepo vs. Giri #c24live #ChessLegends pic.twitter.com/wux5Ypq4hX

— chess24.com (@chess24com) July 29, 2020
As in earlier tour events, the knockout rounds will test players over multiple matches. Players will compete in three sets of four games, with the first to win two sets taking the overall match. If a set is tied 2-2, the players will battle in two blitz games before resorting to an Armageddon tiebreaker.
Carlsen comes into the semifinals as the clear pick to grab his third title on the tour. Unibet lists Carlsen as a -670 favorite to win the Legends of Chess, ahead of Nepomniachtchi (+600), Giri (+1800), and Svidler (+2000).
Ding Holds Out Hope for Grand Final
The results of the knockout rounds still matter to players hoping to reach the tour's Grand Final next month. Carlsen has already clinched his spot thanks to his two event wins. Daniil Dubov also earned a spot by winning the Lindores Abbey Rapid Challenge.
With Ding Liren failing to reach the semifinals, Hikaru Nakamura clinched a wild-card spot in the Grand Final as well. But Liren can still go to the four-player finale if Carlsen wins the Legends of Chess, which would open up another wild-card spot. Otherwise, the tournament winner will grab the fourth and final berth in the $300,000, tour-ending event.