On Saturday night, Los Angeles Lakers guard LeBron James passed Dirk Nowitzki and moved into sixth place on the NBA's all-time scoring list.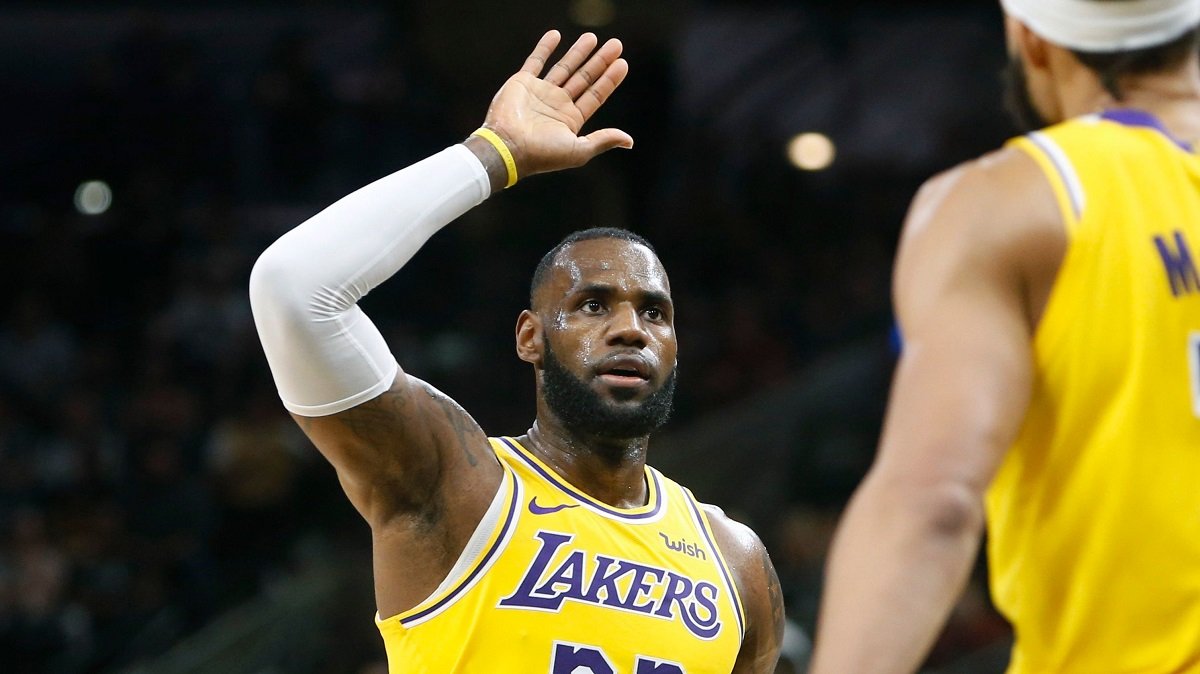 James finished the night with 35 points and currently has 31,202 career points.
NBA All-Time Scoring Leaders

Kareem Abdul-Jabbar 38,387
Karl Malone 36,928
Kobe Bryant 33,643
Michael Jordan 32,292
Wilt Chamberlain 31,419
LeBron James 31,202 *
Dirk Nowitzki 31,187 *
Shaquille O'Neal 28,596
Moses Malone 27,409
Elvin Hayes 27,313

* denotes active player
Passing Dirk's 31,187
LeBron James came into Saturday night's game trailing Dirk Nowitzki by 21 points. Nowitzki, playing what many to believe is his final season with the Dallas Mavericks, is currently sidelined with an ankle injury. Once James passed him, he passed him for good.
"Guys that I've played against, played with," said LeBron James. "And watched before I even got to the league, admired, was in awe of, Dirk's always been one of my favorite players, and I think Shaq is the most dominant player to ever play this game. So for me to be in the same conversation with those guys in anything that we're talking about as far as basketball, it's a tribute."
Wilt Chamberlin Next
With Dirk in the rear-view mirror, Wilt Chamberlin is next on the list. Chamberlin is currently fifth overall with 31,419. James is only 217 points behind Chamberlin and should break the record sometime in November.
Michael Jordan's record is within reach too. Jordan finished his career with 32,292 points and he missed time at the height of his powers while pursuing a baseball career. James is projected to pass Michael Jordan by the end of the season.
Catching Kareem
Two fellow Lakers are in the top three with Kareem Abdul-Jabbar and Kobe Bryant. Bryant's record will be within reach of James next season. Kareem Abdul-Jabbar's all-time record is 38,387 points, which the center benefited without the aid of three-pointers padding his scoring stats.
Dirk Nowitzki thinks LeBron can easily catch Jabbar.
"If he stays healthy, he has a chance at Kareem," Nowitzki told an ESPN reporter. "His numbers have been unbelievable. He doesn't seem to slow down. The stuff he was doing last year in Year 15 was incredible. If he keeps this up, he can pass Kareem."
Slow Start for LeBron Lakers
It's been a rough start for LeBron James with his new team. The Lakers got off to an 0-3 start and got into a brawl with the Houston Rockets during their home opener in LA, which had skeptics starting to wonder if LeBron made the wise choice.
It took four games, but LeBron finally got his first win as a member of the Lakers with a blowout victory against the Phoenix Suns 131-113.
LeBron contributed a triple double in his first home win with the Lakers in a win against the Denver Nuggets 1121-114. That marked a 74th career triple double for LeBron.