LeBron James signing with the Los Angeles Lakers wasn't a totally unexpected move, but the news on Sunday still sent shockwaves through the gambling community.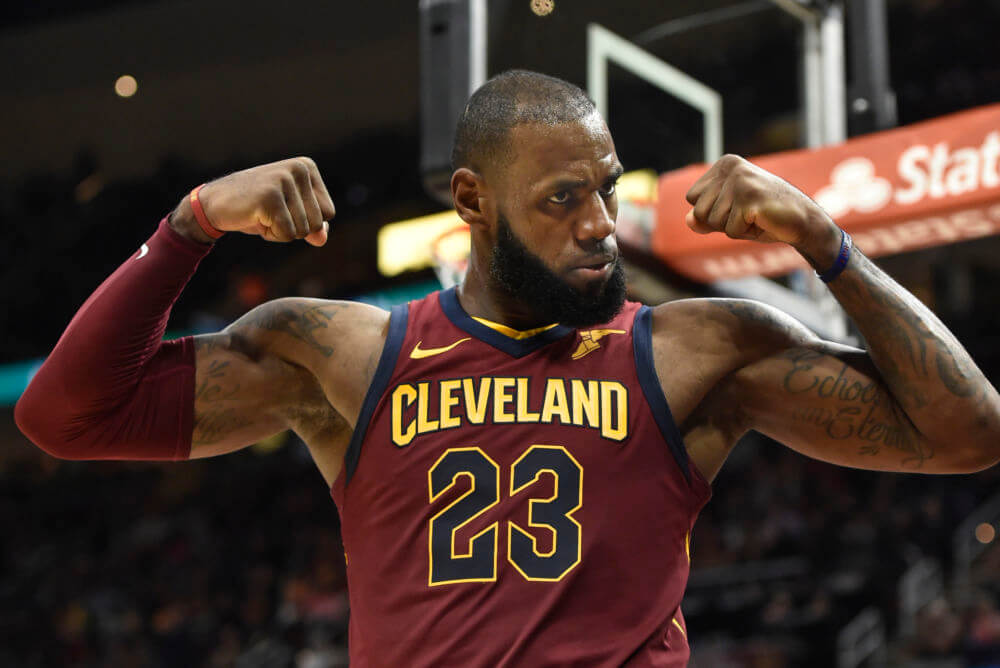 The 33-year-old "point forward" will earn $154 million over four years to try and get his new team their first championship since 2010.
Once the news broke, Las Vegas sportsbooks were getting loads of money on the Lakers to win the NBA Championship in 2019. The Westgate Las Vegas SuperBook tweeted that Los Angeles was getting the most bets for them to take the Larry O'Brien Trophy next year. William Hill tweeted the Lakers were leaders in bets made.
The odds have plummeted in a month. On June 2, the Lakers were 20/1 to win the title. Sunday they dropped to 7/2, second best with the Boston Celtics, who should now have an easier path to the Finals since James is now out west. He made eight consecutive trips to the championship, representing the Miami Heat and the Cleveland Cavaliers.
The Cavaliers tried to keep James, but just didn't have the pieces to win their second title. Owner Dan Gilbert was gracious in his statement regarding James' departure.
"The entire Cavaliers franchise thanks LeBron for that precious moment and for all of the excitement he delivered as he led our team to four straight NBA Finals appearances," Gilbert wrote. "LeBron, you came home and delivered the ultimate goal. Nothing but appreciation and gratitude for everything you put into every moment you spent in a Cavaliers uniform. We look forward to the retirement of the famous #23 Cavs jersey one day down the line."
LA Looks
Many Cavalier fans, and some sportsbooks, thought James would return to Cleveland. BetStars had him staying at 7/4, while going to Philadelphia was at 2/1, Houston or Philadelphia was at 3/1, and landing with the Lakers stood at 4/1.
Other betting sites were much more convinced James was going to Southern California. As far back as February BetDSI had him going to Lakers at -300 for yes, +240 for no. When a report surfaced last week about his children signing up for Los Angeles-area schools, the odds started to fall dramatically. By Saturday he was a -5000 favorite to sign with LA, and before Sunday's announcement there were no online betting sites offering odds.
Nevada sportsbooks didn't allow this sort of prop bet, but gamblers there bet on where they thought he would go by laying money on the Lakers to win the title. The biggest loser with oddsmakers was Cleveland. Last month they were 30/1 to win the championship. Sunday they were 500/1. Before the signing, one bettor placed a $2,000 wager on the Cavs at 50/1 at the Westgate.
James Key to Lakers Rebuild
Now that James is a Laker, management has to surround the superstar with better players than he had in Cleveland. Magic Johnson, president of basketball operations for the Lakers, went to James' house to make his pitch.
Former Golden State reserve center, JaVale McGee signed a one-year deal, as did Indiana forward Lance Stephenson. The team also resigned guard Kentavious Caldwell-Pope.
The team also in continuing to try and trade for Kawhi Leonard of the San Antonio Spurs. He is in the last year of his contract and has expressed interest in joining James. If the Spurs are reluctant to trade him to a Western Conference rival, he could end up in Boston or Philadelphia for a year, and then be a free agent for the 2020 season.