LeBron James scored 42 points and put up a triple-double on Tuesday night in Boston, but it still wasn't enough to lead his team to victory, as the Boston Celtics rolled past the Cleveland Cavaliers 107-94.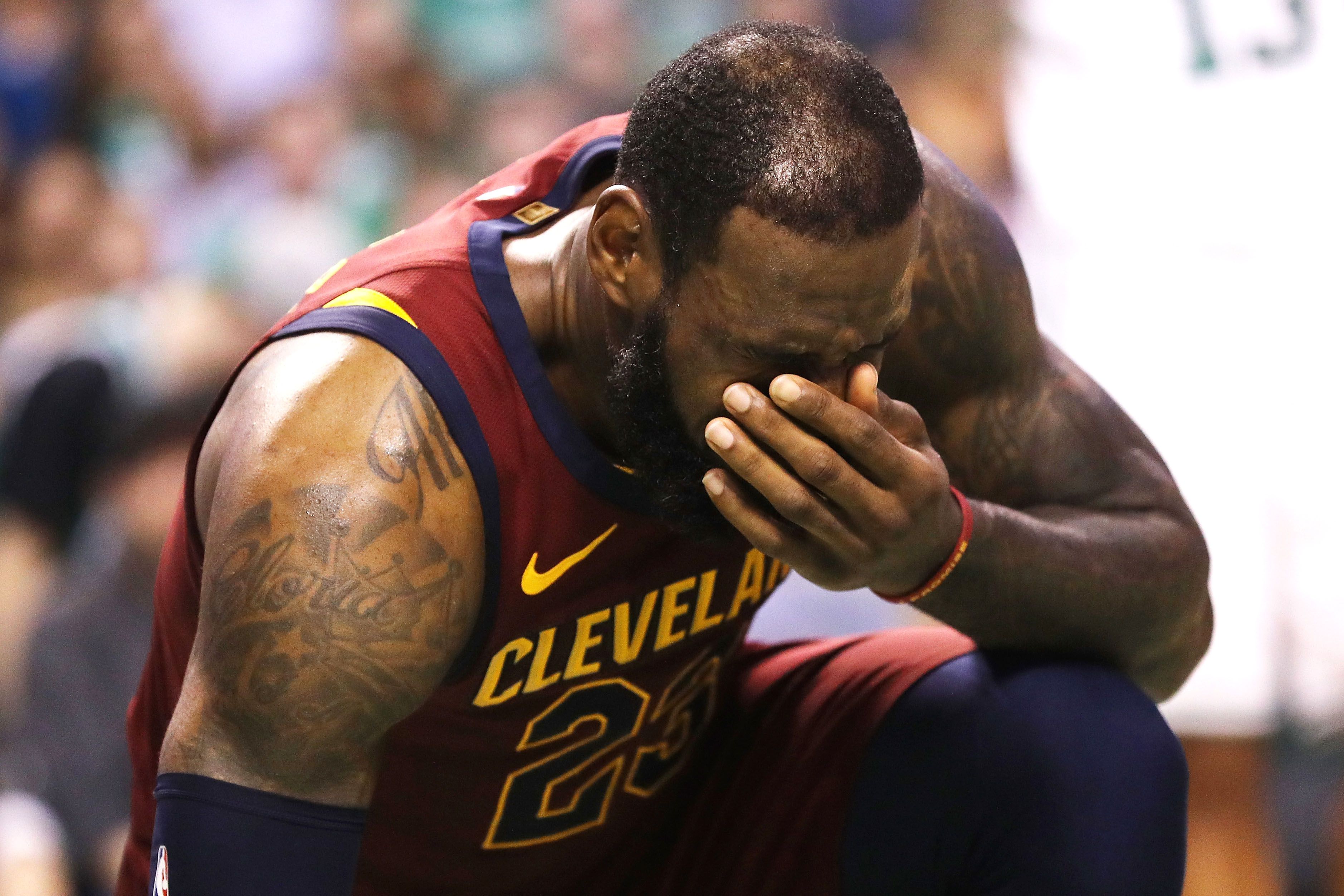 The victory gave the Celtics a 2-0 lead in the best-of-seven Eastern Conference finals, putting them just two games away from an NBA Finals appearance.
LeBron Can't Do It All
Boston wasn't as successful at shutting down LeBron in Game 2, after holding him to just 15 points on 5-16 shooting in the first game of the series. But Boston coach Brad Stevens acknowledged that no matter what his team does, there's no guarantee they can hold James in check for very long.
"The biggest thing is we're just trying to make it as hard as possible," Stevens said after the game. "I think that we all have a good grasp on that that's not always going to work, so don't hang your head, go down and score. And then if you can make it as hard as possible for as long as possible, maybe you can get somewhere."
Things did get harder for LeBron as the night went on. After scoring 21 points in the first quarter, James was forced out of the game for a couple minutes late in the second after taking an accidental shot to the head from Jayson Tatum's shoulder. James returned to the game before the end of the half, and led his team to a 55-48 halftime lead.
But the Cavaliers couldn't keep up with the Celtics in the second half, during which time Boston outscored Cleveland 59-39 to take a decisive victory.
Will Other Cavs Contribute?
The biggest question for Cleveland is whether or not they can get enough out of the rest of their roster to complement LeBron's efforts. Kevin Love scored 22 points and grabbed 15 rebounds in the losing effort. But the Cavs' other three starters combined for just 11 points on 5-17 shooting, numbers that won't get the job done against a Boston team that plays excellent team defense.
Meanwhile, the Celtics benefitted from a balanced attack that saw six players score in double digits. Guard Jaylen Brown led the way with 23 points, while Terry Rozier added 18.
Boston improved to 9-0 this postseason when playing at home. The series will now move to Cleveland, with Game 3 taking place on Saturday night.
"They did what they had to do, and that was protect home," James said after the game. "Now it's our time to try to do that, as well."
Game 3 is a virtual must-win for the Cavaliers, and oddsmakers believe that Cleveland has the advantage at home. Bovada has posted the Cavs as a 6.5-point favorite in their first home game of the series.
That said, Boston's dominance in the first two games has clearly tilted the series in their favor. While Cleveland opened as the favorite to advance to the NBA Finals, the Celtics are now the team to beat, with Ladbrokes listing them as a 1/2 favorite to win the Eastern Conference finals.