Las Vegas Raiders running back Kenyan Drake suffered a gruesome ankle injury in the second quarter against the Washington Football Team during a gang tackle. He needed assistance and was carted off the field.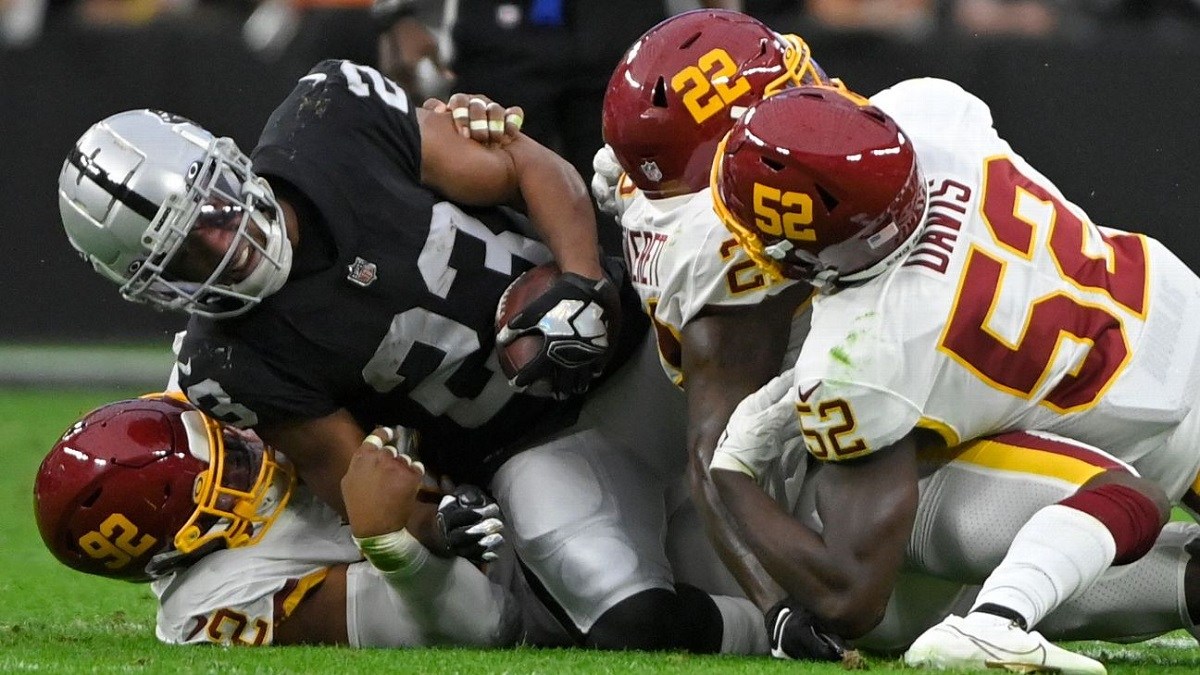 Three players from Washington took Drake down in what many believed was a dirty play. Daniel Wise grabbed Drake from behind while Jamin Davis and Deshazor Everett squished him from out front. It was not an illegal play and not intentional.
The Raiders will lose Drake for the rest of the season. He was the backup behind Josh Jacobs and an integral part of the Raiders' rushing attack. He also pitches in as a kickoff returner. Drake signed a two-year deal worth $14 million before the season began.
In 12 games this season, Drake contributed 537 yards from scrimmage with two rushing touchdowns. Before his injury, Drake caught one pass for eight yards. He went down on his only rushing play on Sunday. The Raiders lost 17-15 and slipped to 6-6 on the season.
Drake hopes the painful incident will help spark change, sharing his thoughts on Twitter, which include a graphic clip of his ankle injury.
"The #NFL needs to look at this specific style of tackling," tweeted Drake. "They are throwing flags for taunting and protecting QBs from getting touched but this is my 2nd straight season being injured by a guy pulling me back and using his body weight to roll up my legs."
Drake posted a thread about how the NFL needs to protect its players from injuries and make that a higher priority than the useless taunting penalties.
"If the emphasis is to protect the players this should be an illegal form of tackling like a horse collar," added Drake. "We lose players weekly to high ankle sprains and broken bones but the league would rather flag players for erroneous taunting penalties."
Drake suffered a similar injury last season with the Arizona Cardinals when a defender rolled up on him from behind. He only incurred a high-ankle sprain, and was fortunate he didn't suffer a fracture.
"I'm just praying for him right now and praying for his family," said Jacobs after the game. "His whole family was here at the game."
Graphic Video Warning: The #NFL needs to look at this specific style of tackling. They are throwing flags for taunting and protecting qbs from getting touched but this is my 2nd straight season being injured by a guy pulling me back and using his body weight to roll up my legs. pic.twitter.com/zgJt4rM9yG

— Kenyan Drake™ (@KDx32) December 6, 2021