San Antonio Spurs All-Star forward LaMarcus Aldridge won't return to the team after undergoing surgery to repair his shoulder injury.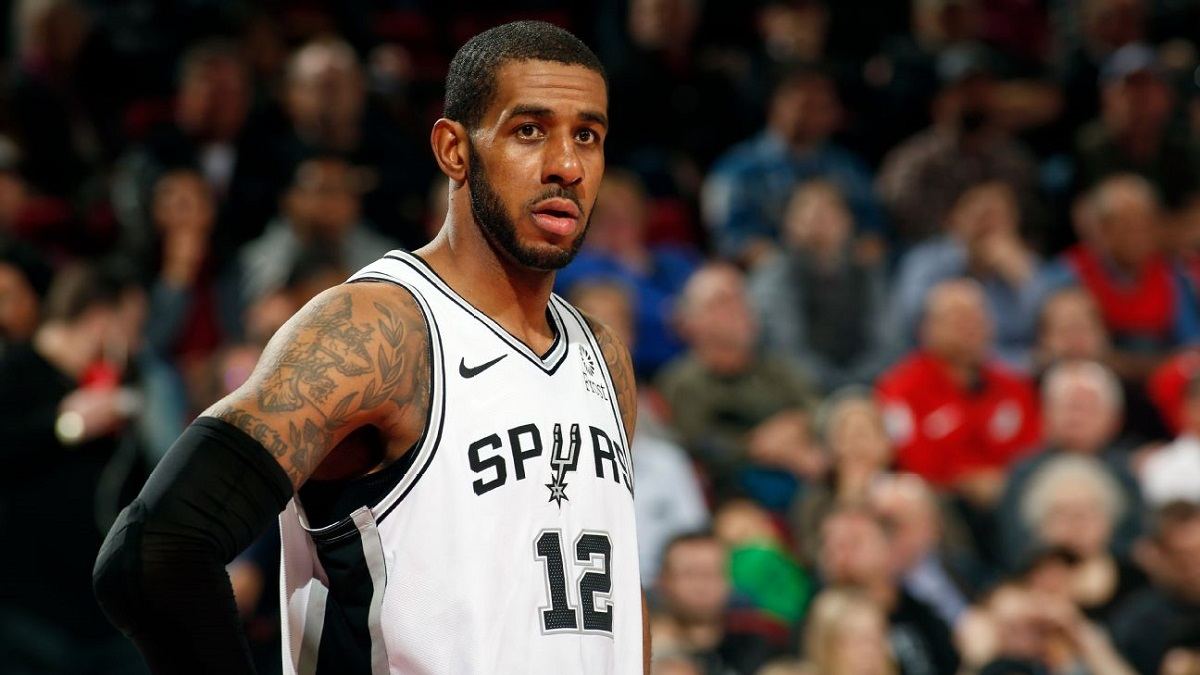 Aldridge, 34, went under the knife in April to repair a rotator cuff debridement injury. Even with the delayed return to the season and postseason, Aldridge hasn't fully recovered from his shoulder surgery.
When the NBA shut down due to the coronavirus outbreak, the San Antonio Spurs (27-36) were 22 games out of first place and trailed the #8 seed in the west (Memphis Grizzlies) by four games. Without Aldridge, the Spurs have a tremendous uphill battle to put themselves in position to secure a play-in game.
The Spurs are one of the long shots on the futures board at 750/1 odds to win the 2020 NBA championship.
Aldridge initially suffered a shoulder injury around the Christmas holidays. He gutted it out and played through the pain before finally opting for surgery.
Something seemed off in San Antonio this season, with Aldridge averaging only 18.9 points and 7.4 rebounds per game. He didn't play like his old self because a nagging shoulder injury will do that to you. The Spurs got off to a horrible start, but they played much better in the second half of the season.
Over his 14-season career, Aldridge averaged 19.5 points and 8.4 rebounds per game. For the last 13 seasons, the consistent and reliable Aldridge averaged at least 17.3 points per game.
Texas Born, Almost HS to NBA
Aldridge grew up in Dallas, Texas. Towering over his peers at 6-foot-11, scouts pegged him as a top-5 recruit among all of the high school centers in America.
Initially, Aldridge considered going pro right out of high school. The league set an age requirement in 2006, but at the time, Aldridge strongly considered skipping school and going directly to the NBA.
Shaquille O'Neal persuaded Aldridge to play college ball for a couple of seasons to better prepare himself for the NBA. Aldridge took Shaq's advice and accepted a scholarship offer to play for the Texas Longhorns.
In his sophomore season, Aldridge averaged 15.0 points, 9.2 rebounds, and 2.1 blocks per game with UT.
The Chicago Bulls selected Aldridge with the #2 pick in the 2006 NBA Draft. They traded his rights to the Portland Trail Blazers on draft day.
Aldridge would become a seven-time All-Star with Portland and the San Antonio Spurs. He played in some obscurity in the Pacific Northwest during his first few years in the league. As a local celebrity, he appeared in a couple of episodes of "Portlandia" on IFC.
In the 2014-15 season, his last season with the Blazers, Aldridge averaged a career-high 23.4 points per game.
In 2015, Aldridge signed a four-year deal with the Spurs worth $20 million. The Spurs hoped Aldridge and Kawhi Leonard could win another title for Gregg Popovich. In 2017, he signed a three-year contract extension worth more than $72 million.
NBA Nicknames: L-A or L-Train?
Aldridge has a couple of nicknames. His closest friends refer to him as "L-A", which refer to his initials. It's simple, but sorta boring.
Some of his teammates on the Blazers referred to him as "L-Train," because when he gets going, it's nearly impossible to stop a runaway locomotive.
Lionel Simmons, the superstar player from LaSalle in the late 1980s, is known as the original L-Train.