Melvin Gordon, the Los Angeles Chargers (8-3) standout running back, will be sidelined for a couple of weeks with an MCL knee sprain.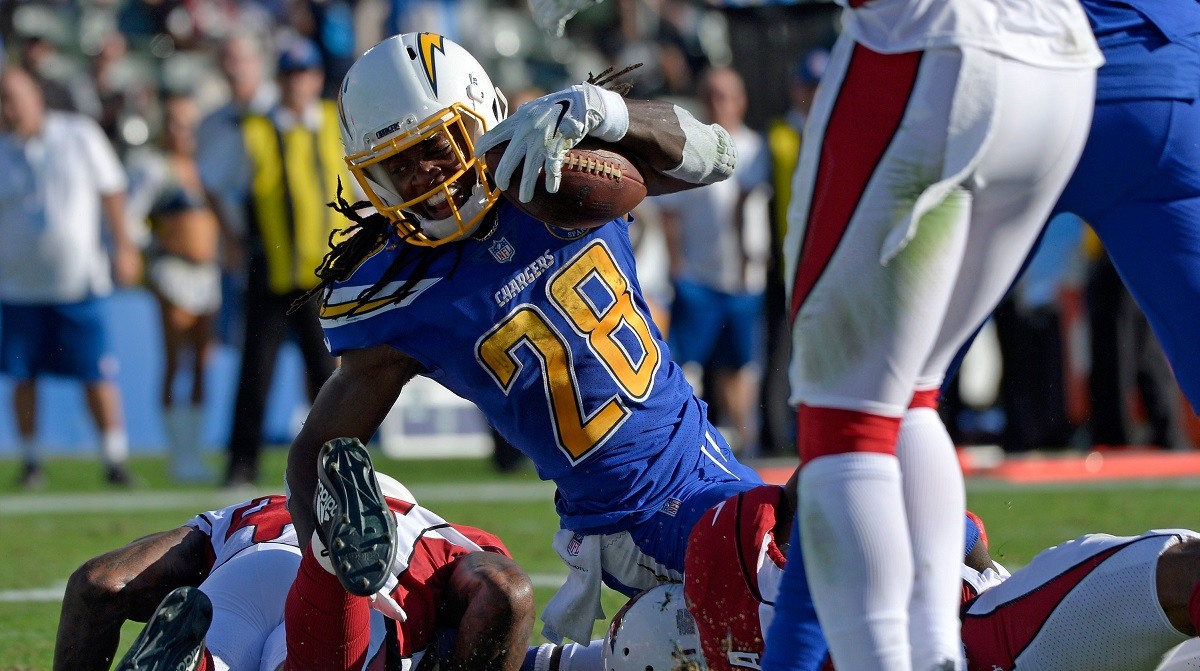 Gordon injured his knee in the second half of a 45-10 blowout win against the Arizona Cardinals. He will miss this week's matchup against the Pittsburgh Steelers and he's expected to miss next week's game against the Cincinnati Bengals.
Melvin the Man
The surging Chargers are 8-3 and sitting pretty with a Wild Card spot. It's theirs to lose. Meanwhile, Melvin Gordon has been quietly having his best season of his four-year career.
The former Wisconsin running back rushed for 153 times for 802 yards with an average of 5.2 yards per-carry. He also has 44 receptions for 453 yards. Overall in ten games, Gordon scored 13 total touchdowns this season.
Gordon's best game of the year occurred against the Cleveland Browns. The running back put on a supreme performance with 132 rushing yards and three touchdowns.
Bum Knee
Gordon sat out the London game against the Tennessee Titans. The last-second moved irked fantasy owners who slept in that Sunday and did not insert a backup to replace Gordon. With a potential blowout ahead of them, the Chargers made the correct move and rested their star running back.
Gordon bounced back the next week with 113 yards and a touchdown in a road win against the Seattle Seahawks.
Against the Cardinals, Gordon looked like his usual unstoppable self. He rushed ten times for two touchdowns before he left the game in the third quarter.
Gordon's injury was a secondary story to Phil Rivers' remarkable night. Rivers pulled off a near-perfect game with 28 out of 29 complete passes. Rivers set a record by starting the game with 25 completions in a row without a drop.
An MRI indicated only a knee strain and Gordon is currently listed as week-to-week. Head coach Anthony Lynn will shut Gordon down for at least two weeks and then reassess.
GO AHEAD, MG. #AZvsLAC | #FightForEachOther pic.twitter.com/ED8JBdzWWM

— Los Angeles Chargers (@Chargers) November 25, 2018
Chargers RB Depth Chart
Austin Eckler and rookie Justin Jackson will step in for the sidelined Gordon.
Eckler, a second-year RB from Western Colorado, was getting spot duty behind Gordon. He started in place of Gordon in the London game and post 66 total yards from scrimmage with 42 rushing yards. So far this season, Eckler has 4 touchdowns, including a score against the Cardinals.
"I prepare every week like I'm going to be starting," Eckler said. "If I'm getting more reps, then that's what it is. I have to pick up the slack for Melvin. Those are big shoes to fill. Melvin and I are different running backs. He's a beast, so I have to step up my game."
"We're all going to have to pick up the load a little bit," Rivers said about the Gordon injury. "Thank God we have a guy like Eckler behind him that we have a lot of confidence in, both in the run and the pass."
The Chargers drafted Justin Jackson in the seventh round of the 2018 NFL draft. The running back from Northwestern currently holds a Big Ten rushing record, which he shared with Wisconsin's Ron Dayne, as the only running back in Big Ten history to rush for at least 1,000 yards in four seasons.