If anyone can break the domination of Kevin Harvick, Kyle Busch, and Martin Truex Jr. it would be Kyle Larson at the FireKeepers Casino 400 on Sunday. Larson is returning to Michigan International Speedway and has a chance to not only slow the momentum of those three, but make some history of his own in the process.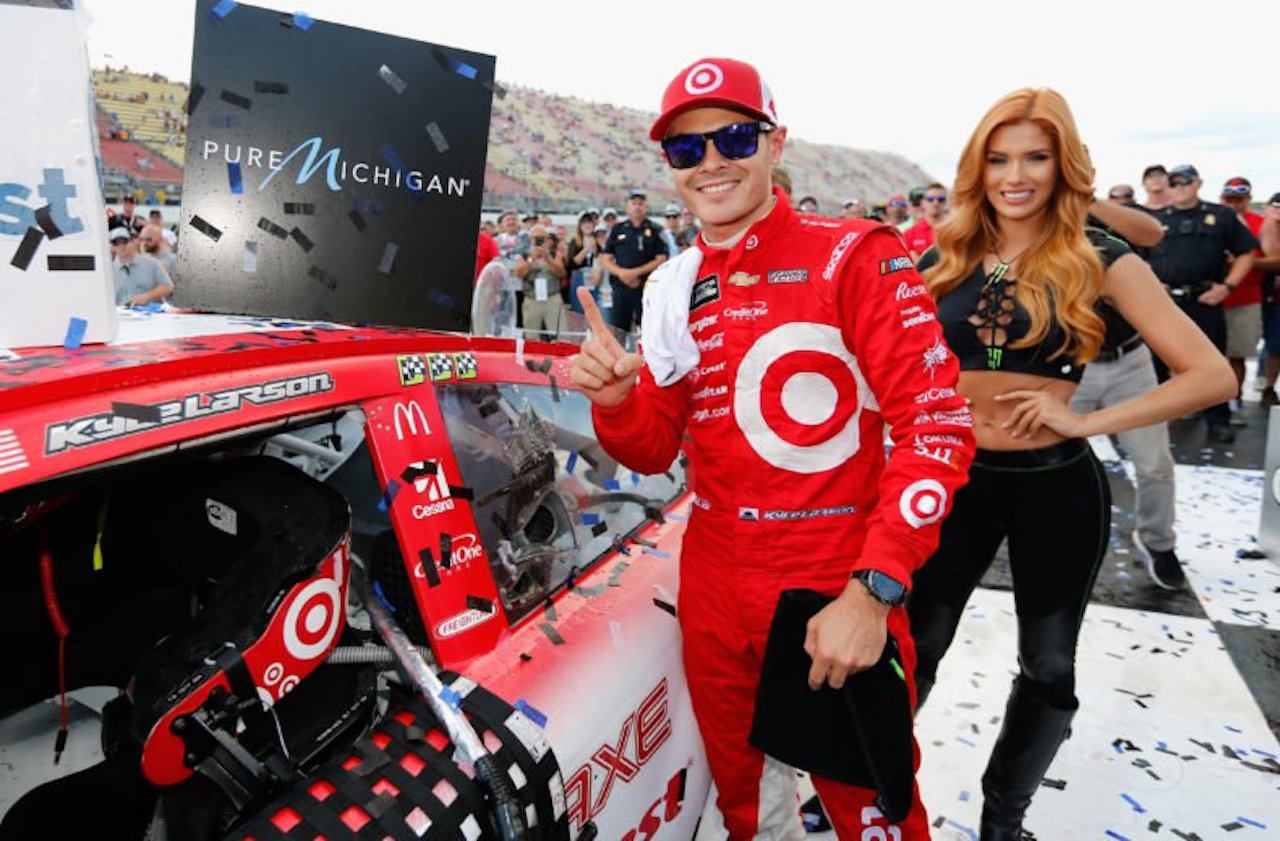 All but three of the 14 Monster Energy Cup races so far this year have been won by either Harvick, Truex Jr., or Busch. Harvick has five victories, Truex Jr. two, and Busch four. Joey Logano, Clint Bowyer, and AJ Allmendinger have the others.
Not surprisingly, Harvick, Truex Jr., and Busch are all atop the betting board for Sunday's race. Harvick is +250, while Truex Jr. and Busch are +450.
Crashing Victory Lane
The 25-year-old has been dominant at Michigan International Speedway, and is the next choice at +500. He won his first race there in 2016, and kept on going.
He currently has a streak of three consecutive wins there, and if he takes the checkered flag on Sunday, he'd become the first driver since 2015 to win four in a row at a single track. Harvick took four races at ISM Speedway near Phoenix from 2013-2015. Bill Elliott had a similar dominance in Michigan in the 1980s, winning four at MIS in 1985 and '86.
What Elliott and Larson have in common is their enthusiasm for the fast 2-mile layout. Larson told USA Today that he looks forward to the two stops at that track.
"What our team has been able to do at Michigan the last few races is pretty special, and I hope we can keep it up this weekend with another win," Larson said. "We have had good cars there just about every year I've raced, and I think we've hit on some things recently that will have us taking another fast Chevy to Michigan this time around, too."
Larson has posted five Top-5 finishes this season, including last week at the Pocono 400, where he had to race with older tires, after choosing not to go to the pits during a debris caution with 20 laps remaining.
"I felt like my car today was kind of as good as it's been all year," Larson said. "I feel like the Hendrick [Motorsports] guys have definitely gotten better, as well as (Richard Childress Racing) guys. But I feel like I've kind of just been a step behind [Busch, Truex, and Harvick]."
Non-Chevy Challenge
The only downside for Larson is his Chevrolet when stacked against the dominance of Ford and Toyota this season. With the exception of Dillon and AJ Allmendinger, non-Chevy drivers have won every other race since Daytona.
Larson knows if he is going to get his first win of the season, and fourth at MIS, he's going to have to have a flawless race.
"Getting the setup right is important everywhere, but I feel like it's even more important at a track like Michigan," Larson said. "We're coming off a good week of executing throughout the race, so hopefully more of that can lead to another win."