Kyle Larson picked up his first NASCAR Cup Series win in two years on Sunday, claiming victory at the Drydene 400 at Dover International Speedway.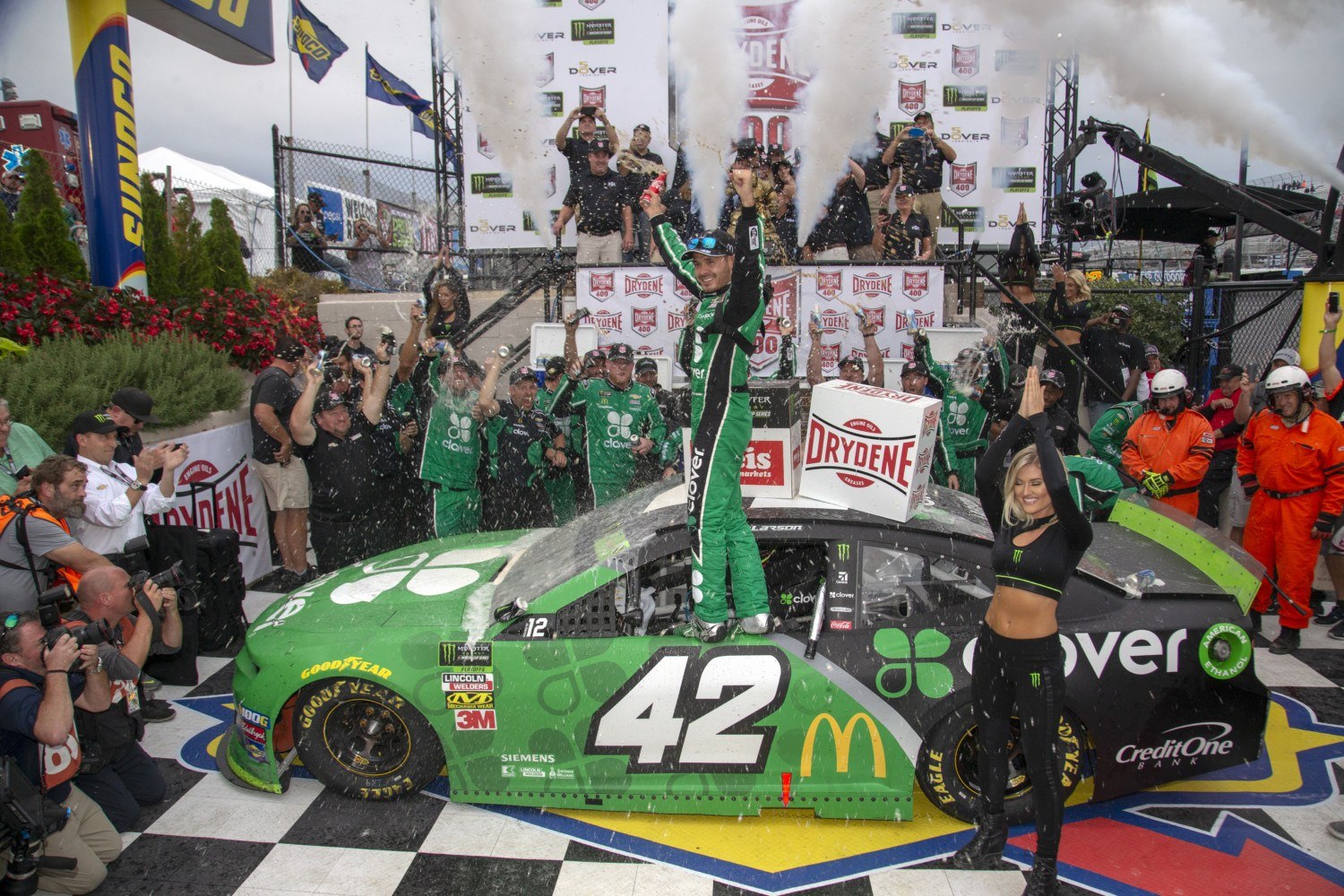 The victory also clinched a spot in the Round of 8 of NASCAR's postseason for Larson, marking the first time a driver from Chip Ganassi Racing has reached that stage of the playoffs.
Larson Outruns Field in Final Stages
Larson finished over 1.5 seconds ahead of Martin Truex Jr., who made a run at Larson late, but was never able to overcome what, at one point, was a six-second lead for the eventual winner.
"After the first stage, I kind of changed my driving style up and I felt like I made the car better at the same time, and it really benefited our long runs," Larson said after the race. "That's as good as I've ever been around cutting the bottom here. Just a great combination. Good to be fast in practice and then be good again in the race and get the win."
12 drivers are still in the hunt for the NASCAR Championship. Sunday's race was the first of three in the second round of the playoff, after which, the field will be cut to just eight contenders. The drivers who qualify for each stage are primarily determined via their playoff points, but anyone who books a win during one stage automatically qualifies for the next.
That's why Larson jumped right to the top of the playoff standings, while Truex – the points leader – now sits in a very comfortable second.
"Everybody in this playoff field is going to be stressing next week at Talladega except for me, so that's good," Larson told reporters. "Last time I was at Talladega I was on my lid. I could still end up on my lid next week, but it's not going to matter after this win."
Mechanical Issues Hurt Logano, Elliott
Alex Bowman, Kevin Harvick, and Denny Hamlin – all playoff drivers – rounded out the top five. The race wasn't nearly as fruitful for some of their postseason competitors.
Defending NASCAR Cup Series champion, Joey Logano never had a chance as a broken axle meant he failed to even start the race. While his team was eventually able to repair the car, he was 20 laps behind the field, and limped to a 34th place finish.
Logano is in ninth place in the playoff standings, putting him right on the cut line. He is tied in points with William Byron, who currently has the eighth and final spot.
"We just used our mulligan up," Logano said. "We're not a must-win, but we must do really well in the next two races."
Chase Elliot is in bigger trouble after his engine blew up just a few laps into the race, forcing him out in 38th (aka last) place. Elliott now sits in 11th position, seven points back of Byron and Logano.
Also outside of the cut line are Clint Bowyer, who is four points back in 10th place, and Ryan Blaney, who is bringing up the rear with 3,010 points — 22 behind Byron and Logano.