Kurt Busch outraced his brother Kyle in a two-lap overtime period to earn his first win of the NASCAR Cup Series season, taking the checkered flag in Saturday's Quaker State 400 at Kentucky Speedway.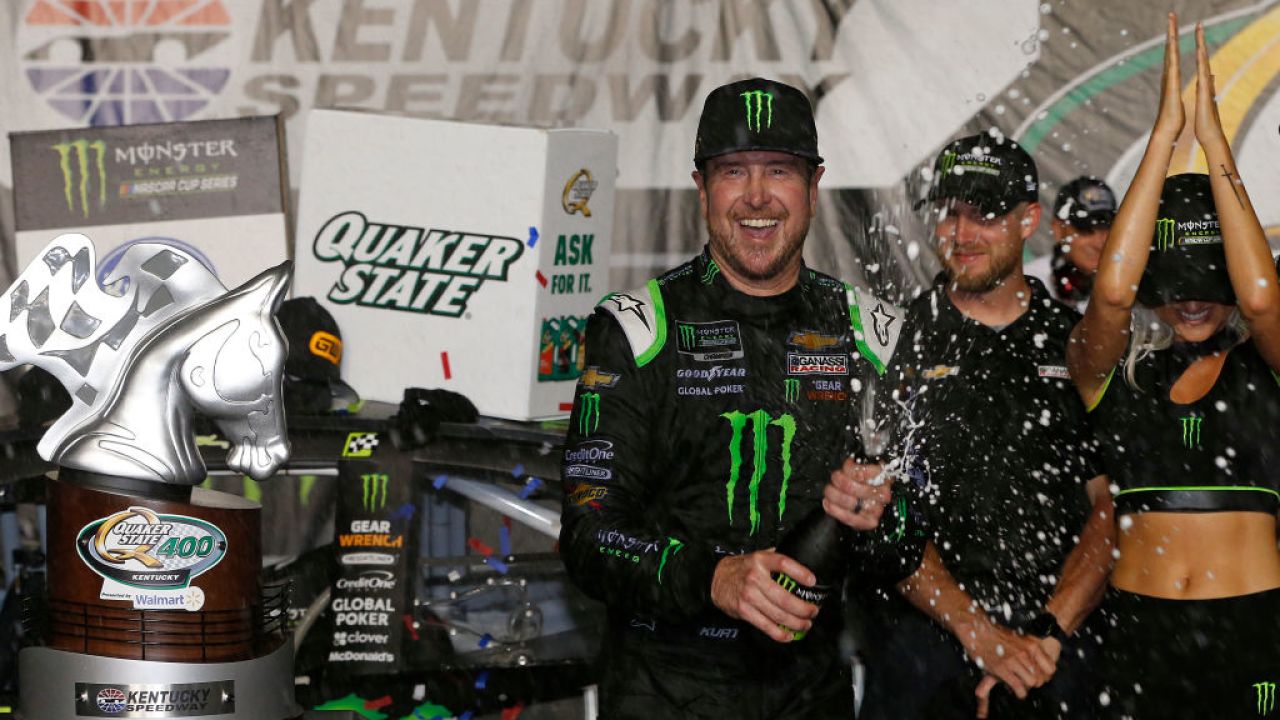 The victory will likely earn Busch a spot in NASCAR's postseason, and marks his 31st career victory on the Cup Series.
Late Caution Sets Up Overtime
Kurt beat his brother Kyle by just .076 seconds, in what is one of the closest finishes so far this season.
The sprint finish was set up when Bubba Wallace spun on Turn 2 with just six laps remaining. That took the wind out of the sales of leader Joey Logano, who looked to be headed to victory until that point.
Logano and Kyle Busch came out side-by-side for the restart, but faced shoves from behind from Erik Jones and Kurt Busch, setting up a dramatic two lap scramble. The Busch brothers actually touched cars when they raced for the lead, and Kurt even appeared like he might be forced into the wall. But he recovered, then just managed to slip past his brother for the win.
"I'm proud [Kyle] gave me a little room on the outside," Kurt Busch said after the win. "He could have clobbered us against the wall, and he probably would have got it."
The win was especially sweet because of the disappointment that Kurt Busch felt last week at Daytona. In that rain-shortened race, Kurt had been holding onto the lead, but pitted just before officials stopped the race. No longer out in front, it was Justin Haley who stood to benefit when the race was officially called, while Busch finished in 10th.
"What an awesome run," Kurt Busch said. "Whatever last week was, we got the 'w' now."
Kurt Busch Misses Out on Ride from Kyle
Kyle Busch was disappointed to miss out on his fifth win of the season, but couldn't argue with how much excitement the ending generated.
"I'm glad it was a thriller, just unfortunately we were on the wrong end of the deal," Kyle Busch told reporters. "It's obviously cool to put on great races and great finished, and I've been a part of a lot of them…none with my brother like that, so that was a first."
If there was one downside for Kurt Busch, it was that the postrace celebrations meant he had missed his ride home – one that was supposed to come from his younger brother.
"I was supposed to fly home with him and now I'm looking for a plane ride," Kurt Busch said afterwards. "That's Kyle. He won't even wait."
Jones, Kyle Larson, and Denny Hamlin rounded out the top five, while Logano fell to seventh place in the overtime period.
Still, Logano maintained his lead in the driver standings, just 11 points ahead of Kyle Busch. According to bookmaker Unibet, Kyle Busch remains the 5/2 favorite to win the 2019 NASCAR Cup Series championship, ahead of Martin Truex Jr. (4/1) and Kevin Harvick (6/1). Kurt Busch, on the other hand, is a 20/1 pick to win the title.