With three straight victories in as many 2020 starts, Knicks Go is exactly the type of horse who wins the Pegasus World Cup Invitational. Now, add a prime starting spot from Post 4 to the mix, and it's easy to understand how Knicks Go became the 5/2 favorite when Pegasus posts were drawn on Wednesday.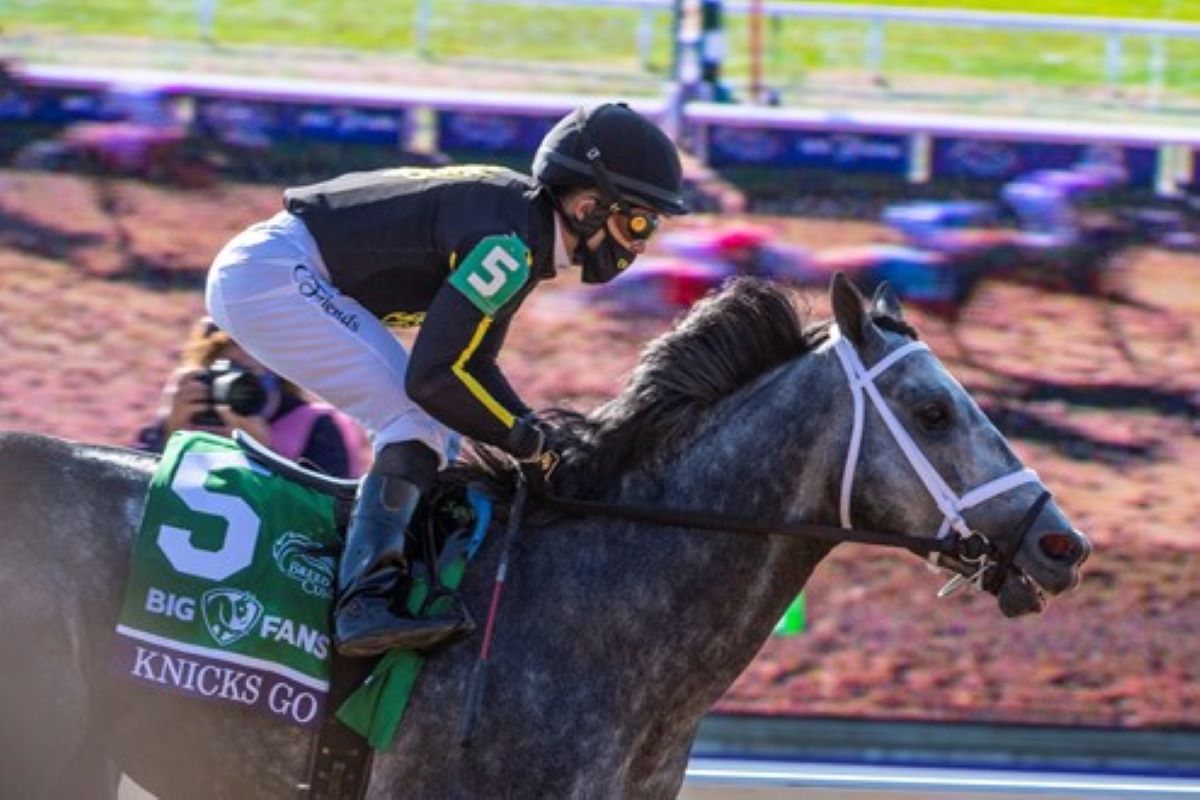 The $3 million, Grade 1 Pegasus is the richest non-Breeders' Cup race for older horses in North America. The 1-1/8-mile race will seize the continent's racing attention on Saturday. It shares billing on the 12-race Gulfstream Park program with the $1 million Pegasus World Cup Turf Invitational.
The post-position draw and odds for that Grade 1, 1-3/16 mile race also went off Wednesday. Colonel Liam, one of trainer Todd Pletcher's turf trio, grabbed tepid 7/2 favorite status over stablemate Largent (9/2).
As for Knicks Go, he comes in off a record-breaking victory in the Breeders' Cup Dirt Mile and falls into a good post. Horses in good form tend to thrive in the Pegasus. So do horses with inside posts. Those are important at Gulfstream because the starting gate for the 1-1/8 mile jaunt is only 150 yards from the clubhouse turn.
Pegasus Draw Forces Outer Riders Into Tough Choices
That puts pressure on horses drawn wide. It forces their jockeys into a Hobson's choice of either firing out fast to get into the lead by the turn, or falling back inside early to save ground. Neither option leaves their riders much in terms of further options later in the race.
This dilemma puts pressure on horses like second-favorite Code of Honor (9/2), who's outside in Post 10. While Barbaro won the Florida Derby from Post 10 and Gun Runner won the Pegasus from Post 10, those are two of this century's elite horses. As nice a horse as Code of Honor is, he's not Barbaro or Gun Runner. And while Mucho Gusto won last year's Pegasus after drawing Post 10, he actually started in Post 8 after two scratches.
---
Grade 1 Pegasus World Cup Invitational/Gulfstream Park
Morning Line (Jockey/Trainer)
Sleepy Eyes Todd, 8/1 (Jose Ortiz/Miguel Angel SIlva)
Coastal Defense, 20/1 (Corey Lanerie/Dale Romans)
Independence Hall, 20/1 (Flavien Prat/Mike McCarthy)
Knicks Go, 5/2 (Joel Rosario/Brad Cox)
Jesus' Team, 8/1 (Irad Ortiz Jr./Jose D'Angelo)
Kiss Today Goodbye, 10/1 (Mike Smith/Eric Kruljac)
Tax, 5/1 (Luis Saez/Danny Gargan)
Harpers First Ride, 10/1 (Angel Cruz/Claudio Gonzalez)
Last Judgment, 20/1 (Paco Lopez/Mike Maker)
Code of Honor, 9/2 (Tyler Gaffalione/Brad Cox)
Freeze, 15/1 (John Velazquez/Dale Romans)
Math Wizard, 20/1 (Edgard Zayas/Saffie Joseph Jr.)
---
When City of Light won in 2019, he led a four-horse, inside superfecta across the wire. He broke from Post 3, runner-up Seeking the Soul from Post 4, Accelerate from Post 5, and Bravazo from Post 1.
Patience Becomes McGaughey's Virtue After Outer Draw
No wonder Knicks Go trainer Brad Cox said he's "very pleased" with his draw. Code of Honor's Shug McGaughey was philosophical. He preferred to focus on new rider Tyler Gaffalione and his local knowledge of Gulfstream.
"Obviously, he rides this racetrack very well and he's very familiar with it," McGaughey said. "He's a very patient rider and that's what Code of Honor wants, so I'm pleased to have him."
Elsewhere, Cigar Mile winner True Timber scratched out of the Pegasus after trainer Jack Sisterson tweeted True Timber came up slightly lame during his cooldown session on Wednesday. That opened up a spot for Last Judgment, who comes in at 20/1 with a ninth and an eighth in his two previous graded stakes outings – both Grade 3s.
True Timber came up slightly off cooling out this morning. While it appears he might be able to run in the Pegasus, we always prioritize the best interest of the horse and have elected to defer to caution and not compete in the Pegasus

— Jack Sisterson (@JackSisterson) January 20, 2021
Pletcher is Primed With Top Two Favorites
As for the Pegasus Turf draw and odds, Pletcher's threesome of favorite Colonel Liam, Largent, and Social Paranoia (8/1) are three-fifths of the five horses listed at single-digit odds. The others are Anothertwistoffate (5/1) and Say the Word (6/1).
Colonel Liam drew Post 5. Largent is next door in Post 6. Social Paranoia drew the far outside in Post 12. Say the Word is next door in Post 11. Anothertwistoffate drew Post 8.
---
Grade 1 Pegasus World Cup Turf Invitational/Gulfstream Park
Morning Line (Jockey/Trainer)
Next Shares, 20/1 (Drayden Van Dyke/Richard Baltas)
Breaking the Rules, 10/1 (John Velazquez/Shug McGaughey)
Storm the Court, 12/1 (Julien Leparoux/Peter Eurton)
North Dakota, 10/1 (Jose Ortiz/Shug McGaughey)
Colonel Liam, 7/2 (Irad Ortiz Jr./Todd Pletcher)
Largent, 9/2 (Paco Lopez/Todd Pletcher)
Aquaphobia, 20/1 (Joe Bravo/Mike Maker)
Anothertwistoffate, 5/1 (Joel Rosario/Peter Miller)
Cross Border, 15/1 (Tyler Gaffalione/Mike Maker)
Pixelate, 9/2 (Edgard Zayas/Mike Stidham)
Say the Word, 6/1 (Flavien Prat/Phil D'Amato)
Social Paranoia, 8/1 (Luis Saez/Todd Pletcher)
---
"The mile and three-sixteenths is a little different distance for Largent. He's never been quite that far, but the way he ran in the Fort Lauderdale going a mile and an eighth, certainly gives you confidence he'll handle it," Pletcher told Gulfstream Park. "Social Paranoia has won as far as a mile and five-sixteenths, and Colonel Liam was a little bit unlucky in the Saratoga Derby at a mile and a quarter. I think [the distance] should work for all three of them."
They'll have plenty of company. The 12-horse Pegasus Turf field features 12 stakes winners – 10 graded. Aquaphobia (20/1), Next Shares (20/1), Say the Word, and Storm the Court (12/1) all own Grade 1 wins.