Kevin Harvick held off Denny Hamlin on the final lap of the Foxwoods Resort Casino 301 at New Hampshire Motor Speedway on Sunday to pick up his first win of the 2019 NASCAR Cup Series season.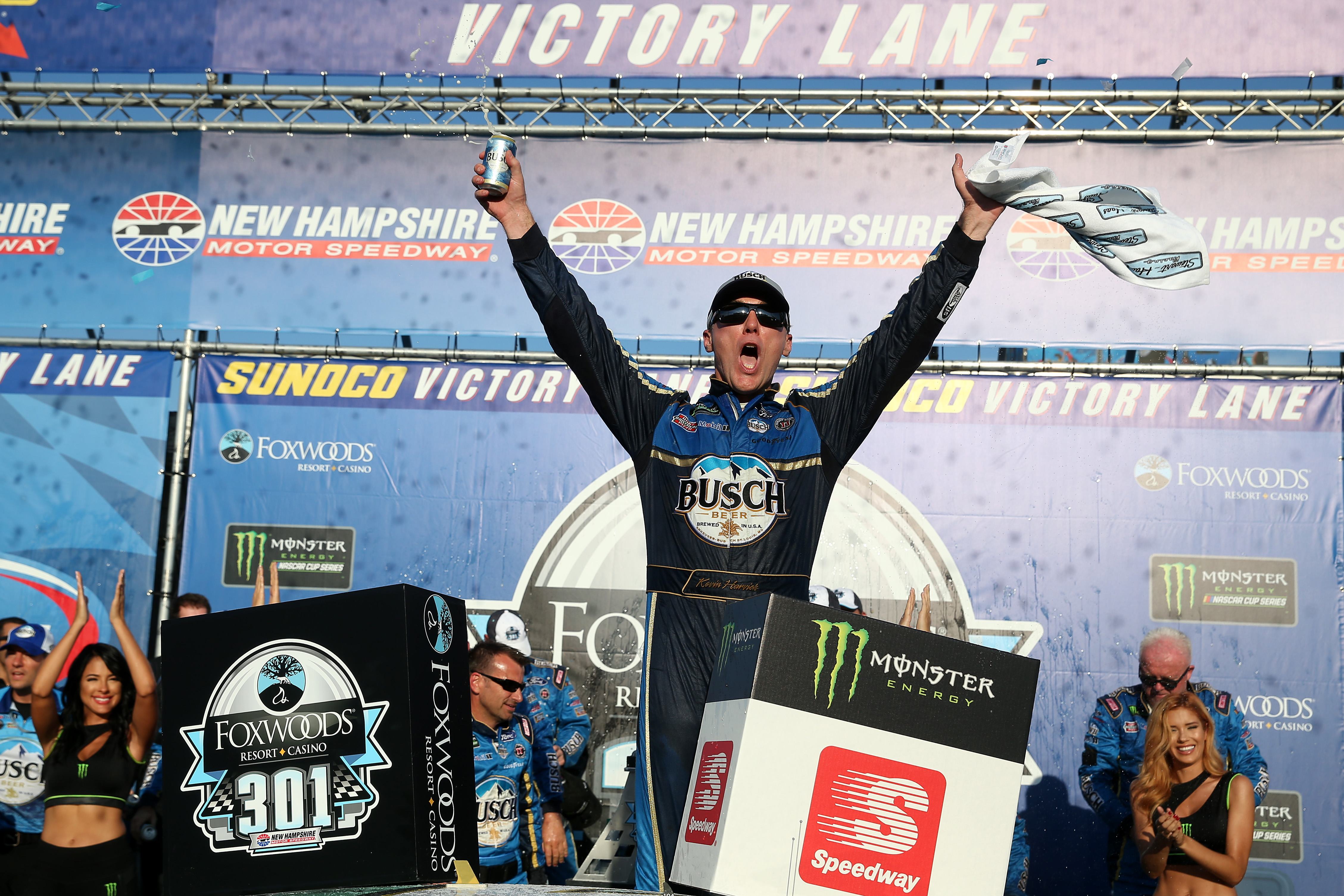 The win was Harvick's fourth career victory at New Hampshire, and his third in the last five events that NASCAR has held at the flat track, which measures just over a mile. It also clinches a playoff spot for the Stewart-Haas Racing driver.
Old Tires Hold Up for Harvick
The win came down a decision by Harvick's crew chief, Rodney Childers, who kept the driver out on older tired during a caution on Lap 266. Hamlin pitted to pick up two new tires, taking him out of the lead and back down to fourth place.
"I didn't think we had the best chance to win today, but Rodney made a great call," Harvick said afterwards, via NASCAR.com. "We had a good car. We just never could get track position. We stayed out there and ran a lot of good laps."
It didn't take long for Hamlin to get back into contention, though. He quickly took over the second-place position, and started chasing down Harvick over the final 30 laps of the race. On the final time around, Hamlin got close enough to give Harvick a tap on Turn 1 before trying to pass on Turns 3 and 4.
But Harvick was able to return the favor, giving Hamlin a nudge as he attempted to pass. That was enough to keep Hamlin at bay, allowing Harvick to win the race by .210 seconds.
Hamlin Regrets Final Lap Tactics
After the race, Hamlin told reporters that he had regrets about how he decided to race the final lap.
"I was just so tight behind him and couldn't break that barrier," Hamlin said. "Nobody wanted to be in front of the other, and I thought about where I wanted to be and I thought I wanted to be behind him but I should have kept the bottom and then forced him up like he forced me up off Turn 4. If I could have done it all over again, I would have done that, but I tried to give myself a fair shot in Turns 3 and 4 and run the top and really get a good run and position on him but I should have known he was going to cut that run off and turn right on us."
Erik Jones, Ryan Blaney, and Matt DiBenedetto rounded out the top five on Sunday. The bottom half of the top 10 was filled will championship contenders: Kyle Busch finished eighth after winning the first stage of the race, while Martin Truex Jr. (sixth), Joey Logano (ninth) and Brad Keselowski (10th) also had strong performances.
Logano continues to hold a slim three-point lead over Busch in the driver standings, but it is Kyle Busch who remains the favorite to win the NASCAR Cup Series championship this season. Unibet lists Busch as an 11/4 favorite ahead of Truex (4/1), Harvick (5/1), and Keselowski (15/2).