Kevin Durant will not travel with the Golden State Warriors to Portland for Game 3 or Game 4 against the Trail Blazers because he is still experiencing pain in his left calf, which he strained in Game 5 of the Western Conference Semifinals last week.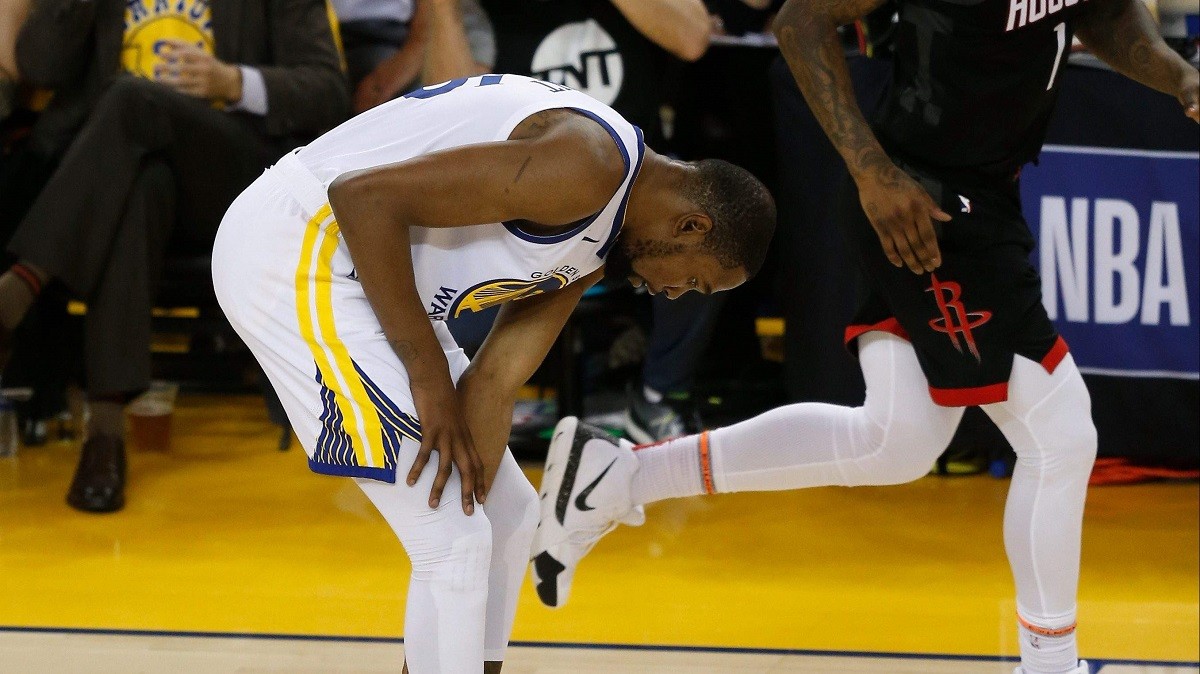 Despite losing the league's top-scorer in the playoffs with 34.2 points per game, the Warriors are 3-0 in the last three games without Durant.
Durant missed Game 6 of the Western Semifinals against the Houston Rockets, but the Warriors still delivered a knockout blow against James Harden and company.
"There's no mental adjustment, you just play," said Warriors head coach Steve Kerr. You go out there with what you have."
Durant also missed the first two games of the Western Finals against the Portland Trail Blazers. However, without Durant, the Warriors opened up a 2-0 series lead. The Warriors won a blowout in Game 1, but needed some comeback magic to put away the Blazers in Game 2.
Unknown Timetable
On Monday, head coach Steve Kerr downplayed Durant's progress and prepared everyone for the worst.
"He hasn't even stepped on the floor yet," Kerr told reporters. "We've tried to remain somewhat vague because the injury is really sort of open-ended in terms of how long he's going to need to recover. But I think in doing so, people have gotten the idea that he's going to come back and be Willis Reed or something. He still has pain. So, there's time ahead of him on the rehab process."
Even though he's not playing, Durant is still attending meetings and film strategy sessions.
"He's handled it great," said teammate Quinn Cook. "He's vocal. Still being a leader. Staying in all of our ears. Vocal during film."
On Thursday, the team announced they were shutting down Durant for the next two games and keeping him home to recuperate.
"We're just trying to hold down the fort," said Steve Kerr. "Hopefully he continues to progress. And he has made progress but it's a little more serious than we thought at the very beginning, so we'll see how it all goes. He's in there all day long getting treatment. Hopefully he'll be back at some point."
Durant's return is unknown and he probably won't play if there's even a Game 5. In a perfect world, the Warriors win the Portland series without KD and save him for the NBA Finals. They are going to need a healthy KD to hold off the Greek Freak (or Kawhi Leonard).
Splash Brothers Throwback
Without Durant, the team has relied heavily on Klay Thompson and Steph Curry. They were the heart of the team before Durant arrived. And they will be the core of the team when KD bolts in free agency. For now, old-school Warriors fans are getting to see their team without Durant. They were always a great team. Durant made them unbeatable, but even without KD, they are still a tough team.
Curry dropped 36 in Game 1 including nine three-pointers and followed up with 37 points in Game 2 on only four treys. Thompson scored 26 in Game 1 and added 24 in Game 2.
The Splash Brothers are averaging 61.5 points per game against the Blazers. Curry and Thompson have been outplaying Portland's tandem: CJ McCollum and Damien Lillard. The PDX tag-team duo is averaging only 40.5 points per game and shooting only 11-for-29 from three-point range.
The Warriors are currently the favorites to win the NBA title. According to the South Point Casino and Sports Book in Las Vegas, the Warriors are -200 odds to win the NBA championship.