The Golden State Warriors looked like they could desperately use the help of Kevin Durant during their Game 1 loss to the Toronto Raptors. Now, there's word that he could be back in time to make a difference in the NBA Finals.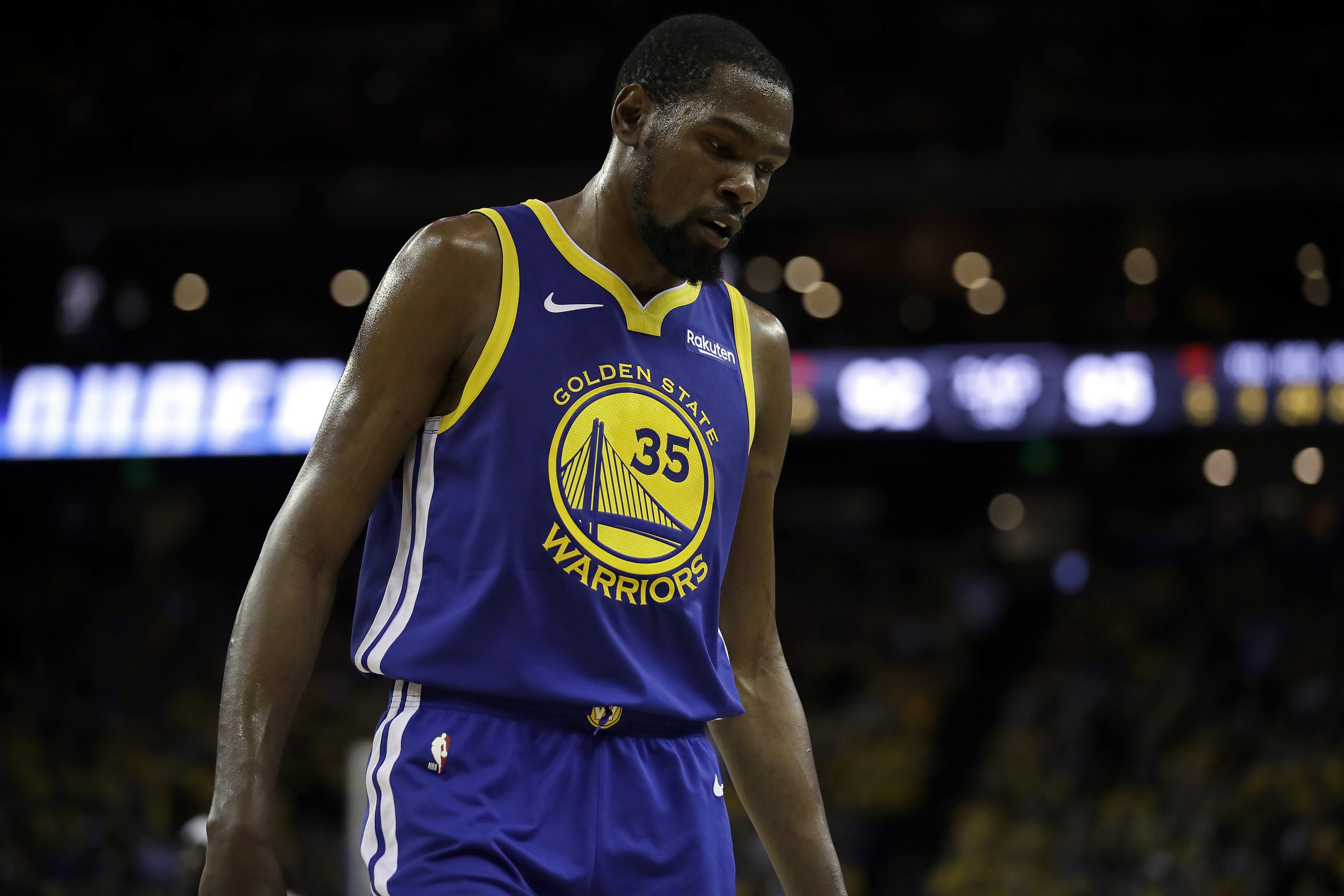 According to a report by Chris Haynes of Yahoo Sports, Durant is expected to return in time for Game 4 of the series, barring any further setbacks in his recovery.
Kerr: Durant Will Play When He's Ready
That report said that some members of the Golden State organization were hopeful that Durant might make it back in time for Game 3, the first home game for the Warriors in the series. However, a Game 4 return appears more likely.
According to head coach Steve Kerr, Durant will need to complete a full practice before the team will let him play in an actual game. Kerr said that the superstar forward was cleared for on-court basketball activities on Wednesday, though Haynes reported that Durant had actually been doing some on-court work earlier in the week.
On Friday, Kerr made it clear that there was no chance of Durant playing in Game 2 in Toronto on Sunday.
"Kevin's not going to play Sunday," Kerr told reporters. "When he's ready to play, he'll play, and that's our approach."
Warriors Miss Frontcourt Presence
Durant was injured during Game 5 of Golden State's second-round playoff series against the Houston Rockets. The right calf strain kept him out of the entire Western Conference finals against the Portland Trail Blazers. But the Warriors still swept the series 4-0, leading to some speculation that Golden State might actually be playing better without the seven-footer.
But that perception was sharply challenged in Game 1 of the NBA Final against the Raptors. Toronto outscored Golden State 75-18 in the frontcourt during the Raptors' 118-109 victory.
"KD's an all-time great player on both ends of the floor, so I could sit here and talk for days about what he adds to our roster," Stephen Curry told reporters after Game 1. "We obviously have proven that when he's out, we can have guys step up and that's going to be the case until he gets back."
Durant was averaging 34.2 points, 5.2 rebounds, and 4.9 assists per game during the playoffs prior to his injury. That comes off of a regular season in which he was named to the All-NBA second team, the ninth straight season he has been named to either the first or second team. Durant has also been named the NBA Finals Most Valuable Player each of the past two years.
Without Durant in the lineup, the Raptors are considered a slight favorite for Game 2 at home in Toronto, with FanDuel Sportsbook making them a 1.5-point favorite. However, Golden State remains a -162 pick to win the series and capture its third consecutive NBA championship. Given that he's missing at least two games, Durant is a +2200 underdog to win his third straight Finals MVP, with Curry (-111) and Toronto star Kawhi Leonard (+195) being the most likely recipients.