Kevin Durant declined a player option worth $31.5 million for one more year with the Golden State Warriors and he will test free agent waters when NBA free agency begins on June 30.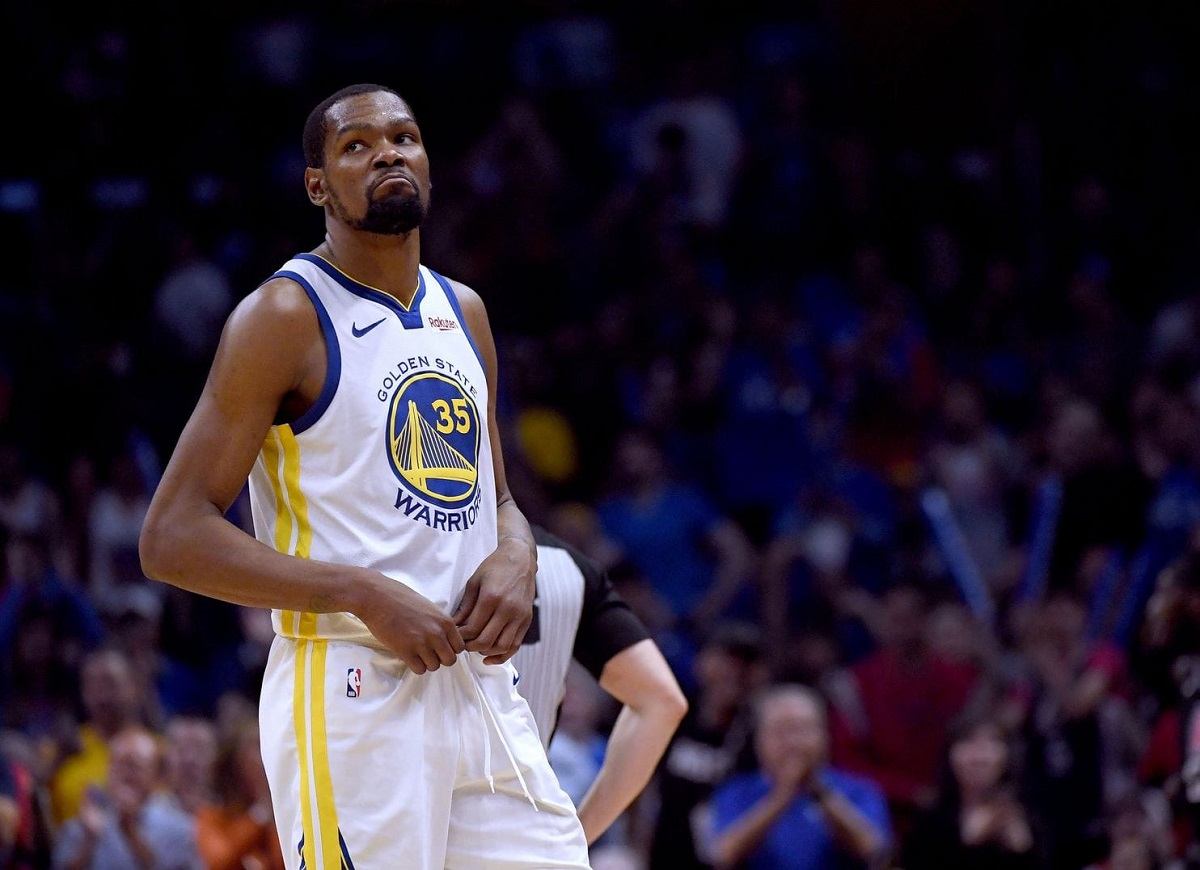 Durant can still re-sign with the Warriors for a five-year deal worth $221 million or $44.2 million per season. If he signs with another team, he can earn a max-contract worth $164 for four years, or $41 million per year.
Durant would consider returning to the Warriors, but many individuals close to his inner circle indicated that KD was not happy with how the Warriors handled his calf injury that escalated into a torn Achilles.
Durant, 30, will miss nearly almost of all of next season while he rehabs from a torn Achilles injury. There are rumblings coming out of New York City that Knicks owner James Dolan is not interested in paying Durant to not play. However, the Brooklyn Nets do not care about the money hit. It's a financial sacrifice they're willing to take.
MSG or Not to MSG?
Kevin Durant is current in New York City. One of the local tabloid newspapers reported that Durant purchased a home in the New York City area.
Meanwhile, Kyrie Irving legit moved out of Boston. The local press had images of a moving truck that showed up to his house in Newton, Massachusetts that was supposed to take his things down to NYC.
The Knicks would love for KD and Irving to sign with the Knicks. That was the main plan all along. They would have loved to add Zion Williamson to the mix, however, tanking did not work for the Knicks. New Orleans locked up the top pick in the lottery and won the Zion Sweepstakes. The Knicks had to settle on the third pick and secured Duke's RJ Barrett.
The Knicks have a young squad that includes Kevin Knox, Mitchell Robinson, Alonso Trier, and RJ Barrett. They also have numerous first round picks between now and 2023 as a hedge against a terrible free agency haul. Just in case KD and Irving bounce to Brooklyn to play with the Nets instead.
Kawhi Thoughts and Brooklyn
There's also a long shot situation where Kawhi Leonard lands in NYC. After all, he's younger than KD and he's a proven winner. Leonard has been linked to the LA Clippers for the last year or more. Everyone expected him to relocate to Los Angeles as soon as the Raptors were eliminated from the playoffs. However, an NBA title tends to change a lot of things.
However, it seems like the Knicks/Nets are nothing more than a way to sweeten the pot for LA Clippers or the Toronto Raptors. As the saying goes, "If it ain't broken don't fix it." Perhaps Kawhi signs a short-term deal with the Raptors and try to win a couple more titles before spending the second-half of his career back home in LA.
KD could stiff arm Dolan and the Knicks to sign with the Nets. He's still in NYC, but playing in Brooklyn isn't the same as playing under the bright lights of Madison Square Garden.
The Knicks have an edge over the Nets because the Knicks are the most lucrative franchise in the NBA valued at $4 billion. KD's business partner, Rich Kleiman, is a life-long Knicks fan. Tortured Knicks fans will tell you they will do anything to… 1) get Dolan to sell the Knicks, and 2) to win a NBA title. Many Fans think #1 is important for #2. However, if Dolan doesn't sell the Knicks, perhaps adding KD to the mix will give them a legit shot at the title.
KD's agent is also close friends with Knicks head coach David Fizdale. Fizdale had other job offers, but took a job with the cursed Knicks because of the possibility to coach Durant at some point in the future.
Ex-Knick Charles Oakley posted a photo (date and location unknown) with Kevin Durant on his Instagram feed the other day. He wrote, "I see you out and about in my city. Wishing @easymoneysniper a speedy recovery."