Brad Keselowski was easily the biggest loser after Sunday's NASCAR Race in Kansas, while Denny Hamlin and Kyle Busch emerged as winners. Keselowski missed advancing to the Monster Energy Cup Series Playoff Round of 8 by three points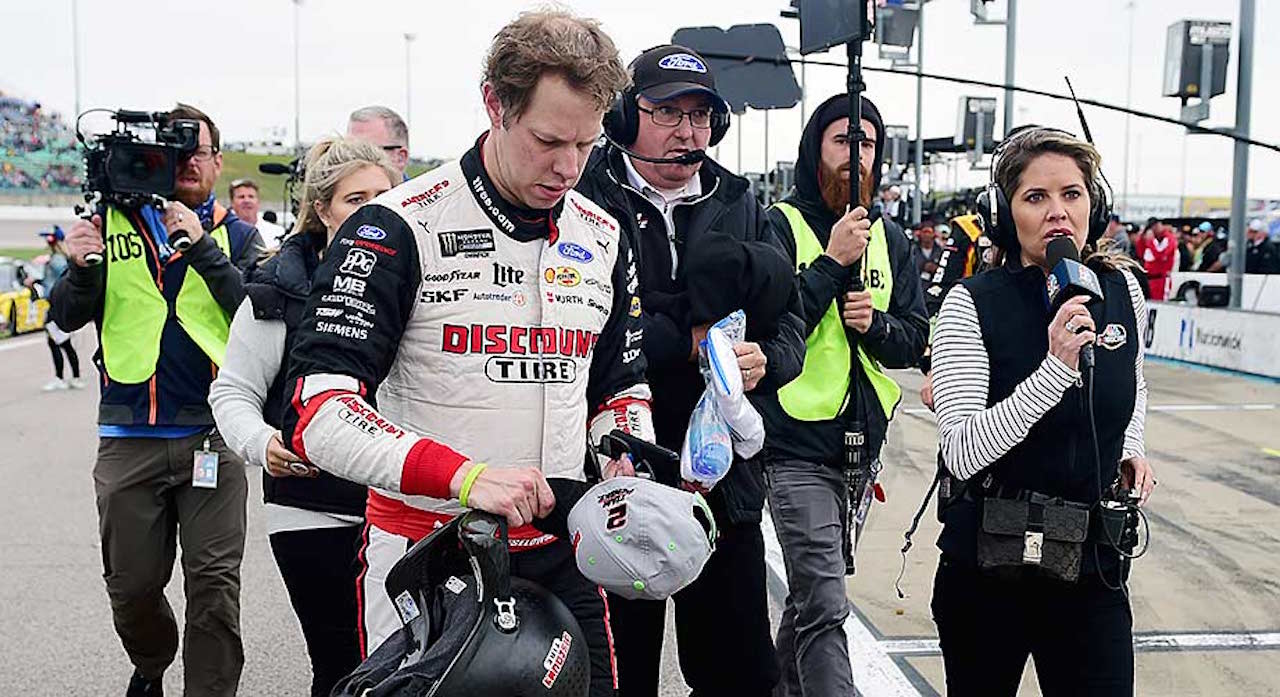 What made it even more frustrating for Keselowski was that had Denny Hamlin crossed the start/finish line before NASCAR officials called a caution for a multi-car crash, Keselowski would have been in the Round of 8 if Hamlin had crossed before the caution. Instead, there were two overtimes and Keselowski turned into the biggest loser of the night.
"Just couldn't get it to go on the restart," Keselowski told reporters after finishing 19th. "Inside lane restart. Didn't capitalize on it. Needed to get up and I couldn't get up and I got sandwiched. Somebody went three-wide and got me to the middle of (four-wide). Just all bad."
Keselowski Blames Himself for Biggest Loser
Keselowski entered Kansas Speedway 24 points clear of the final spot. He couldn't hold that position, yielding the final spot to Chase Elliott.
After the race, he said he and his team tried to get back toward the front, but just fell short.
"We didn't make it," Keselowski said. "I pushed as hard as I knew how and didn't quite do good enough on the last restart, and that was it. We clawed as hard as we could, and there were times it looked like we were going to be fine and times it didn't. In the end it didn't work out."
Hamlin Shows Classy Move Toward Johnson
Kansas Speedway winner, Denny Hamlin, showed a huge amount of sportsmanship toward Jimmie Johnson on Sunday. Hamlin slowed a bit to let Johnson get back on the lead lap less than a mile before the end of Stage 2.
The move did not go unnoticed by Johnson. He told reporters he appreciated it.
"Honestly, if he thought I was a threat, he wouldn't have done it," Johnson said with a laugh about Hamlin's move. "So there is respect there. And I do feel there is respect off the track, but out there on the track, there is just another level of respect you have to earn through racing hard. And I guess because I didn't seem like a threat, he let that slide."
Because of Hamlin's gesture, Johnson was able to claw up towards the leaders. The seven-time Cup champion finished 10th.
"Just trying to be a nice guy," Hamlin said. "Never can have too many friends out there, especially this point of the season.  You go a lap down, it changes your race. Obviously he was up there racing in the top five there towards the end.
Kyle Busch Breaks Slump
Kyle Busch had been struggling the last few races, but had a strong race at Kansas that should give him momentum going forward. Only Busch isn't really buying that.
Busch earned his first top-5 finish in a month Sunday at Kansas, but was far from satisfied. He told reporters that it was about time he had a good result.
"It's about how we're supposed to run," Busch said. "But then I guess if you're not in control of the last restart, then you don't have a chance to win. So, oh well."