After suffering a controversial upset loss to LSU earlier in the week, the #5 Kentucky Wildcats bounced back to pull off an upset of their own by defeating the top-ranked team in the country, the #1 Tennessee Volunteers, with a crushing 17-point victory.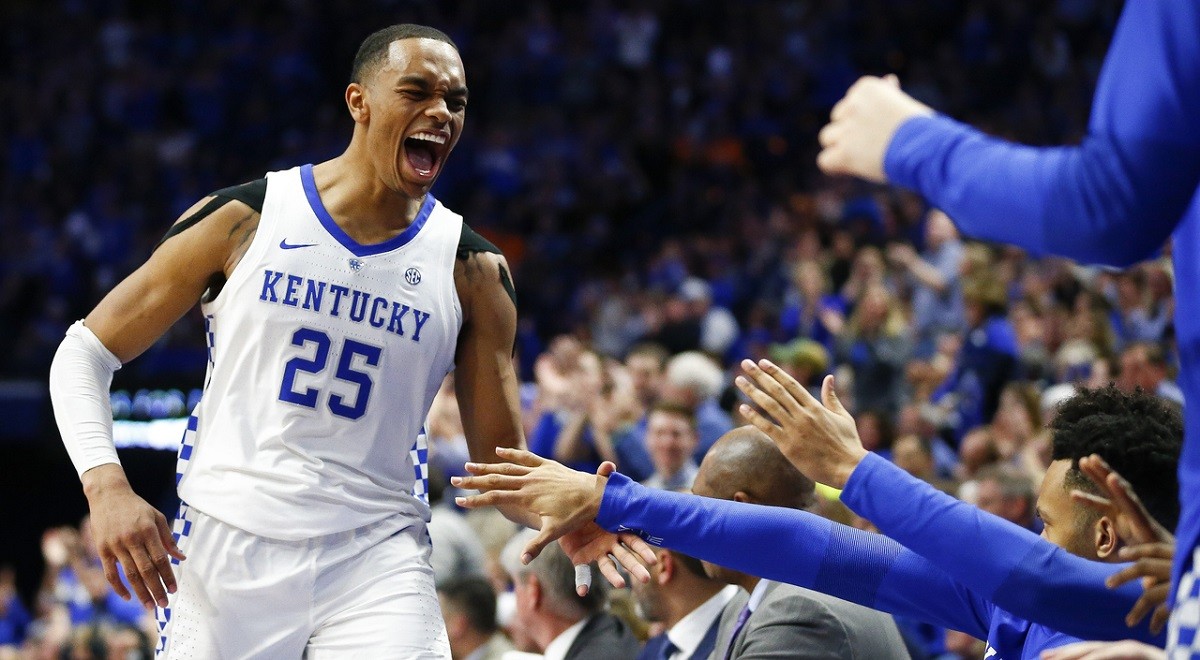 Kentucky (21-4) won 86-69 on their home court at Rupp Arena in Lexington. John Calipari's young Kentucky squad snapped Tennessee's 19-game winning streak.
SEC hoops continues to be one of the most exciting conference in the country. The Tennessee Vols (23-2) slipped into a tie for first place in the SEC with LSU. Both teams have an 11-1 conference record. Kentucky is in second place with a 10-2 record in the SEC.
The loss for Tennessee will knock them out of the #1 ranking when the next poll is released. The big win for Kentucky should keep them in the Top 5 after losing to #19 LSU this week.
Out of First?
Tennessee jumped into the #1 spot in the AP Poll four weeks ago. In mid-January, the Vols were 16-1 when top-ranked Duke and undefeated Michigan lost for the first time. They held off seven teams and rattled off 19-straights wins since then before finally falling to Kentucky.
Junior guard Jordan Bone led the Vols in scoring with 19 points and 6 assists. Junior Forward Grant Williams scored 18 points and 8 rebounds. Admiral Schofield scored 17 points, which is his season average. However, the senior guard had a off night shooting only 1-6 from three-point range and missing 11 shots in total.
"Tonight, we weren't Tennessee tough," said Schofield. "Kentucky was totally kicking our butt, scoring the ball, defense, everything."
The Vols lost the game on the glass. They were outrebounded 39-26. They also shot only 40.7 percent against UK's 54.7 percent. Tennessee's poor three-point shooting also did them in. They hit only 28 percent from downtown. Kentucky only hit five treys all night, but they hit 38.5 percent of their attempts.
SEC: Ugly Loss, Huge Win
It's never a dull day with SEC basketball. LSU upset Kentucky with a controversial tip-in by Kavell Bigby-Williams at the buzzer. LSU ended UK's 10-game winning streak.
Kentucky lost their last three games by a combined five points. A bounce here or there and they'd be 24-1. Calipari made sure Kentucky avoid a losing streak. They recovered from every previous loss with a resilient victory.
"I hit them right after the game with LSU and said, 'Hey, that was a tough loss,'" said John Calipari. "But you know, we needed it. We need to go back to what we were, and sometimes you've got to get knocked in the head to know that. The loss to LSU probably helped us win this game."
The win against top-ranked Tennessee is easily their biggest of the season. Since losing to Duke in the first game of the season, Kentucky is now 5-1 against ranked teams. Two of their losses were against unranked Seton Hall and Alabama.
Kentucky had the usual benefit of home-cooking from the officials. They shot 33 free throws to Tennessee's 18. The Vols were whistled for 25 fouls to only 15 for UK.
Sophomore PJ Washington is the old man on this young team of frosh superstars. Washington led all scorers with 23 points. Freshman guard Keldon Johnson dropped 19 points. Tyler Herro shrugged off a bad night of shooting (3-for-11 from the floor) and cobbled together 15 points. The freshman guard also led UK with 13 rebounds.
The rematch between Kentucky and Tennessee is set for March 2 in Knoxville, Tennessee.