If the clash of the filly titans at the Kentucky Oaks isn't enough to grab your attention, then consider this; this year's card is in serious danger of upstaging Churchill Downs' Derby Week. And that's including the marquee event of Derby Week, the 146th Kentucky Derby.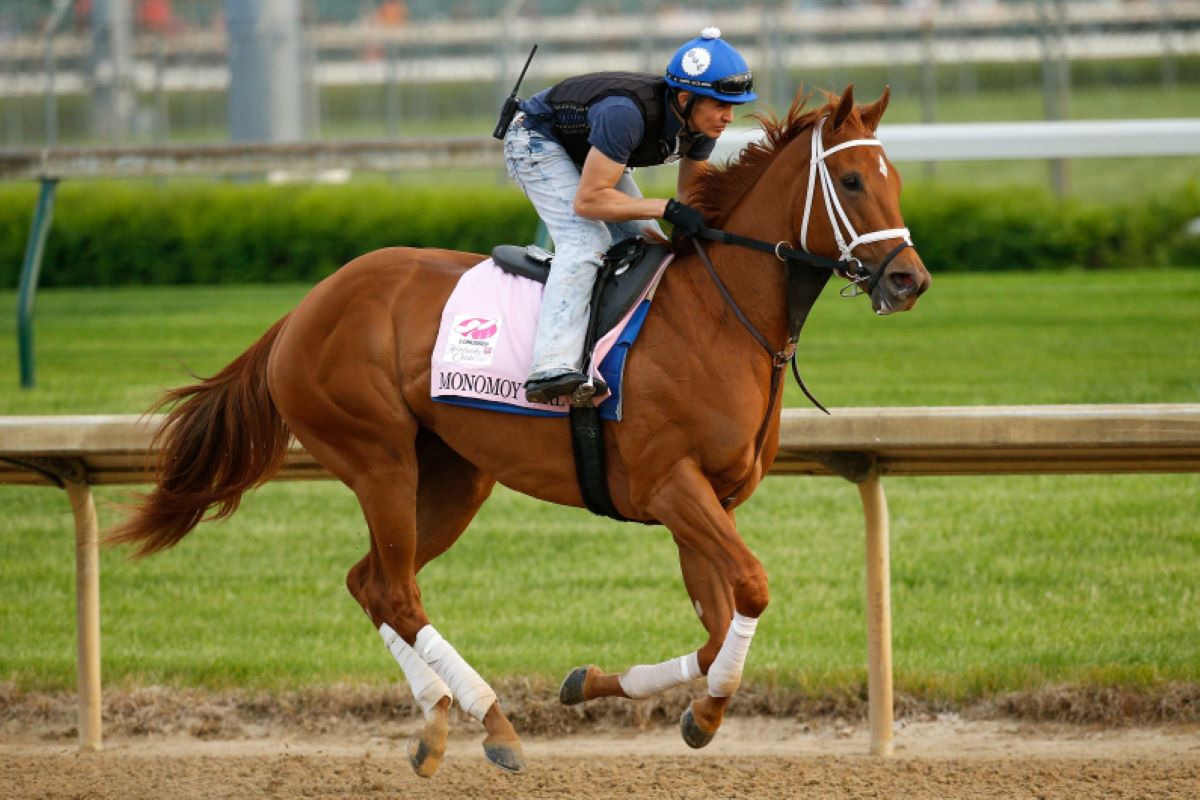 It's OK to pay attention to the Derby, empty grandstands and infield aside. But there are too many good names dropping into good stakes races to ignore Oaks Day.
The 1 1/8-mile Kentucky Oaks, starring Gamine, Swiss Skydiver, and Speech headlines Churchill Downs' Sept. 4 card. If that already-decorated trio of 3-year-old fillies isn't enough to get the handicapping juices flowing, well, how about By My Standards and Owendale dueling for a Breeders' Cup Classic berth?
Speaking of the Breeders' Cup, how about 2018 Breeders' Cup Distaff winner Monomoy Girl taking on newly minted Grade 1 champion Vexatious? Or gutty Royal Ascot runner-up and Breeders' Cup Juvenile Fillies Turf winner Sharing returning to the gate? And there's a handicapper's puzzle awaiting with Archidust, Carotari, Diamond Oops, and Extravagant Kid.
These are a few of the expected horses on Churchill Downs' 13-race Oaks card. That card features six graded stakes races, headlined by the Grade 1 Oaks. But as appetizing as this year's Oaks is, the undercard is far from a mere racing appetizer.
Monomoy Girl Remains a Favorite in Many Ways
Monomoy Girl sees to that. The popular 2018 Kentucky Oaks winner is the undisputed favorite for the other Grade 1 race on the Oaks day slate, the $500,000 La Troienne. The 1 1/16-mile route reunites Monomoy Girl with one of her vanquished opponents — Vexatious — from the Grade 2 Ruffian earlier this year. But that came before Vexatious took down heavily favored Midnight Bisou at the Personal Ensign at Saratoga earlier this month.
If that's not enough, there's La Troienne defending champion She's a Julie. She pulled her own upset in June's Ogden Phipps Stakes at Belmont Park.
Then, there's By My Standards and Owendale tangling in the $400,000 Grade 2 Alysheba. The 1 1/16-mile event provides the winner a date with Maximum Security, Tom's d'Etat, Improbable, and others in the Breeders' Cup Classic. By My Standards, the Whitney Stakes runner-up to Improbable, is your likely favorite to join that gang at Keeneland on Nov. 7. He's finished first or second in each of his last five races.
Sharing Oxygen with Others on the Kentucky Oaks Card
There's still plenty of oxygen in this card, although Sharing figures to absorb much of what remains in the $300,000 Grade 2 Edgewood Stakes, running at 1 1/16 miles on the turf. Sharing had her four-race winning streak snapped when she finished second at Royal Ascot's Coronation Stakes in June. One of the top 3-year-old turf runners in North America will still absorb plenty of betting interest, although Beguiled and Outburst will provide exotic options.
The other two Grade 2 stakes races are the $300,000 Eight Bells and the $250,000 Twin Spires Turf Sprint. In the Eight Belles, which sends 3-year-old fillies seven furlongs, keep an eye on budding prodigy Four Graces, who has won four of her first five races. One of her victims, Sconsin, seeks revenge for her runner-up finish in the Grade 3 Beaumont.
The Twin Spires Turf Sprint features one of the best horseplaying puzzles of the weekend. There's recent Lone Star Park winners Archidust and Carotari taking on 14-time winner Extravagant Kid and multiple graded-stakes winner Diamond Oops. The 5 ½-furlong turf sprint pits youth and form against experience and class.