The Kentucky Jockey Club was the only race Tiz the Law lost as a 2-year-old. It's also the race that gives 2-year-olds a needed trip around two turns and horseplayers a good glimpse of what juveniles could be live come next spring's Kentucky Derby.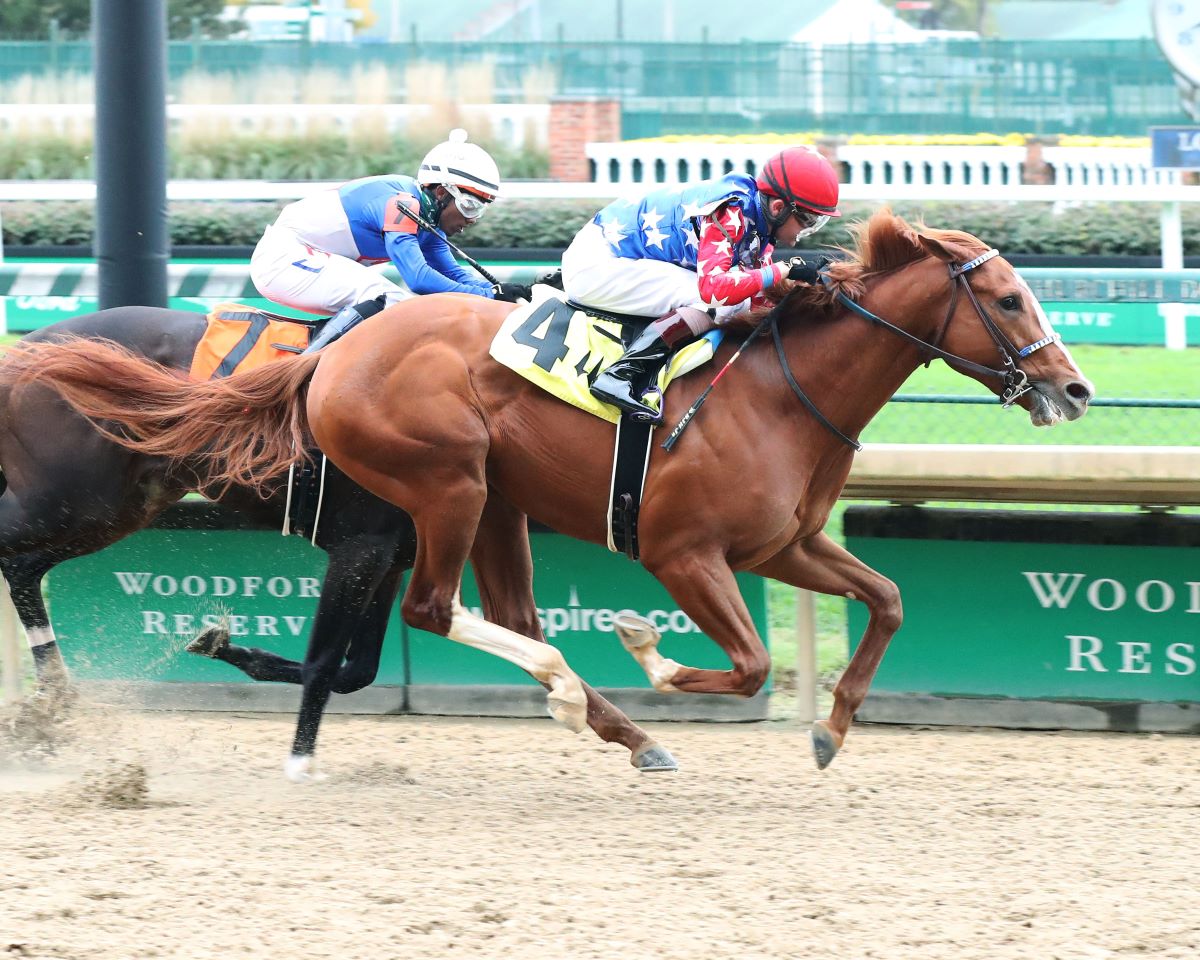 Along with that, Saturday's Grade 2 Kentucky Jockey Club is held at Churchill Downs, the site of next spring's Derby. The 1 1/16-mile test also offers 10-4-2-1 Kentucky Derby qualifying points to the top four finishers.
It also offers the opportunity to join the likes of Clyde Van Dusen (1928), Cannonade (1973), Run Dusty Run (1976), Captain Steve (1999), Super Saver (2009), Gemologist (2011) and Tapiture (2014) as winners of the 94-year-old race that dates to 1920.
Auditioning for that spot are eight 2-year-olds of varying pedigrees and levels of success. And it speaks to the wide-open nature of this year's event that six of the eight horses are single-digit odds on the morning line. It also speaks to the free-for-all of this race that a maiden is your favorite. That would be Keepmeinmind (6/5).
Everything on the Resume — Except a Win
The counterintuitive nature of betting a maiden in a Grade 2 balances with Keepmeinmind's resume: two seconds and a third. The third came in the Breeders' Cup Juvenile to Essential Quality and Hot Rod Charlie and the seconds came in the Grade 1 Breeders' Futurity – also to Essential Quality — and a maiden race to Arabian Prince. The latter is also in Saturday's field.
Keep in mind that Keepmeinmind finished third in the Breeders' Cup Juvenile after being 17 lengths off the lead. So you're talking about a true closer who needs a blistering pace for his late finishing kick to, well, kick in. Missing that pace means you bet Keepmeinmind to win at your peril – especially at 6/5 or worse.
Behind Keepmeinmind, realistic possibilities abound. There are the two Brad Cox offerings: Swill (6/1) and Inspector Frost (8/1). Both broke their maidens with seven-furlong easy victories from the front: Swill at Churchill Downs in September and Inspector Frost at Keeneland in October. They are the lone speed elements in this race and how they break should illustrate how the race will go.
Sittin On Go Could Bounce Back From his Juvenile Bounce
Then, there's Sittin On Go (5/1), the stronger of the dual entry with Smiley Sobotka (also 5/1). Last out, Sittin On Go failed to go in the Breeders' Cup Juvenile. His horrible start led him to finish ninth. But one start before that, Sittin On Go punched it hard down the stretch, winning the Iroquois Stakes under the Twin Spires. It's not unrealistic to expect a bounce-back from his Juvenile bounce.
Nor is it unrealistic to expect King Fury (6/1) to run better than he did in that Breeders' Cup Juvenile, where he finished a non-threatening seventh. Especially with trainer Kenny McPeek adding blinkers to a horse who seems to alternate good and bad races. Following that cycle means King Fury is due this time out, considering two races earlier, he won the Street Sense Stakes at Churchill Downs.
His stalking pace provides the perfect style in a race lacking true speed. He can keep up with Swill and Inspector Frost up front, then pounce when the time is right.
The Pick: King Fury. There's his stalking style. There are the blinkers, which should provide more early speed if needed. There's also the two victories at Churchill Downs, both at 1 1/16 miles. But don't forsake Swill and Keepmeinmind in your exotics.