In a frightening moment of the Boston Celtics and Denver Nuggets game on Friday evening in Denver, Celtics guard Kemba Walker collided with teammate Semi Ojeleye, and collapsed to the court with a neck injury. Medical staff used a brace to stabilize Walker's neck and removed him from the court on a stretcher.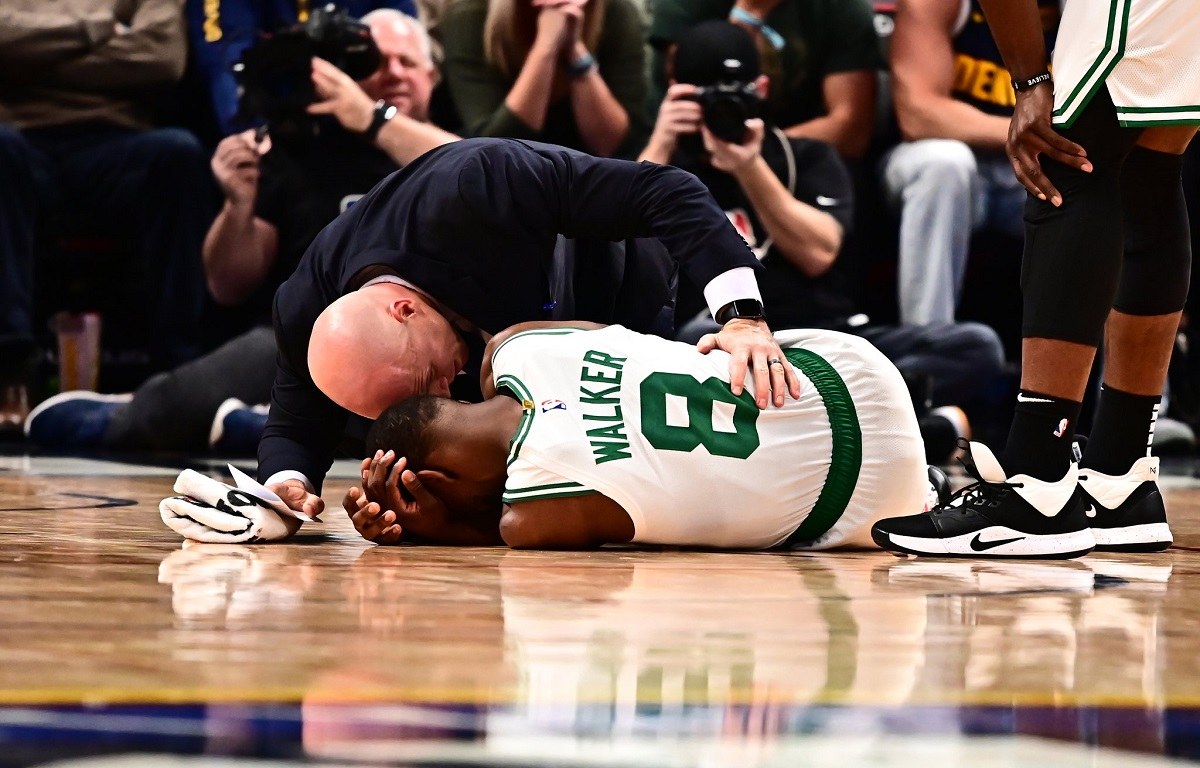 An ambulance transported Walker to a local Denver hospital for evaluation. He was released overnight without any indication of serious injury to his neck. Team officials said Walker experienced concussion-like symptoms.
Walker will be re-evaluated when the team flies back to Boston this weekend. In his first season in Boston, Walker leads the Celtics with 22.6 point and 4.8 assists per game.
"I saw him in the ambulance at halftime that took him to the hospital," said Boston coach Brad Stevens. "He had his wherewithal and he was in pretty decent spirits, which was good, obviously."
Kemba Walker was taken off the court in a stretcher after this play pic.twitter.com/i1jcJeoDwB

— Celtics on NBC Sports Boston (@NBCSCeltics) November 23, 2019
The Celtics (11-4) lost 96-92 to the Nuggets (11-3). Nikola Jokic posted a triple-double, putting up 18 points, 16 rebounds, and 10 assists.
This game was the last of a five-game road trip over a span of eight days. The Celtics went 2-3 on the Western swing after starting the season 10-1.
Walker Injury Update
Walker had yet to make a shot when he went down. He was 0-3 from the field with zero points, but he had three assists.
The injury happened with 3:18 to go in the second quarter. Walker stumbled and crashed into power forward Semi Ojeleye's chest, and instantly collapsed to the floor. Teammates described Walker as being "out of it" moments after the injury.
"I just remember him running into me," said Ojeleye. "It happened so fast. It's not something you want to be a part of."
"It's tough on both teams to see that," said Stevens. "It was good to get at least early reports of good news from our standpoint. But the head injury thing is super scary, so you're always thinking about it."
"That's not something you want to mess around with," said Nuggets guard Jamal Murray said. "Prayers out to him, and hopefully he's fine."
"It's tough," confirmed teammate Marcus Smart. "We tried to gather it up for him and go out there and give it everything we had for him."
"Our prayers and our energy are with him," added teammate Jaylen Brown. "He's probably the smallest dude on the floor every time he steps out, but he's probably got the biggest heart. We definitely lean on him and we'll welcome him back when he rests up and everything is taken care of."
The Celtics were down 19 points in the second half, but fought back in the fourth quarter. Jaylen Brown led the comeback with 22 points and 10 rebounds.
On Deck: Kings and Nets
The Celtics lost starting forward Gordon Hayward a couple weeks ago when Hayward broke his hand. Without Walker, the Celtics are now down two starters. Walker is expected to miss an unspecified amount of time with his neck injury.
The Celtics return home to Boston to play the Sacramento Kings on Monday Night, and then host the Brooklyn Nets on Wednesday. The Celts are 5-0 at home, but they lost three out of their last four games, including two losses in a row.