Kawhi Leonard topped all scorers with a 39-point outburst to lead the Toronto Raptors to 101-96 victory over the Philadelphia Sixers in Game 4 of the Eastern Conference Semifinals.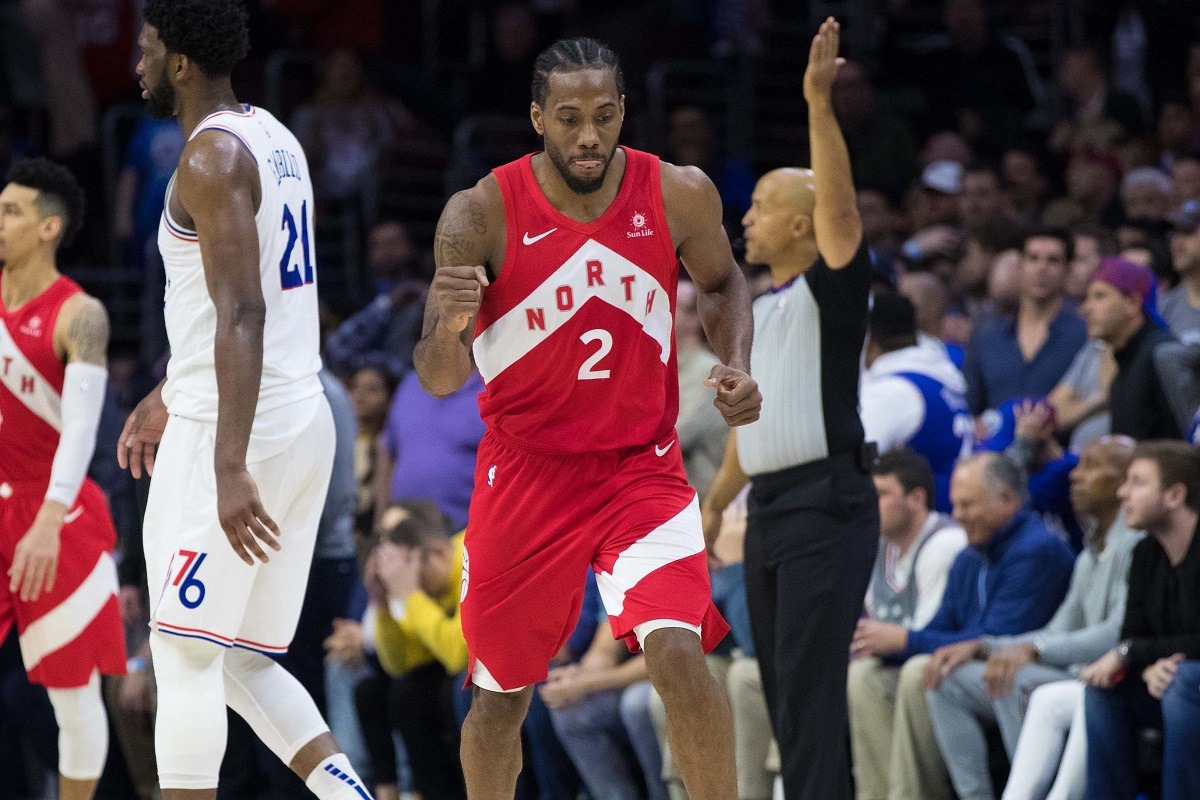 The series is now tied at 2-2. Toronto won Game 1 but dropped two games in a row before ending their skid with a win in Game 4. In this best-of-seven series, the Raptors regained control of home court advantage with two more games in Toronto.
Pascal Siakam, one of the front runners for NBA's Most Improved Player, was listed as a game-time decision with a calf injury. Siakam suited up in Game 4. The power forward only played 29 minutes and struggled with a mere nine points on 2-for-10 shooting.
With Siakam not much of a scoring option, Leonard stepped up with one of his biggest games as a member of the Raptors. Leonard finished Game 4 with 39 points, 14 rebounds, and 5 assists, including a 5-for-7 clip from three point land.
Sky High Kawhi
Leonard averages 26.6 points per game in the regular season, but he increased his output to 32.3 points per game in the playoffs.
Leonard is a career 38.3 percent shooter from three-point range. However, Leonard has been shooting lights out in the postseason with a 50 percent clip from downtown.
With a minute remaining in Game 4, Leonard knocked down a huge three-pointer that put the Raptors ahead for good. Just when it looked like the Sixers might actually knock out the Raptors prematurely, Nick Nurse's team stepped up with a huge win in Game 4.
"We needed some punch around the roster," said Raptors coach Nick Nurse. "It was a different mentality. Guys were looking to shoot, taking the first shot that was there."
Kyle Lowry added 14 points and 7 assists. Marc Gasol chipped in 16 points and 12 rebounds. Danny Green scored 11 points with 2 big steals.
Serge Ibaka came off the bench with 32 solid minutes of action. He shot 6-for-9 from the field with 12 points and 9 rebounds while filling in for Siakam.
Up and Down Embiid
Joel Embiid has been sick the last couple of games and missed Game 3 of the opening-round series against the Brooklyn Nets. He was also a game-time decision for Game 4. The Sixers center started and played 35 minutes, but struggled from the floor shooting only 2-for-7 from the field. Embiid finished with 11 points, 7 rebounds, 7 assists, and 2 block.
Jimmy Butler and JJ Redick stepped up in the scoring department. The backcourt combined for 48 points on 7-for-14 from three-point range. Butler dropped 29 and hauled down 11 rebounds. Tobias Harris added 16 points in the loss to the Raptors.
As per usual, Ben Simmons had a bad game during a Sixers loss. Whenever Simmons doesn't find his shot, the Sixers are in trouble. Simmons scored only 10 points.
Embiid averaged 27.5 points and 13.6 rebounds per game this season. He's only averaging 21.4 points per game in the postseason. Better defense and poor health hindered Embiid from achieving his full potential. The Sixers will need a healthy Embiid if they expect to win a game in Toronto.
According to the South Point Casino and Sports Book in Las Vegas, the Philly Sixers are 25/1 odds to win the NBA title. The Raptors are 10/1 odds to win the 2019NBA Championship.