Guided by his conscience more than his bank account, Kareem Abdul-Jabbar is auctioning off four of his NBA Championship rings. The jewelry was for titles in 1980, 1985, 1987, and 1988.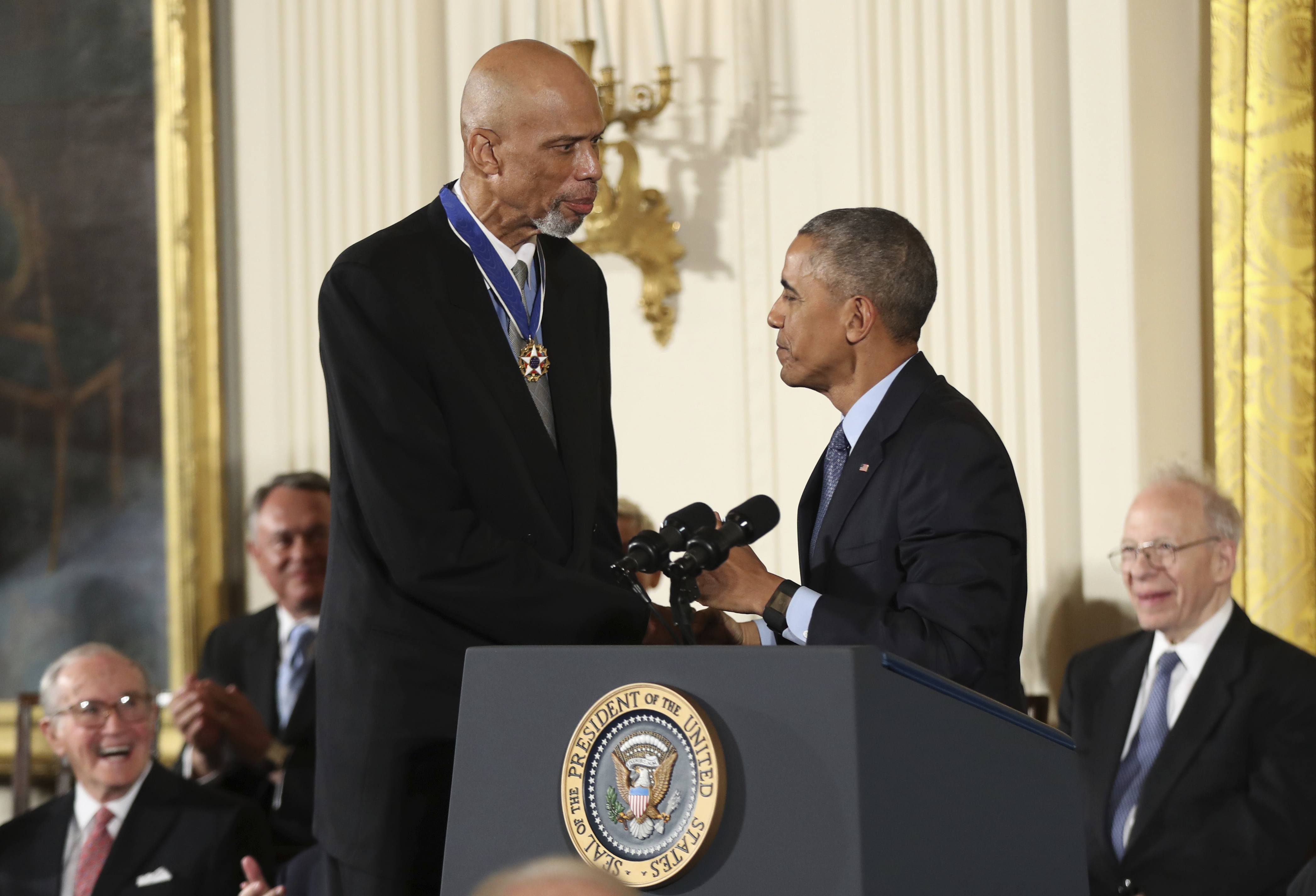 Abdul-Jabbar isn't broke, and doesn't need an infusion of cash. The sale of this, and other memorabilia is motivated by philanthropy, not greed. The money from the proceeds of the auction will be used to fund his Skyhook Foundation. That charity seeks to help kids learn about science, technology, engineering and math.
"When it comes to choosing between storing a championship ring or trophy in a room, or providing kids with an opportunity to change their lives, the choice is pretty simple," Abdul-Jabbar wrote on his blog. "Sell it all. Looking back on what I have done with my life, instead of gazing at the sparkle of jewels or gold plating celebrating something I did a long time ago, I'd rather look into the delighted face of a child holding their first caterpillar and think about what I might be doing for their future. That's a history that has no price."
Bigger Purpose in Life
Even back in his college days at UCLA, Abdul-Jabbar, now 71, took the lessons of famed basketball coach John Wooden to heart. He remembered his first meeting with Coach Wooden in a 2018 television interview.
"We started talking, and we immediately got off the subject of basketball. And he said, 'You know, I noticed that you have good grades, and UCLA is an excellent school. I expect you to do well here.' And, you know, I was kind of surprised," Abdul-Jabbar said. "Most basketball coaches don't care about that, and I understood immediately that we were simpatico that way. I was at UCLA to get an education, and we struck it off right away in terms of vision and appreciation of each other's goals."
For Abdul-Jabbar social activism came naturally, and he has increased his charity work in recent years. In 2009 he founded his charity Skyhook Foundation. In 2012 then Secretary of State Hillary Clinton named him a global cultural ambassador. Four years later he spoke at the Democratic Convention, the same year President Barack Obama awarded him the Presidential Medal of Freedom.
Basketball Previous Life
It has been more than 30 years since Abdul-Jabbar retired, and eight years since he had any dealings with the game. The NBA's all-time leading scorer is proud of that part of his life, but also realizes he has other pursuits he would like to undertake.
Selling his rings, as well as game-worn jerseys and signed basketballs to benefit his foundation, whose slogan is to "give kids a shot that can't be blocked," was an opportunity Abdul-Jabbar couldn't pass up.
"My sports memorabilia also have a history. My history. My life," Abdul-Jabbar said. "And, oddly, since my life is still happening and ever-evolving, I am less personally attached to those items than I am to my desire to create new history for myself — and futures for others."