When the #2 Kansas City Chiefs host the #7 Pittsburgh Steelers in Sunday's AFC wild-card game, they won't have running back Clyde Edwards-Helaire in the lineup due to a shoulder injury.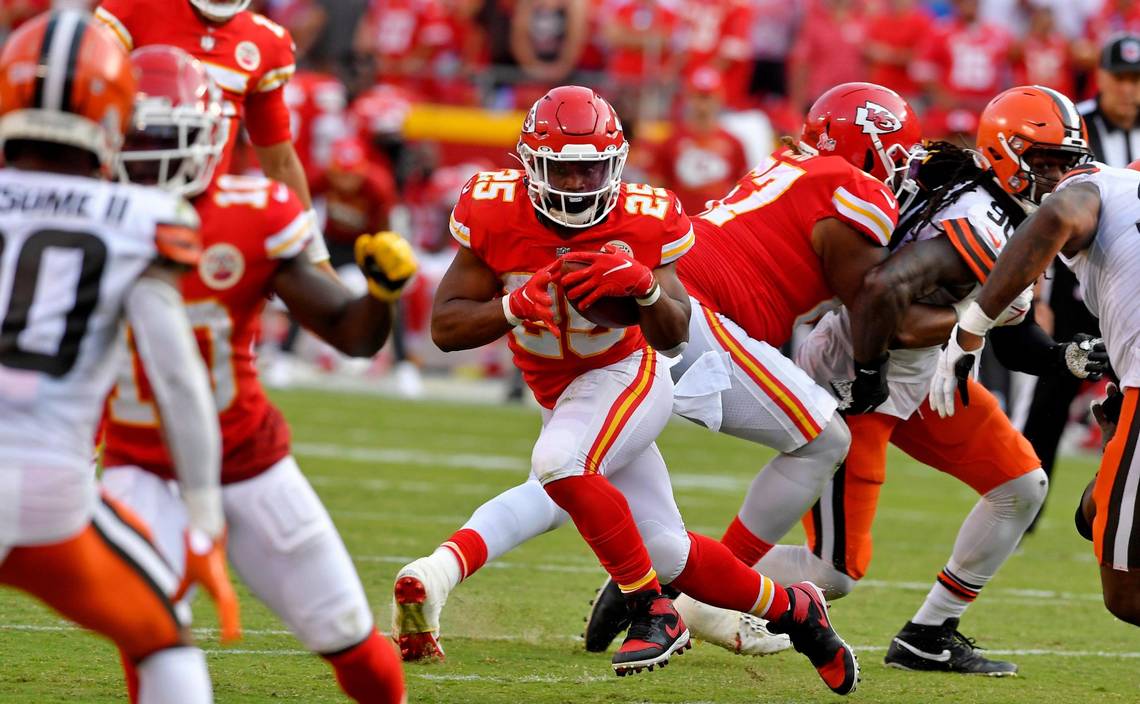 The initial shoulder injury occurred in Week 16 against the Pittsburgh Steelers, and Edwards-Helaire missed the final two games of the season. He also missed five games earlier in the season with a knee injury.
"Clyde tested (his) shoulder a few days ago, and it wasn't quite as good as we thought it might be and he thought it might be," said head coach Andy Reid.
In 10 games this season, Edwards-Helaire rushed 119 times for 517 yards and four touchdowns. He averaged 4.3 yards per carry as the team's second-best rusher and most efficient running back. He also added 19 receptions for 129 yards and two receiving touchdowns.
In September, Edwards-Helaire squeaked out back-to-back, 100-yard rushing games. In Week 3, he rushed for 100 yards against the LA Chargers. In Week 4, he torched the Philadelphia Eagles for 102 yards on only 14 touches for 14.3 yards per carry. Even though he failed to score a rushing touchdown in either of his 100-yard games, he added a touchdown reception in each game.
Next man up: Darrel Williams
Darrel Williams began the season as the backup running back behind Edwards-Helaire on Kansas City's depth chart. A healthy Williams appeared in all 17 games for the Chiefs this season.
Williams rushed 144 times for 558 yards and six touchdowns while averaging 3.9 yards per carry. He also caught 47 passes for 452 yards and two receiving scores.
Williams missed the second half of the final game of the season against the Denver Broncos due to a toe injury. He sat out practice this week, but he's expected to start against the Steelers on Sunday night.
The Chiefs also have Jerick McKinnon and Derrick Gore on the roster as running backs. As a platoon against the Broncos in the second half, McKinnon/Gore combined for 54 rushing yards and one touchdown reception.
Wild-card betting: KC/Pittsburgh
The Steelers lost to the Chiefs 36-10 in Week 16. The Chiefs head into the AFC wild card as a -12.5 favorite. The total is 46.5 o/u
You can back the Chiefs at +400 odds to win Super Bowl 56, making them the second-highest team on the NFL futures board over at DraftKings. The Chiefs are also the outright favorite to win the AFC Championship at +175 odds.
DraftKings posted multiple scoring prop bets for super wild-card weekend. The high-flying Chiefs averaged 24.8 points per game this season as the fourth-best scoring attack in the NFL. They're the prop betting favorite to score the most points in the wild-card round, which consists of six games.