Two of the top lightweight fighters in the world will be on display in Vancouver on Saturday, as Justin Gaethje and Donald Cerrone face off in the main event of UFC Fight Night 158.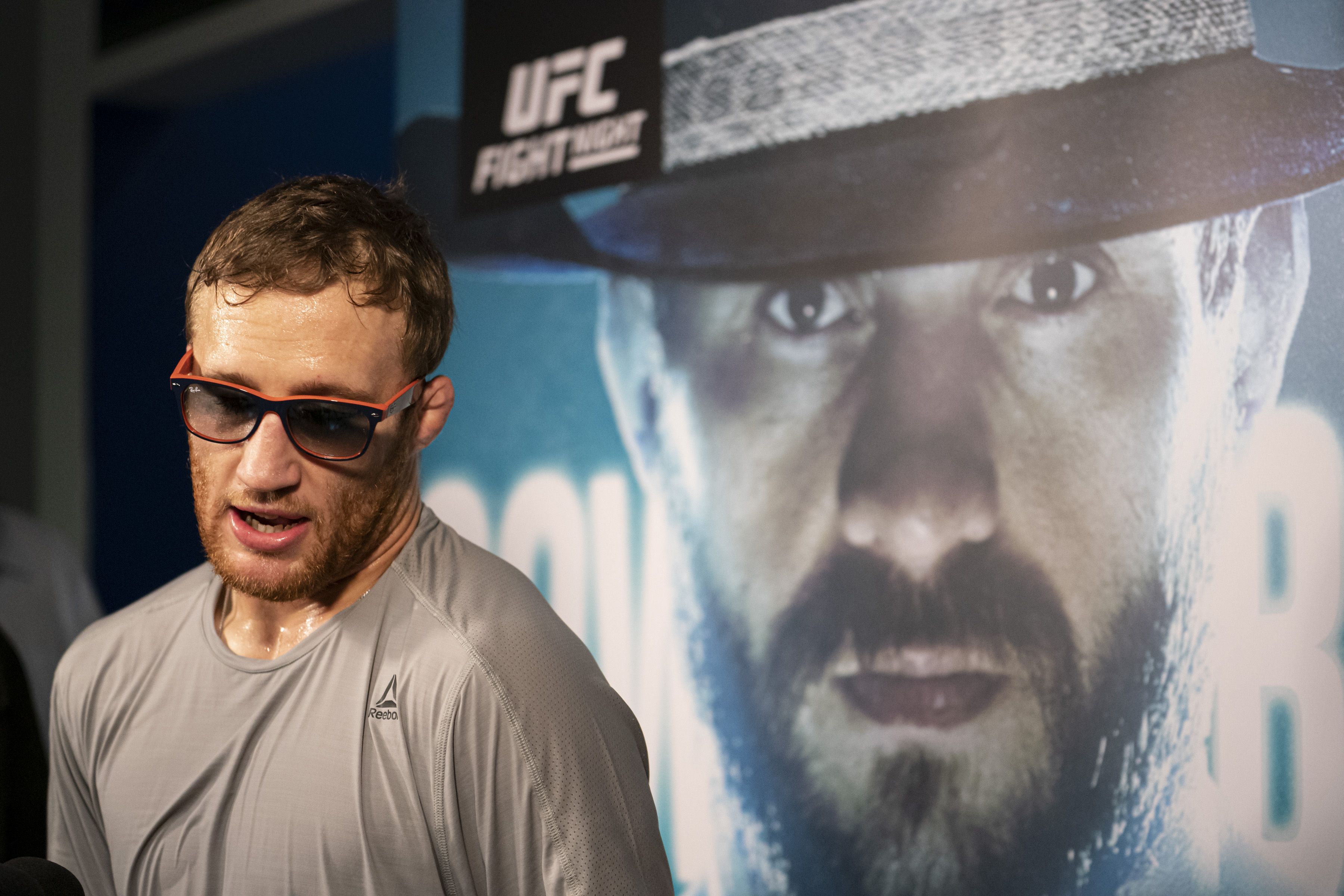 Both No. 4 contender Cerrone and No. 5 Gaethje will see this fight as an opportunity to book a high-profile win that could put them squarely in the discussion for a future title shot against undefeated lightweight champion Khabib Nurmagomedov.
Two Fan Favorites Collide
For fans, however, the matchup promises a lot more than just divisional relevance. Featuring two fighters who are ready and willing to brawl, many have pegged this as a potential fight of the year candidate.
Gaethje (20-2) comes into the bout on a two-fight winning streak, taking about four minutes combined to knock out both James Vick and Edson Barboza. That has allowed to recover from the only two losses in his professional MMA career – which came consecutively to Eddie Alvarez and Dustin Poirier – and establish himself as someone who will at least be a ranked contender for the foreseeable future.
But while this is Gaethje's biggest bout in some time, it appears that he almost wasn't in any condition to fight in Vancouver. At open workouts on Wednesday, the 30-year-old told reporters that a serious eye infection threatened to keep him out of UFC Fight Night. A similar infection cancelled a different bout on the card, as Andrew Sanchez had to reschedule a middleweight fight with Marvin Vettori.
"I'm seeing drastic improvements every day. This is just a precaution," Gaethje told reporters about the sunglasses he wore during open workouts. "I've seen many doctors. I'm cleared and I'm ready to go."
Cerrone (36-12) has been one of the most prolific and popular UFC fighters of all time, winning a record 18 fight night bonuses throughout his career. Just a couple years ago, it appeared that he had been reduced to an exciting action fighter who would never again contend for a title, thanks to a three-fight losing streak throughout 2017.
But "Cowboy" followed that up with four wins and five tries, before being stopped by Tony Ferguson when a doctor called an end to the fight after two rounds at UFC 238 in June. Now, Cerrone is ready for his fourth fight of 2019 – a huge workload for most UFC fighters, but one that has been typical of his career.
Cerrone Once Dropped Gaethje – In Training
In an unexpected twist, Gaethje revealed before the fight that Cerrone once knocked him out in a training session back in 2012. But while he didn't expect it to come up, Cerrone said that the incident wouldn't have any impact on Saturday's fight.
"Training is totally different than fighting, and it must have been a weird, lucky shot," Cerrone told reporters. "That was so many years [ago] and he's a totally different guy and its gonna be the fight everyone thinks it's going to be."
With two offense first (and second) fighters jumping into the Octagon, it's likely that this will be a memorable encounter, though it might not last very long. Both men through and absorb lots of shots, with nobody in the UFC swinging away – or being hit – at the rate that Gaethje does. While Cerrone typically lands with a bit more power, Gaethje will likely set the pace, applying constant pressure that won't allow many breaks in the action.
---
UFC Fight Night 158 Odds (Via FanDuel)
Donald Cerrone (+158) vs. Justin Gaethje (-194)
Glover Teixeira (-110) vs. Nikita Krylov (-110)
Todd Duffee (-104) vs. Jeff Hughes (-118)
Uriah Hall (+205) vs. Antonio Carlos Junior (-270)
Misha Cirkunov (-116) vs. Jimmy Crute (-106)
---
That relentlessness might give Gaethje the advantage – though it's easy to see either fighter finding a way to win this bout by knockout, quite possibly in the first round. At FanDuel Sportsbook, Gaethje is a -194 favorite over Cerrone (+158).
The most telling numbers may be the odds on how the fight will end. FanDuel is only offering -260 on a finish by KO/TKO, and bettors can get +400 on the fight going the distance – a sure sign that bookmakers are expecting just as much action as fans are.