Freshman quarterback Justin Fields was the No. 1 college football recruit in the nation for 2018 according to ESPN, which landed him a scholarship to play with the Georgia Bulldogs. But after a season on the bench, Fields is now considering transferring away from Georgia to get out from under the shadow of Jake Fromm.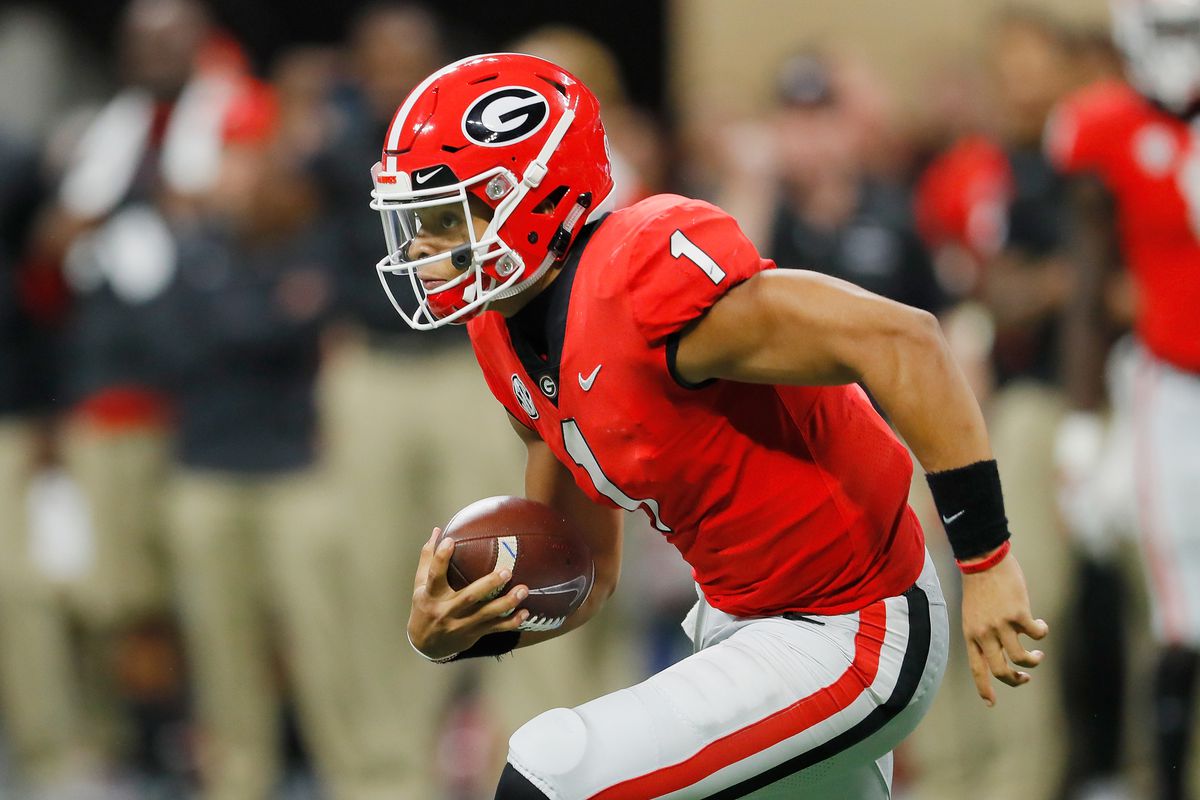 According to several media reports, Fields is either considering a transfer or has already told Georgia that he intends to leave, with several major programs interested in landing the young quarterback if he does indeed move on from the Bulldogs.
Fields May Have Already Made Decision
ESPN cited sources on Monday as saying that while Fields was looking into the possibility of transferring away from the school, he had yet to make that decision. That report also noted that Fields practiced with the team on Monday, and that he was expected to play with Georgia against Texas in the Allstate Sugar Bowl on Jan. 1.
"[Transferring] is a possibility, but we expect him to play in the Sugar Bowl," ESPN quoted a source as saying in their report. "It's not done. He practiced [Monday] and practiced his ass off. He's going to explore what's out there. He might come back."
However, a report by USA Today Sports cited a source as saying that Fields had already notified Georgia of his intent to transfer, even though the school has yet to acknowledge that decision.
If Fields wants to transfer, he would normally have to sit out the entire 2019 season to do so. He could apply for a hardship waiver from the NCAA that would allow him to play immediately, though it is unclear whether his current circumstances would be sufficient to earn an exemption.
QB Likely to Land at Major Program
There will be no shortage of suitors for Fields if he does look at other schools. Already, rumors suggest that the quarterback might consider moving to Florida State, Ohio State, or Oklahoma, and certainly other programs will also attempt to recruit him if he officially becomes available.
In almost all recruiting rankings, Fields was one of the top two quarterbacks in the 2018 incoming class, alongside Clemson's Trevor Lawrence. But while Lawrence ended up earning the starting job at Clemson, Fields sat on the bench for most of the season, only getting time in blowouts.
In limited time, Fields threw for 328 yards and four touchdowns. A dual-threat quarterback, Fields also ran for 266 yards, picking up four more touchdowns on the ground.
But Fields was also at the heart of perhaps the biggest – and most controversial – play of the season for the Bulldogs. He was put in the game to run the ball on a fake punt late in the SEC championship game against Alabama with the score tied. The play failed to pick up a first down, and Alabama then drove down the field to score the winning touchdown.
If Fields does stay at Georgia, his path to the starting role may not come until his senior year. As a sophomore this season, Fromm threw for 2,537 yards and 27 touchdowns against just five interceptions to help the Bulldogs to an 11-2 record. In his freshman year, Fromm led the team to the College Football Playoff championship game, which Georgia lost to Alabama 26-23 in overtime.