In another Triple Crown race in the mud, Justify validated his favorite status at the Preakness, and came out clean as a whistle. The three-year-old thoroughbred's win on Saturday signaled to his critics that his Kentucky Derby victory earlier in May was no fluke. And now he is one race away from becoming the 13th Triple Crown winner in history.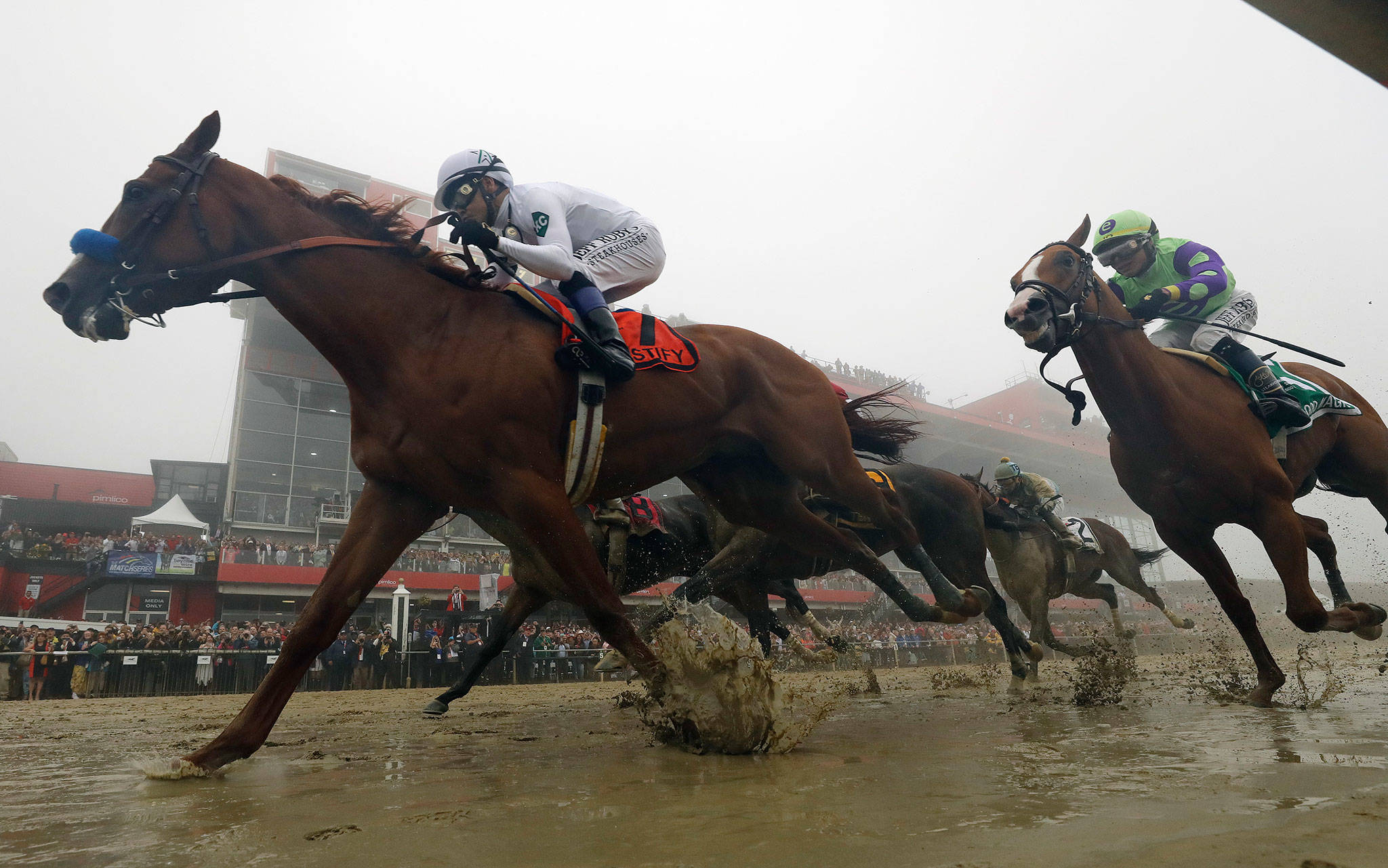 Justify is the 24th horse to make it this far, winning both the Kentucky Derby and the Preakness, the first two events that make up the storied trifecta won for the first time 99 years ago.
In 2018, only the Belmont Stakes remains, and Justify is an early 4/5 favorite for the June 9 race. He is also listed as a -120 to win the Triple Crown.
Trainer Bob Baffert believes he has the horse to capture his second Triple Crown in three years. He trained American Pharoah in 2015 that won the Kentucky Derby, Preakness, and Belmont Stakes. He has been quick to compare the two horses as often as possible.
"We knew [American Pharoah] was brilliant as an early 2-year-old," Baffert said at a media outing a day after Justify's victory. "This guy, when I first started working him, I knew he was brilliant, but we didn't know how far he was gonna go. When I first saw him I thought, 'Well, it looks like he'll go six furlongs, seven furlongs' because of the way he is built, like a big bull. Every time we run him, he shows us something different."
Foggy Prognosis After Victory
Justify's performance at the Preakness was not as dominating as two weeks earlier at Churchill Downs. In the Kentucky Derby he beat the field by more than two lengths. Saturday he won by less than a length, despite being the 2/5 choice.
Though the rain had stopped, the track remained sloppy, and fog added another element of intrigue. Most of the crowd at Pimlico could hardly see parts of the race.
One of those was Justify's owner. Teo Ah Khing, chairman of the China Horse Club. He told USA Today after the race that it provided some anxious moments.
"It was like the longest race of my life," Khing said. "Twenty seconds without seeing the horse felt like years."
What Khing and others saw was Justify nearly caught by Bravazo moments before finish line. Baffert admitted after the race that his horse was a bit tired after competing in his fifth race in 91 days, and the last two on less than ideal conditions.
"You do hate to keep running on these wet tracks because it does take a little bit out of them," Baffert said "It can be tough. It's not as tough on him because he's a big horse. He can handle it."
Belmont Toughest Test
But the Belmont is where Triple Crown dreams go to die. With Justify's race at the Preakness, some are convinced he is beatable.
Noted trainer D. Wayne Lukas believes his horse, Bravazo, could upset Justify, especially since the final race of the Triple Crown is the longest of the three at a mile and a half.
"He's a tough little horse, and I think his pedigree will let him run that far," Lukas said. "So we'll take him on and see what happens."