The Washington Nationals moved outfielder Juan Soto to the 10-day injured list on Tuesday with a strained left shoulder, the latest blow for a team already off to a slow start.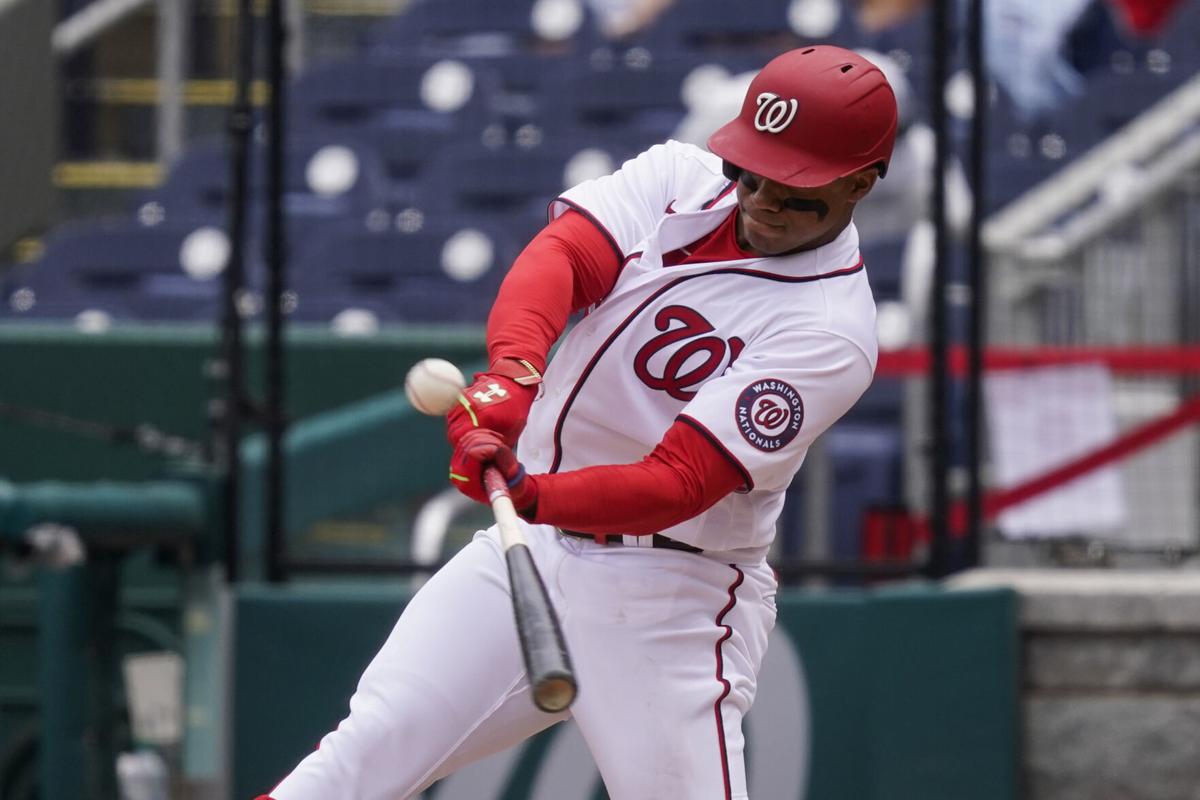 The 22-year-old Soto will miss at least seven games with what Nationals manager Davey Martinez called a tight tricep.
Nationals say IL trip is precautionary
Martinez said that further evaluation showed that rest is warranted.
"[The] MRI came back showing a slight strain in his left shoulder," Martinez told reporters. "We thought, we're not going to take any chances with him."
Soto has established himself as one of the best players in baseball since joining Washington as a 19-year-old in 2018. The outfielder hit .351 with 13 home runs and 37 RBIs in the shortened 2020 season, finishing fifth in the National League MVP race. This year, he's hitting .300 with two homers through his first 14 games.
The Nationals also lost starting pitcher Stephen Strasburg to his own shoulder injury. However, Washington general manager Mike Rizzo says both players will be back before too long.
"Juan's got a strain in his shoulder. We think that will heal, it will just take time, but it will heal and he will be back to normal," Rizzo told reporters. "Stras doesn't feel too concerned about it, which makes me feel good. He knows his body."
The Nationals came into the season expecting to be one of four teams involved in a tough NL East race, perhaps a step behind the Atlanta Braves and New York Mets. Washington currently sits in last place in the division at 6-9, but that's only two games behind the Mets (7-5), who are the only team in the division currently with a winning record.
Soto key to Washington's hopes in 2021
FanDuel Sportsbook now rates the Nationals as a +1200 pick to win the NL East. That slots them fouth behind the Mets (-105), Braves (+220), and Phillies (+490).
If the Nats are going to contend in 2021, Soto will be a big part of that push. He currently stands as a +750 choice to win the NL MVP, behind only Ronald Acuna Jr. (+300) of the Braves.
Washington is currently playing the St. Louis Cardinals. Soto will miss the rest of that series, along with three games against the Mets and two more against the Toronto Blue Jays. The earliest he could return would be on April 30 against the Miami Marlins.
Highest pct of swings producing hard contact, 2021 (min 40 batted balls):

Manny Machado: 29.4%
Juan Soto: 28.9%
Ronald Acuña Jr.: 26.5%
Evan Longoria: 25.9%

(hard contact = 95+ mph exit velocity)

— Sarah Langs (@SlangsOnSports) April 21, 2021
While Soto hadn't put up huge power numbers so far in April, he remains a key component of Washington's offense to start the year. He's scored 11 runs and knocked in eight more in 2021, and had played in every game this season before his stint on the injured list began.