In the latest batch of trade rumors, the Arizona Cardinals continue to give mixed messages about the future of quarterback Josh Rosen, but in the last week, the New England Patriots, New York Giants, and LA Chargers inquired about trading for the former UCLA QB.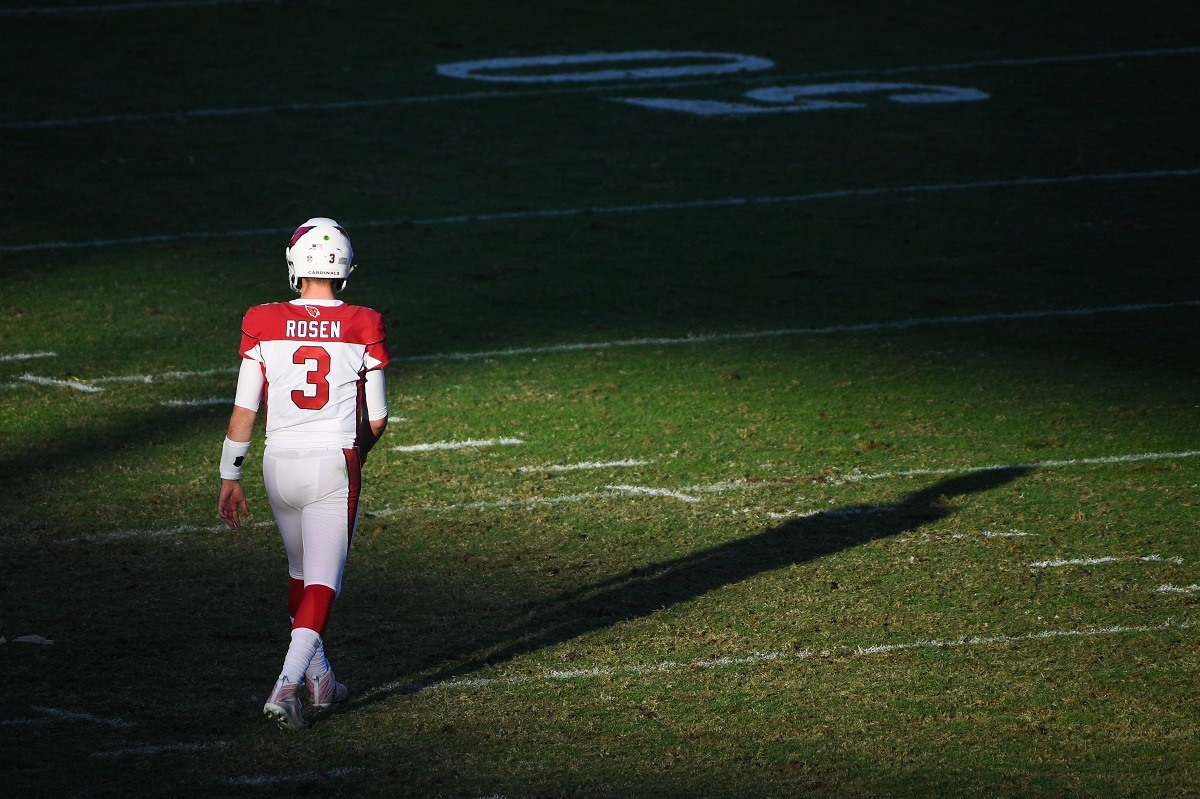 Arizona fielded trade offers this week but did not act because no one offered anything higher than a second-round pick. The Cards are seeking a first rounder in exchange for Rosen.
The Cardinals (3-13) finished with the worst-record in the NFL last season. have the #1 pick in the upcoming NFL Draft. The word out of Arizona is that new head coach Kliff Kingsbury is infatuated with Kyler Murray. The Heisman Trophy winner and two-sport athlete from Oklahoma could have reported to Spring Training with the Oakland A's, but he opted for a career in the NFL instead.
If the Cardinals select Murray with the first pick, then they will ship out Rosen. The Cardinals selected Rosen, 22, last year with the 10th pick in the 2018 NFL Draft. Rosen, who was projected to go #1 in some mock drafts, drastically slipped on Draft Day. Baker Mayfield (1st), Sam Darnold (3rd) and Josh Allen (7th) were all picked ahead of Rosen.
Not-So-Chosen Rosen
Kliff Kingsbury, who broke NCAA records as the quarterback of the Texas Tech Raiders, learned the Air Raid from the master architect himself, Mike Leach. Kingsbury coached at Houston, Texas A&M and Texas Tech. Everywhere he went, he incorporated Air Raid principles into the playbook. Even though Kingsbury had never coached in the NFL, the Cardinals specifically hired him to teach the Air Raid to a young Rosen.
Heisman winner Kyler Murray seems like a better fit than Rosen on paper. However, Kingsbury was quick to point out that Rosen also fits into his system.
"People have said a lot of things that are misconceptions, if you will," said Kingsbury. "But Josh is a tremendous player. Watching him at UCLA, he played his best football in a spread system, some similarities to what we do. He's a tremendous thinker, very cerebral, can throw it with anybody, and we take a lot of pride in building a system around a quarterback. For someone to say he doesn't fit our system, it doesn't make sense."
Many wiser men would suggest the Cardinals keep Rosen and trade down in the draft to acquire multiple picks. They could also focus on drafting for other much-needed positions. The Cardinals could always bolster their offensive line and upgrade on defense.
Rosen threw 59 touchdowns and only 26 interceptions in three seasons with UCLA. He completed 60.9 percent of his passes and finished with a 140.1 passing rating.
Rosen played in 14 games in his rookie season in Arizona and started in 13 of them. He completed 55.2 percent of his passes with 11 touchdowns and 14 interceptions. Rosen went 3-10 as a starter. The Cardinals were 0-3 when anyone else but Rosen started last year.
Who Wants a Second-Year QB?
The LA Chargers are the most interesting name mentioned in Rosen trade rumors. Philip Rivers had one of the best seasons of his career in 2018, but he'll be 38 by the end of the 2019 season. Rivers is not getting any younger and the Chargers are looking for a future successor.
The New England Patriots won the Super Bowl, but everything seems to be falling apart since then. Team owner Bob Kraft got caught soliciting sex from a prostitute at an Asian massage parlor in Florida. This past week, tight end Rob Gronkowski announced his retirement. Just yesterday, the Pats new defensive coordinator Greg Schiano abruptly resigned from his job.
Tom Brady said he'd like to play pro football well into his mid-40s. For the first time in his career, Brady looked his age. However, he still guided the Patriots to a sixth Super Bowl title. Bill Belichick must see something in Josh Rosen that he likes, otherwise the Pats would not have inquired about him. Brady might continue to play for a couple more seasons, but the Patriots need to hedge for the future. Josh Rosen might become Belichick's chosen one unless someone else ups the ante.
The New York Giants are in desperate need of a quarterback. They recently shipped out Odell Beckham to the Cleveland Browns for the #17 overall pick in the upcoming draft. The Giants have a pair of first rounders including the #6 pick. The New York Jets, with the #3 pick, expressed a serious interest in trading down in the draft. The Giants were rumored to swap with the Jets in order to secure Ohio State QB Dwyane Haskins.