Former UFC featherweight champion Jose Aldo has temporarily put off plans to retire from MMA, instead choosing to sign a long-term extension with the promotion.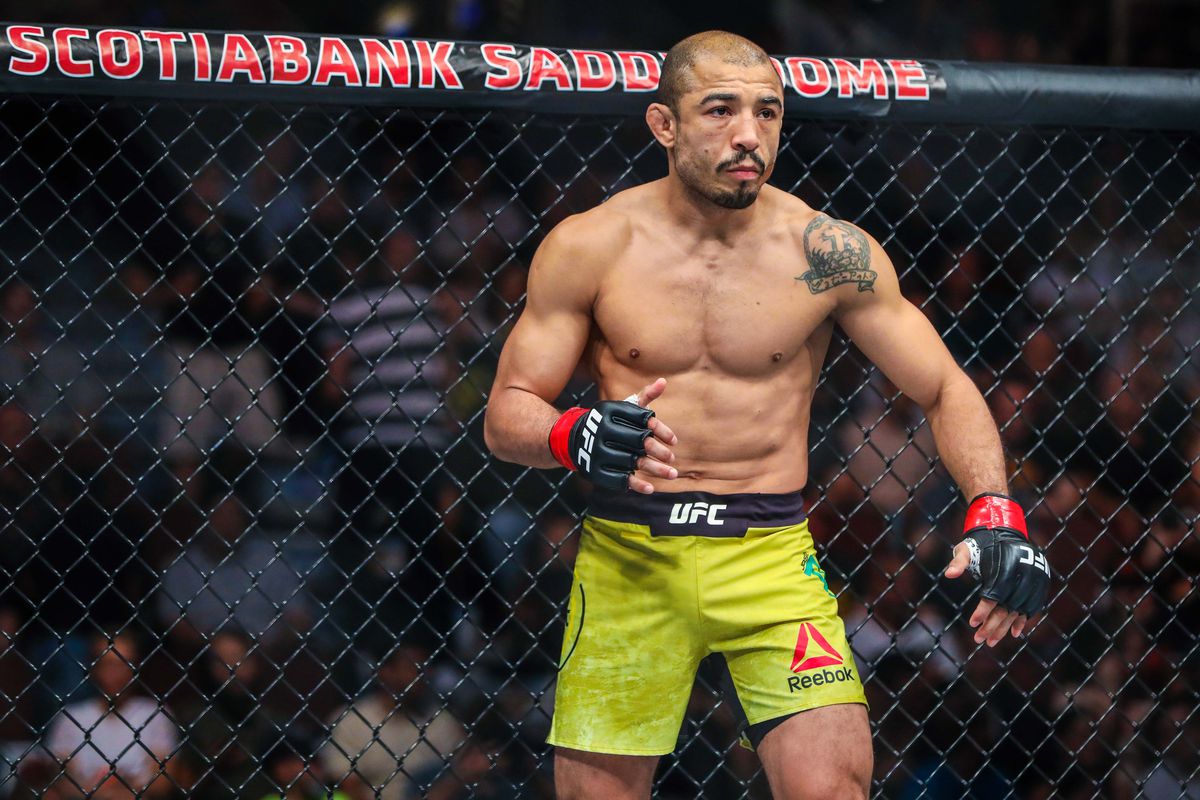 According to UFC president Dana White, Aldo agreed to an eight-fight contract with the company before his decision loss to Alexander Volkanovski at UFC 237.
Aldo Was Considering Move to Boxing
White told ESPN of the contract on Monday, and ESPN later confirmed that signing with Aldo's manager, Andre Pederneiras.
That's a change in plans for the 32-year-old, who had told media earlier in the year that he was planning to retire after fighting three times in 2019 to finish out the remainder of his existing UFC contract. Aldo said he was considering pursuing professional boxing after his UFC run ended.
"I had already planned to stop when I was 30 years old and begin something else," Aldo told ESPN in January. "I'm at a point where I have to make a decision, and nothing is going to change my mind."
But at some point, those plans changed. Aldo (28-5) has already fought twice in 2019. First, he defeated Renato Carneiro at UFC Fight Night 144 in February, knockout him out early in the second round. That was followed up with the loss to Volkanovski in May at UFC 237.
Following those results, Aldo is now ranked as the No. 3 contender in the UFC's featherweight division. With at least seven more fights contracted with the UFC, it's likely that the Brazilian will get the opportunity to work his way back into the featherweight title picture at least one more time before he retires for good.
A Legendary Featherweight Champion
That's a position that Aldo is very familiar with. After getting off to a 10-1 start in lower level promotions, Aldo joined World Extreme Cagefighting (WEC) in 2006, where he would go on a long winning streak. By 2009, he was in contention for the WEC featherweight title, winning the championship at WEC 44 against Mike Brown.
In 2010, the WEC was absorbed by the UFC, making Aldo the UFC featherweight champion. Between the two promotions, he would go on to successfully defend his title nine times and run his record to 25-1 before Conor McGregor knocked him out in just 13 seconds at UC 194. Before that loss, Also had run off 18 straight wins, a streak that lasted more than 10 years.
After the McGregor loss, Aldo would defeat Frankie Edgar to win the interim featherweight title. He then lost two straight championship bouts to Max Holloway, getting stopped in the third round both times.
Holloway (20-4) is still the UFC featherweight champion. Volkanovski (20-1) is ranked as the No. 1 contender, with Brian Ortega (14-1) also slotted in ahead of Aldo.