A 1986 Fleer Michael Jordan PSA 10 rookie card – perhaps the most iconic basketball card ever produced – set a record low sale for this year on eBay by auctioning for just $180,100 this week.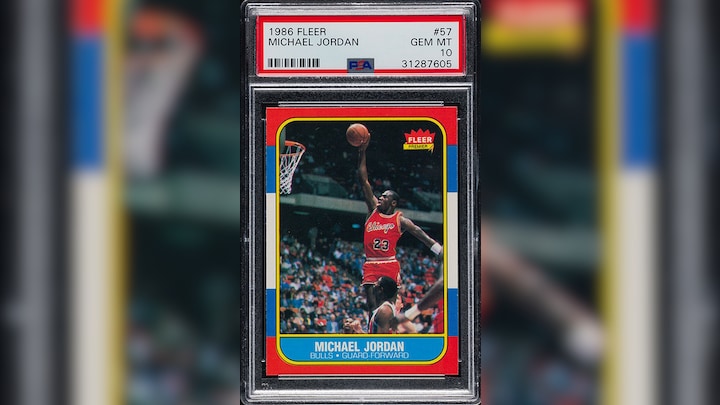 While this could partially be an indicator of a softening card market after it reached dizzying heights earlier this year, there's also more to the story than it seems.
eBay Glitch Hurts Sale Price for Jordan Rookie Card
PWCC, which sold the card during a flash auction this week, said that eBay experienced an issue with its website that caused "a significant number of bids to be blocked."
"Numerous bidders contacted us during the auction's final minutes and after the auction had closed Tuesday night, letting us know they were unable to bid," PWCC said.
The company said that due to the glitch eBay canceled the auction and ruled the sale invalid.
Collectors and investors filled the internet with chatter about the sale before PWCC released its statement on Friday. "Are you worried about the market yet?" proposed Rohan Murphy in the Facebook group Sports Cards Buy Sell Trade & Sports Talk.
Murphy noted that two Jordan rookies graded Gem Mint 10 by PSA sold for $738,000 each on Jan. 31.
Some hypothesized during the earlier part of the year that the Jordan card could eventually sell for $1 million, but card prices finally begin to decline almost across the board after the peak brought on, at least in part, by the COVID-19 pandemic.
Collectors Express Confidence in Sports Card Market
Dave Sersha, a member of that Facebook group, wrote that he was "zero percent worried."
"Just like the stock market it will rise and fall, just gotta buy smart. Honestly the market had to come down a little bit, it's been just insane."
On a sports card forum, user cardporn said that they tried to bid on the card in excess of $180,000, but experienced the aforementioned eBay glitch. For those that were forecasting doom and gloom for the sports card market on the internet this week after the Jordan sale, cardporn pointed out that a PSA 10 version of the card sold for $86,000 in September 2020.
"Doubling your money in just 11 months is a great investment," cardporn wrote.