Jon Jones retained the UFC light heavyweight title on Saturday, but his win wasn't without controversy.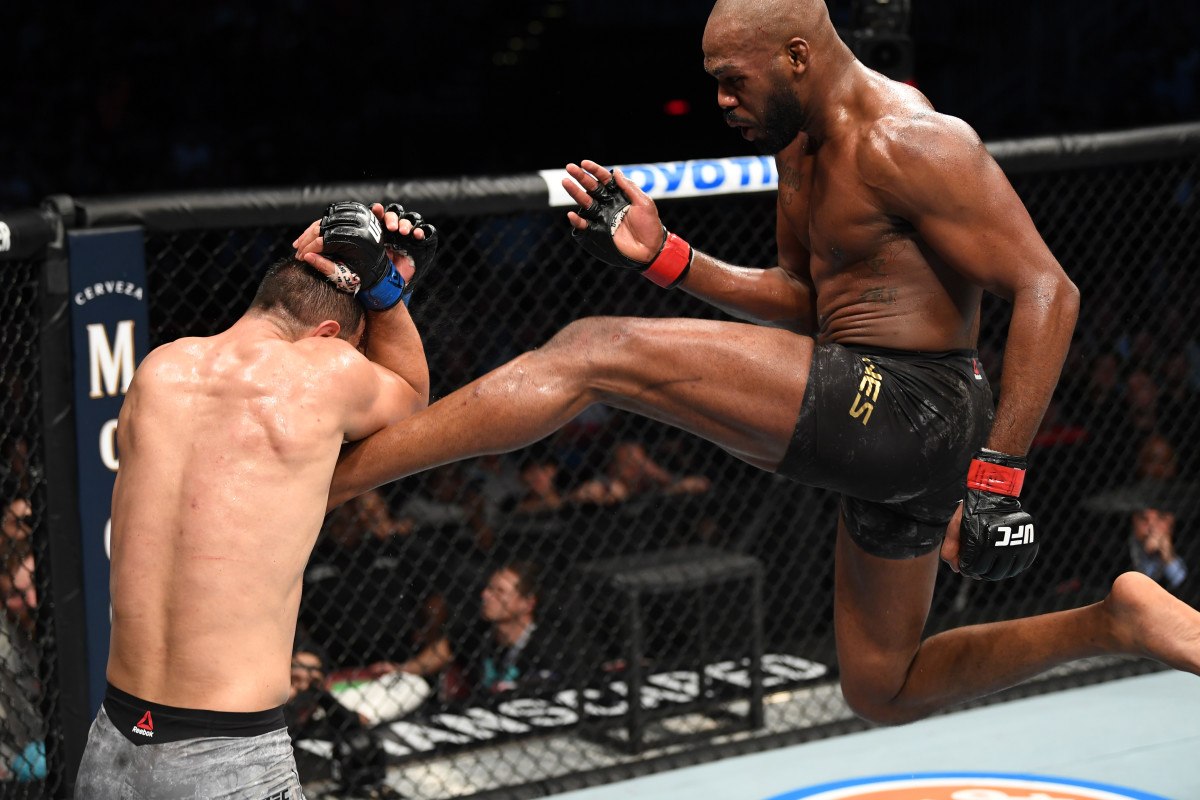 Jones took a unanimous 48-47, 48-47, 49-46 decision over previously undefeated challenger Dominick Reyes in the main event of UFC 247 in Houston.
Fans See Reyes as Winner, Jones Gets Decision
The crowd booed when the decision was announced, with most in attendance apparently believing Reyes had won the fight. After the fight, Reyes said he believed he had won at least three rounds.
"I had him one through three, man," Reyes said. "I was all over him. It is what it is … I proved that I'm the real deal."
UFC president Dana White acknowledged the controversy, but refused to say the result was wrong.
"My kids are terrorizing me that the fix is in," White said afterwards. "None of us are judges. The judges call the fight, and that's it."
White said that while he scored the fight for Reyes, he saw scores that were "all over the map" from other observers. The MMA Decision website collated 21 media scorecards, 14 of which were in Reyes' favor – with all 21 scoring the fight 48-47 in either direction.
That wasn't the only judging controversy of UFC 247, either. During a preliminary fight between Lauren Murphy and Andrea Lee, analyst Joe Rogan and former UFC bantamweight champion Dominick Cruz were in the booth and noted that one of the judges wasn't even paying attention to the fight.
Here is Joe Rogan calling out a Judge who did not watch the fight for 30 seconds straight. It happened in the prelims and I bet it happened again in the main event. You have to be one selfish fuck to do this, fighters put everything on the line. #UFC247 #Reyes #JonJones @joerogan pic.twitter.com/N64X9yuFaC

— Exon (@wazowski_john) February 9, 2020
Murphy would go on to win a controversial split decision, while the media scorecards collected by MMA Decisions were unanimously in favor of Lee.
Shevchenko Continues Flyweight Domination
There was no such controversy in the co-main event. Valentina Shevchenko dominated challenger Katlyn Chookagian, retaining her women's flyweight title by third-round TKO. Referee Jacob Montalvo stopped the fight after Shevchenko took Chookagian to the floor and unleashed a flurry of ground-and-pound strikes.
Despite Shevchenko's dominance at 125 pounds, she said afterwards that she believes there are worthy challengers out there.
"I feel there is a lot of great girls in the 125-pound division," Shevchenko said. "I feel I still have a lot of them, but I am open to anything. I am open to any fight."
Nurmagomedov Not Interested in Fighting 'Scumbag' McGregor
During UFC 247, Khabib Nurmagomedov's manager Ali Abdelaziz told ESPN that the lightweight champion has no interest in a rematch with Conor McGregor.
"Conor McGregor is one of the biggest stars because he's one of the biggest scumbags," Abdelaziz said. "Let's be real. We don't like this guy. We're never gonna like him. Probably every time we see him, there's gonna be problems. He said things about family, things about religion, things about race. He crossed the line."
Nurmagomedov will face Tony Ferguson in a title defense on April 18 at UFC 249.
Meanwhile, it looks like Daniel Cormier will get one more shot at heavyweight champion Stipe Miocic. Cormier won the first fight between the two in July 2018, but Miocic reclaimed the title by knocking out Cormier in August 2019. The 40-year-old Cormier says he is only interested in a rematch with Miocic, and won't take any other fights.
White told ESPN last week that while there's no date for the fight, he plans to put the two heavyweights back in the Octagon together as soon as possible.
"[Miocic] is hurt. When he's not, we'll make the fight," White told ESPN. "You saw Cormier basically come out and say, 'Stipe has the ability to retire me. If he doesn't take this fight, I'm going to retire.' We'll see how this thing plays out."