Joey Logano survived a late restart to cap off a dominant day and win the FireKeepers Casino 400 at Michigan International Speedway.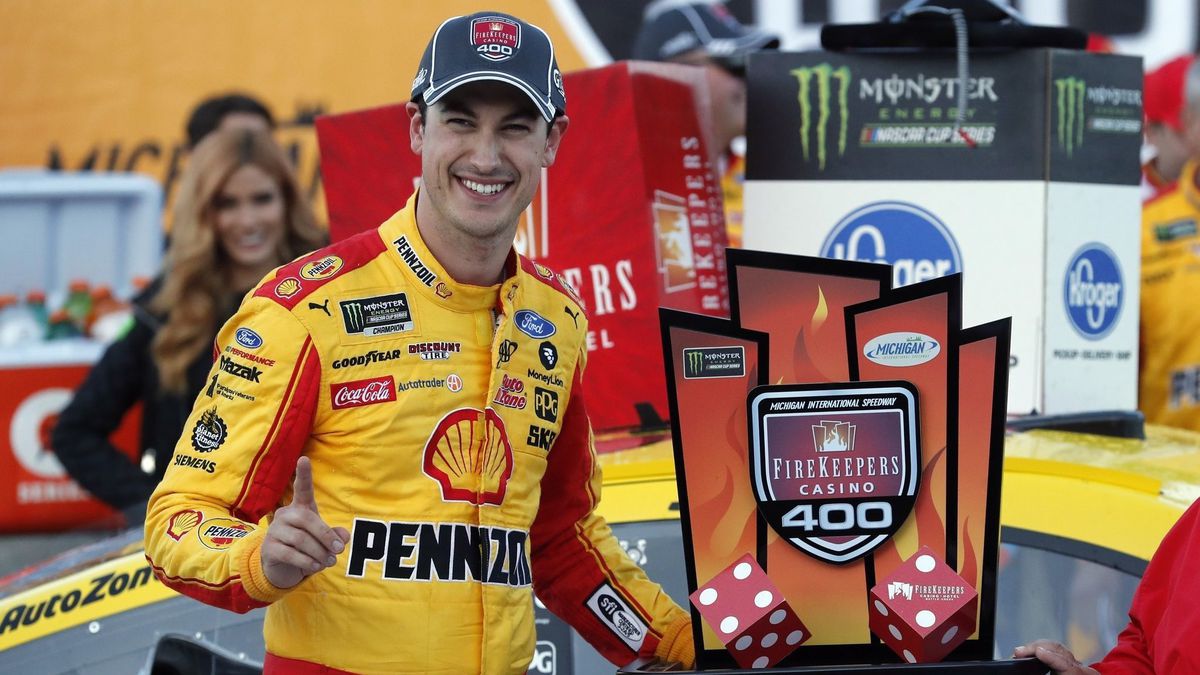 The race, initially scheduled for Sunday, was delayed until Monday evening due to rain.
Overtime Changes Complexion of Race
Logano appeared to be in control for most of the race. He led for a total of 163 of the 203 laps, and rarely looked like he would receive a serious challenge after coming into the race with the fastest car in qualifying.
But with five laps remaining, both Kurt Busch and Martin Truex Jr. were making up ground on Logano, if not fast enough to actually catch the leader by the time the race was scheduled to end. That situation got much more dangerous for Logano when Erik Jones spilled into the grass, causing a late caution that necessitated a restart and an overtime period.
Now, without the clear speed advantage he seemed to have for most of the day and a fresh restart, he would have to hold off his challengers in a sprint rather than the marathon he had been leading for most of the 200 regulation laps.
"As the leader, you're like, 'Ohhhh,'" Logano told reporters after the race. "But the race fan part of me is like, 'Heck yeah. This is going to be a great race for everyone to watch.'"
Restart Gave Logano Final Edge
But Logano had a great restart on Lap 202, jumping ahead of the competition. He then held that advantage for the final two laps, finishing .147 seconds ahead of Kurt Busch to earn his second victory of the year.
"What a great execution day from our race car, obviously very fast," Logano said. "Nothing like bringing a Ford to Victory Lane in their home turf, Roger Penske cars as well. This is a big win for us."
Not everyone was in agreement about just how brilliant Logano's late restart was, with some of his rivals feeling that he had actually taken an unfair advantage at the start of the overtime session.
"He jumped the restart by over a car length," Truex said afterwards. "I don't know. I guess they don't enforce those rules anymore. We'll have to remember that for next time."
Truex finished the race in third place, with Daniel Suarez and Kyle Busch rounding out the top five. Brad Keselowski, Kevin Harvick, Ryan Newman, Ryan Blaney and Alex Bowman also posted top-10 finishes.
While Kurt Busch was hoping to pick up his fifth win of the year, he was ultimately pleased with another strong finish as the runner-up.
"We'll get it," Busch told reporters. "We ran up front, were strong in our manufacturer's back yard, but got second today."
Logano's win allowed him to take over the lead in the NASCAR Cup Series driver standings, putting himself nine points clear of Busch, who still projects to have the most playoff points. Busch also remains the favorite to win the series championship, with several international sportsbooks including SportPesa rating him as a 5/2 pick to take the crown.