Joey Chestnut, the undisputed king of Nathan's Hot Dog Eating Contest, is back again for the July 4th event that he has dominated for more than a decade. But don't look to bet on competitive eating in New Jersey, as regulators there have refused to allow sportsbooks to spread odds on how many hot dogs the presumptive champion can ingest.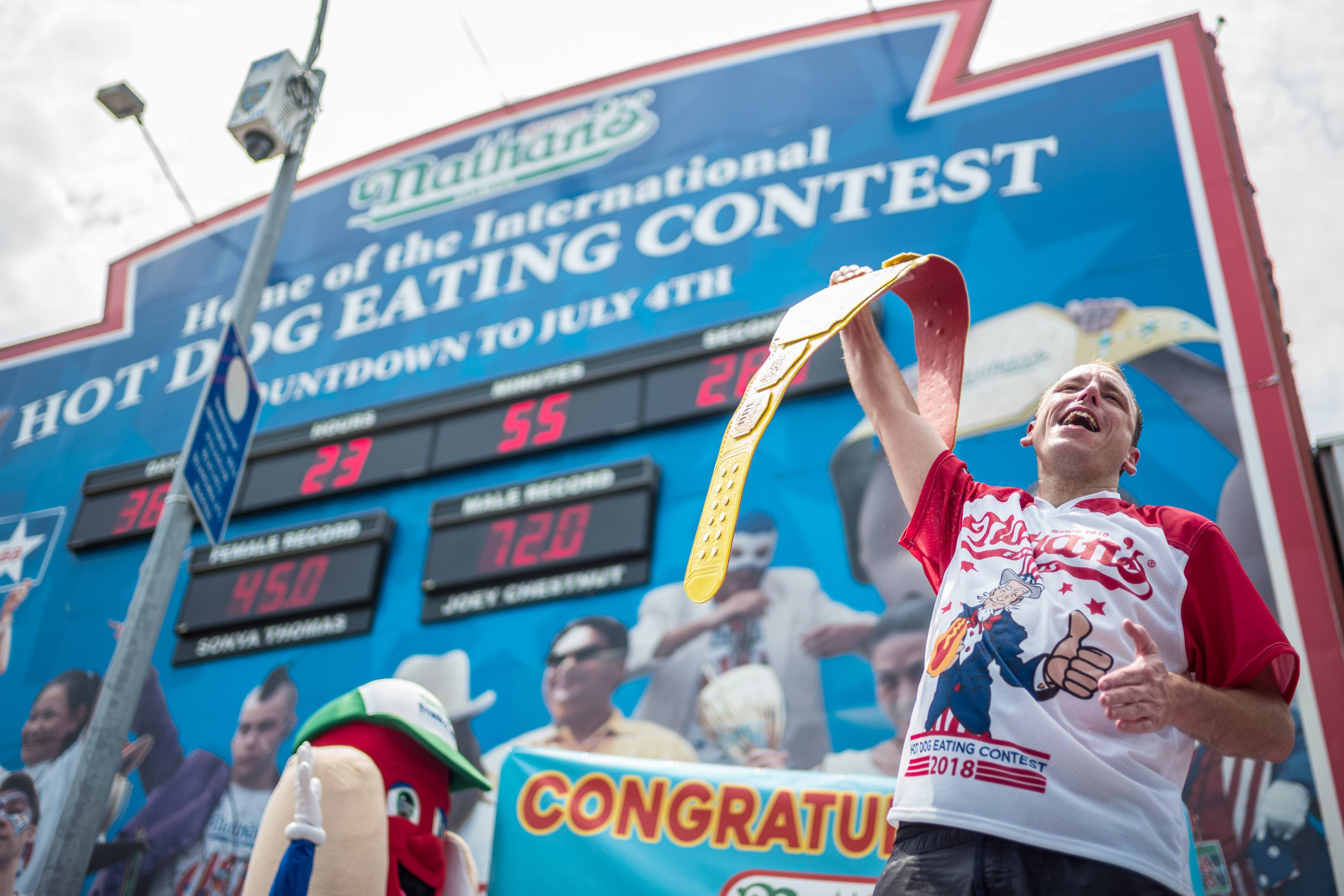 If ever there was an overwhelming favorite it is Chestnut, who is nicknamed "Jaws." My.Bookie.com has him as the -900 pick to win. Betting against Chestnut is +500.
But it would probably be foolish not to back him. Starting in 2007, the Northern California native has won the Mustard Belt every year at the iconic Coney Island event, except for one. In 2015 he was upset by Matt Stonie upset Chestnut in 2015.
Last year Chestnut set a record of 74 hot dogs eaten in 10 minutes. He said he might be able to get to 80, but admitted to Fox News that training is a lot tougher.
"When I was younger, I could practice every three to four days," Chestnut said. "Now, I have to practice once every six to seven days. I know more about my body now. If I had that knowledge when I was younger, who knows how far I could go?"
Nathan's Hot Dog Eating Contest has been a staple at Coney Island on July 4 since 1972, and has grown exponentially since then. The contest features a men's and women's division.
New Jersey Won't Spread Competitive Eating Odds
With the advent of legalized sports betting in the United States more than a year ago, New Jersey sportsbooks attempted to make odds on the contest available in the facilities. The New Jersey Department of Gaming Enforcement, however, declined the request.
That didn't stop Major League Eating president Richard Shea from pleading with the regulatory body to reverse its decision. Shea, who also is the master of ceremonies at the event, said he was saddened to hear the news.
"While other games are played on the Fourth — baseball, tennis and even corn hole — it is safe to say that the hot dog eating contest is the most anticipated sporting event of the day, with the eyes of the world turning to Coney Island at high noon," Shea wrote in a letter.
Hot Dog Contest Betting Options
Offshore and internet sportsbooks have been putting out lines on the contest for years, and this year is no different. In addition to whether Chestnut will win or not, the women's division has a bet on whether Miko Sudo can win her sixth consecutive title. The yes is -1200, while the no is +600.
There are two prop bets as well, both on how many hot dogs will be eating. The over/under for the men is 73.5. The under is -160, while the over is +120. For the women, the over/under is 38.5, with both at -120.
Bovada has an unusual prop bet. They produced a line on whether People for the Ethical Treatment of Animals (PETA) will disrupt the contest. The yes is +700, while the no is -1600.
It sounds like a crazy side bet, until you realize the organization had a member show up in 2016, throwing fake blood at one of the contestants.