The Monmouth Park Board of Stewards suspended jockey Tomas Mejia for 10 years after discovering the rider possessed a prohibited electrical device during his trip aboard Strongerthanuknow in a Sept. 3 race at Monmouth Park.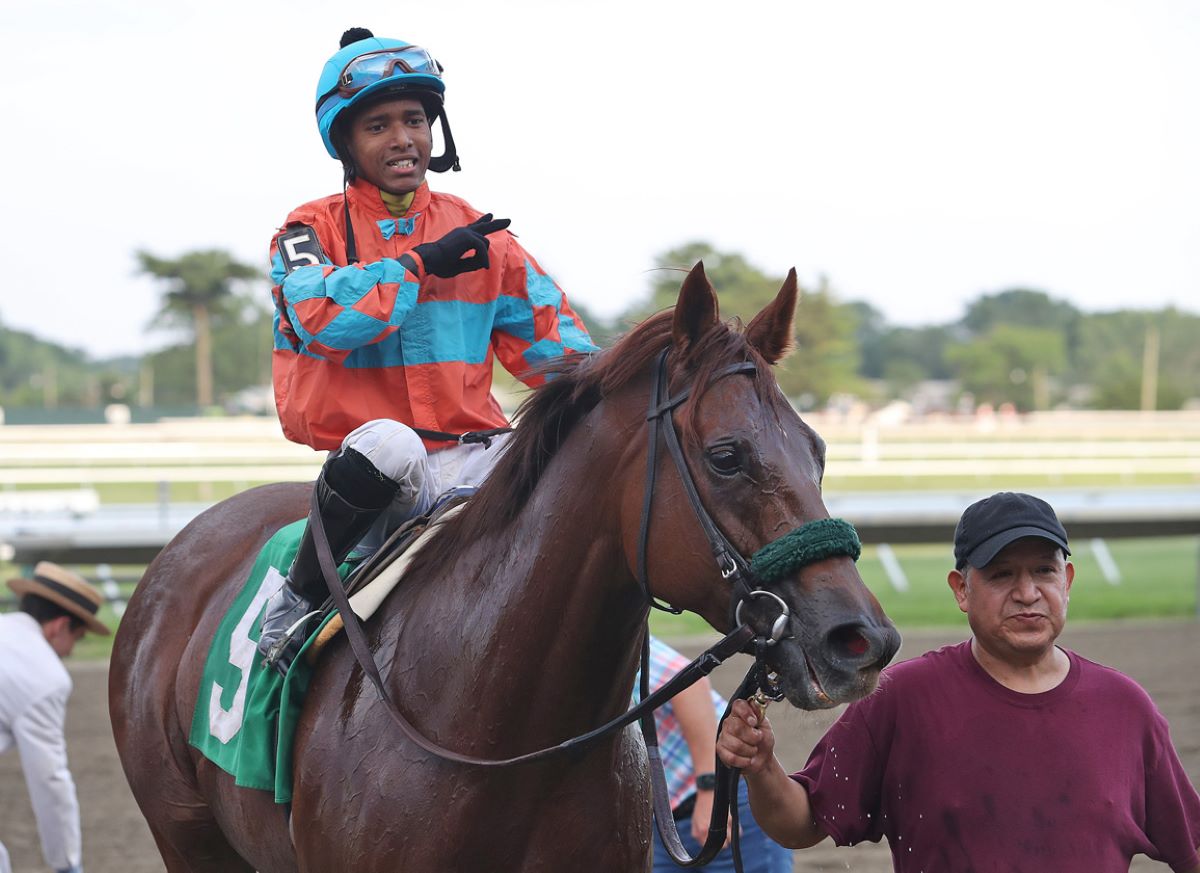 Along with the decade-long suspension, Mejia was fined $5,000. The Board of Stewards also recommended permanent revocation of Mejia's jockey license.
This ruling came after a device was discovered during a winner's circle photograph taken after Mejia rode Strongerthanuknow to victory in a Monmouth Park allowance. In the photo, taken by Monmouth Park's official photographer and posted on the track's Facebook page, Mejia holds an object in his left hand with two prongs sticking out. The photo made the social media rounds before being taken down.
On Sept. 10, Mejia was pulled off all his mounts. Stewards began a hearing on Sept. 11 that finished on Sept. 15. They concluded that "Upon entering the winner's circle and prior to dismounting from the horse Strogerthanuknown on Sept. 3, 2021, Tomas Mejia was in possession of a prohibited electrical device."
Mejia's suspension carries over to other states
That violated several New Jersey Racing Commission and New Jersey Athletic Commission rules. Left unaddressed, however, was whether Strongerthanuknow will lose his allowance victory.
The suspension means Mejia can't ride in New Jersey until Sept. 10, 2031; the suspension also carries over to other states and racing jurisdictions.
The Tomas Mejia suspension is the second case of a track photographer getting an image of an illegal electrical device (Coady photos detected the late Roman Chapa with a buzzer in 2015).

I hope track security and management realize what a great surveillance tool this can be.

— Ray Paulick (@raypaulick) September 16, 2021
In New Jersey, where the incident occurred, riders are also forbidden from using their crops unless it's a matter of safety. That's been the biggest storyline coming out of Monmouth Park this year, especially after the Haskell Stakes. In that race, Flavien Prat aboard Hot Rod Charlie was suspended for seven days after stewards determined his mount interfered with Midnight Bourbon. Prat later said the no-crop rule was the reason for the interference.
This soured Mejia's 26th birthday on Thursday. The Panamanian graduated from the Laffit Pincay Jr. riding academy in his home country. He moved to the US in 2018, settling in at Belterra Park in Cincinnati, where he went 0-1-2 in 24 races. In 2019, Mejia rode at five tracks, mainly Tampa Bay Downs. He won 17 races in 197 starts.
Last year, Mejia enjoyed a breakout season of sorts. He won more than $1.13 million, with a career-best 51 winners in 530 starts – all at Tampa Bay Downs. At Monmouth this year, he was 19-17-19 in 149 races. In 2021, Mejia was 42-33-45 in 350 races, good for a tick over $1 million. His 12% win rate marked a career-high.