In one of the most exhilarating performances in recent NBA Finals history, Jimmy Butler dropped another triple-double on the Los Angeles Lakers to lead the Miami Heat to a 111-108 victory in Game 5 to avoid elimination. Butler and the Heat forced a Game 6, but they're still on the brink of elimination, down 3-2 in the NBA Finals.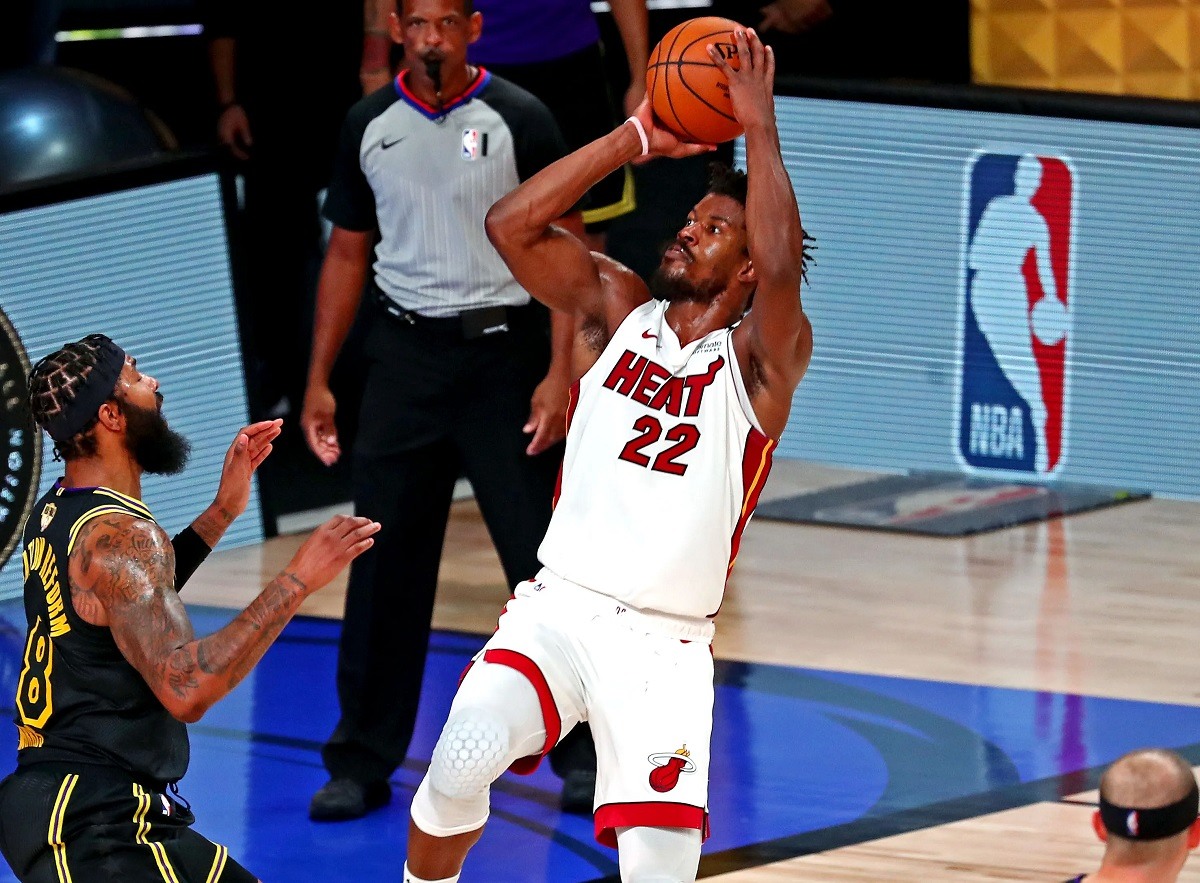 Butler played 47 minutes (with just one minute of rest) and finished Game 5 with 35 points, 12 rebounds, 11 assists, and five steals. The floor quarterback for the Heat accounted for 11 of his team's final 15 points, either via scoring or an assist.
"That's Jimmy Butler," said teammate Bam Adebayo. "That's our max player and that's who we go to in these moments."
LeBron James tallied 40 points, 13 rebounds, and seven assists in the tough loss. He helped the Lakers storm back from down 11 points in the fourth quarter. He also knocked down six treys, which set a new NBA Finals record for LeBron.
The closing minutes of the game became the LeBron and Butler Show with the two stars trading multiple buckets in crunch time.
Danny Green Misfire
The Lakers had an opportunity to win the game. Down one point with less than 12 seconds remaining, LeBron drove to the lane and drew a triple team. He found a wide-open Danny Green at the top of the arc. Green let the open 3-pointer fly, but missed.
"We got a hell of a look to win the game, to win the series," said LeBron. "It didn't go down."
Green had been 2-for-4 from 3-point range prior to that miss. He finished the game with eight points in only 24 minutes of action.
Look, Danny Green has a wide open look and LeBron is triple teamed. Morris has LeBron wide open too pic.twitter.com/O2xEAwDuN7

— Stu Motown #BlackLivesMatter (@cjzero) October 10, 2020
Jimmy Buckets Keeps Miami Alive
Erik Spoelstra shortened his rotation to just seven players. Bam Adebayo played with a neck and shoulder injury, but Goran Dragic missed his fourth game in a row with a torn left plantar fascia injury.
Duncan Robinson added 26 points in the win. Kendrick Nunn came off the bench to add 14 points.
Butler unleashed his second triple-double of the NBA Finals. Jimmy Buckets scored a 40-point triple-double in Game 3 after the Heat fell behind 2-0. In that game, the Heat didn't have Adebayo or Dragic.
With the Heat's backs up against the wall and Dragic not playing, Butler stepped up with another remarkable performance. It wasn't just his crunch-time offense, however. Butler brought intensity on both ends of the court and notched five steals.
"Every young player coming into this league should study footage on Jimmy Butler, the definition of a two-way player competing on both ends, five steals, and then making those big plays down the stretch for us offensively," said Spoelstra.
Butler became the sixth player in NBA history to notch a triple-double multiple times in the NBA Finals. He joined the likes of Wilt Chamberlin, Magic Johnson, Larry Bird, Draymond Green, and LeBron.
4Q Comeback Falls Short
Everyone expected LeBron to take the final shot, but the Heat did a stellar job at defending him. LeBron could have forced a shot in traffic, but opted for the open man on the perimeter.
The Lakers signed Green for that exact situation. LeBron found the spot-up sharpshooter, but he couldn't knock down the wide-open trey.
"I wish he could have it again," said LeBron. "I wish I could make a better pass. But you just live with it."
"It was a little bit of luck that Danny missed that shot at the top of the key," said Butler.
Green shot only 33% from beyond the arc in the NBA Finals. He was mostly a non-factor in this series.
"We were very close," said Lakers coach Frank Vogel said. "Two bad calls at the end put Butler to the line, you know, and that's unfortunate in a game of this magnitude."
Anthony Davis scored 28 points and hauled down 12 rebounds. He injured his heel in the second half, but returned to the game. Davis also added three steals and three blocks.
Davis and LeBron combined for 68 points on 24-for-36 shooting from the floor. The rest of the Lakers were ice cold, shooting 14-for-46.